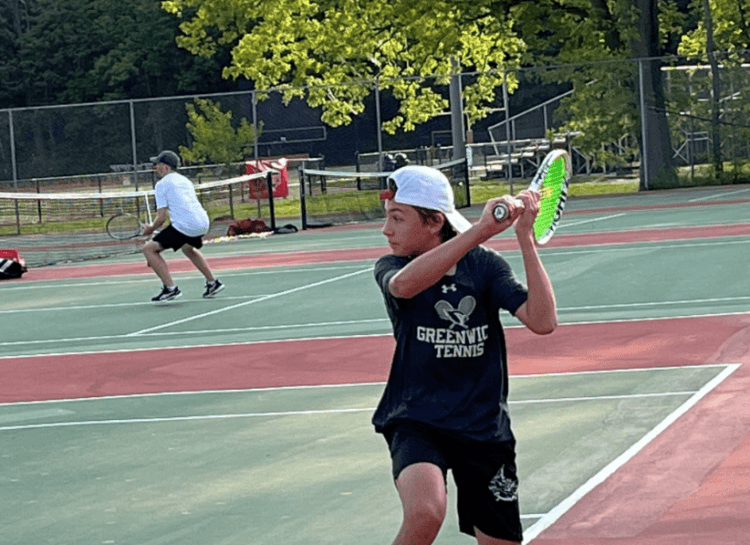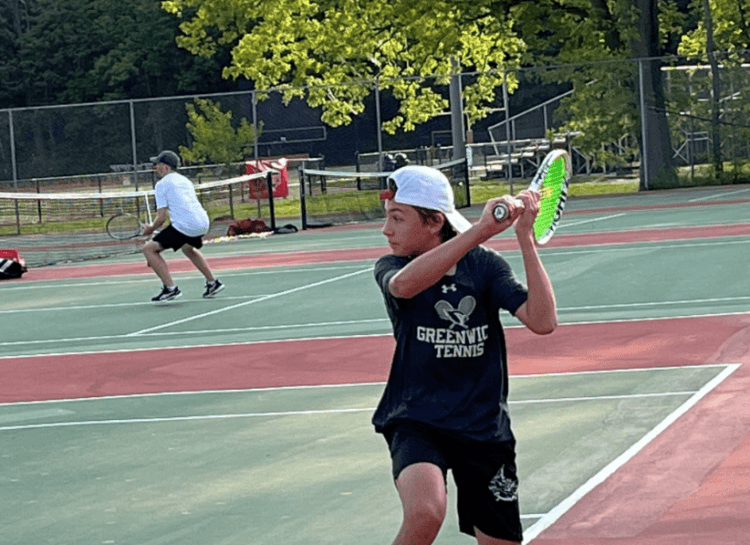 By David Fierro
After producing an undefeated regular season, Greenwich High School's boys tennis team began the second portion of its season – the postseason – typical fashion.
The Cardinals added another impressive win to their ledger, sweeping visiting Trumbull, 4-0, in the FCIAC Tournament quarterfinals, held on Monday at Greenwich High School.
Greenwich, which sports an unblemished 16-0 record, hosts its main rival, Staples, today at 4:30 p.m. in the FCIAC semifinals. The Cardinals and Wreckers have a long history of facing each other in the postseason matches in both the FCIAC and Class LL Tournaments, so today's matchup should be a hard-fought affair.
In Monday's FCIAC quarterfinal-round against eighth-seeded Trumbull, top-seeded Greenwich won three singles matches and one doubles match when the matchup was clinched and halted after it won its fourth match.
Senior Dylan Atkinson (No. 1), senior David Karetsky (No. 3) and sophomore Manuel Galli Specos (No. 4) each won their singles matches for the Cardinals. In doubles action, junior Harrison Wolfe and sophomore Rohan Mittal were victorious at No. 3 for the Cards.
Cardinals coach Ray Marschall impressively watched his squad get past their first-round foe.
"I think our guys worked real hard and we were more decisive today," said Marschall, whose Cardinals defeated Trumbull, 4-3, during the regular season in a tight match. "We had our full complement of players."
Marschall continues to be pleased with the togetherness and energy his squad has shown.
"The spirit is just sky high with these guys," he said. "When you go undefeated for the season and not drop a singles match in first, second and third doubles – 45-0 – it's remarkable."
Atkinson recorded another stellar win at No. 1 singles for the Cardinals, defeating Justin Ilie, 6-1, 6-0. Atkinson has powered Greenwich from the top spot of the lineup for the past two seasons.
Karetsky was also in top form at third singles for the Cardinals against the Eagles, registering a 6-1, 6-1 win against Trumbull's Mark Bahr. At No. 4, sophomore Manuel Galli Specos was a 6-1, 6-0 winner against his Trumbull foe.
"It was a good match," Specos said. "I knew it was important to be able to close the match quick, I'm glad mine counted."
Specos has indeed, found his niche, in the Cardinals' singles lineup this season.
"It's been crazy this season, we expected it to be a good season, but not like this," Specos noted. "It is going to be tough in the next rounds and we're going to try to go all the way."
Second doubles saw Wolfe/Mittal post a decisive 6-1, 6-1 victory.
"It went pretty well, we took over and played aggressively," Wolf said.
As Marschall mentioned, the Cardinals' were 45-0 in doubles play, combined among their three teams for the season.
"Rohan and Harrison are rolling," Marschall said. "Both play a good aggressive game, both serving and coming to the net. Harrison has changed his game dramatically this year, where he hits a crushing cross court forehand and hits balls down the line from the baseline."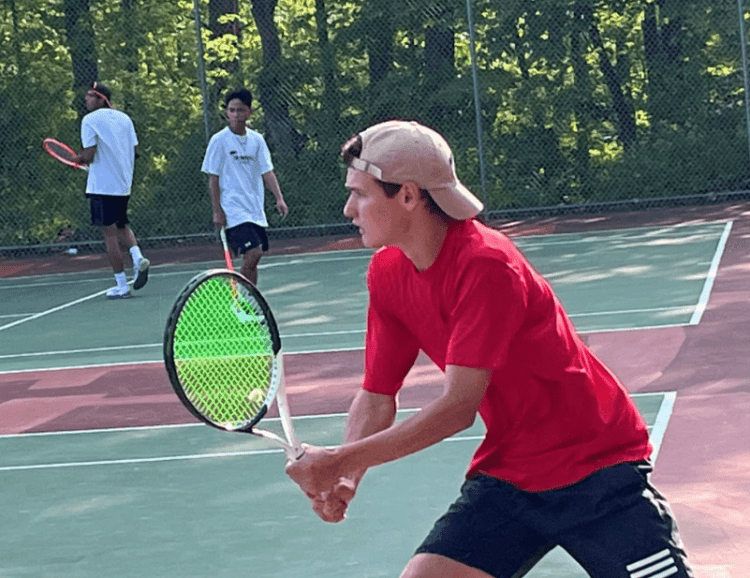 Greenwich's doubles teams were strong a season ago, but they have each taken their play to the next level this spring.
"All of our players in doubles are much stronger than last year and it's pretty equal from one doubles to three doubles," Mittal noted. "We have a lot of energy and it's great, it helps the team play better."
The Cardinals second doubles duo know they will be tested against Staples.
"In our next matches, we are going to have to play much more solid instead of our very aggressive take today," Wolfe said.
Greenwich's No. 1 doubles team of seniors Kai Jain and Nick O'Brien were winning their match against Trumbull, 7-4, 3-4, when the matchup was stopped after the Cards clinched their fourth win. They have teamed up for several seasons and it certainly shows.
"Nick and Kai have been playing together for three years," Marschall said. "They are rock solid, they adjust their game. They played a big serving team today and they won the first set 7-5."
Junior Bruce Lunder and sophomore Alex Salib were close to winning their match at No. 3, as they won the opening set 6-0 and were up 5-0 in the second set against the Eagles.
In singles action, freshman Volodymyr Dombrovskyi won the first set of his match versus Trumbull 6-3 and the second set was just getting started.
Should Greenwich defeat Staples today, the FCIAC finals are scheduled for May 23.
"We had a Pickle Ball outing last week in Stamford and they all had a blast," Marschall said, mentioning the team's chemistry. "There is a lot of spirit on this team. In my five years of coaching varsity, I haven't seen that much spirit."