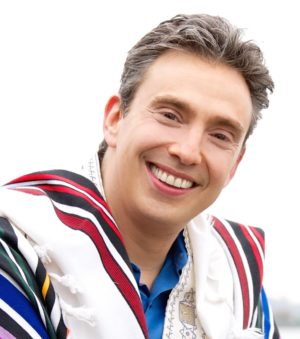 Congregation Shir Ami announces that Rabbi David Evan Markus will become its next Spiritual Leader. He will assume the clergy role that Rabbi David E. Levy has held over the past year in an interim capacity.
Rabbi Markus comes to Shir Ami after 13 years as the Spiritual Leader and Music Director of Temple Beth-El of City Island in New York. In addition to his diverse education programs at Temple Beth-El, he is a senior faculty member at the Academy for Jewish Religion, where he teaches in the seminary's rabbinic and cantorial programs. His impact as a teacher is far and wide. Pam Ehrenkranz, the CEO of UJA-JCC Greenwich has studied with him and shared the following:
"I know from experience that Rabbi Markus is a talented teacher and an innovative Jewish thinker. I am quite sure that he will bring both intellectual and joyful insights into Judaism as part of his leadership. Rabbi Markus introduced me to a world of texts I might otherwise not have seen, including those of The Eish Kodesh, whose writings have 'transformed' my own way of experiencing my Judaism."
A fellow of Rabbis Without Borders, Rabbi Markus has been a scholar in residence for organizations across North America. His writings have appeared regularly in the Academy for Jewish Religion, My Jewish Learning, The Wisdom Daily, The Forward, Moment Magazine, prayer books, and anthologies. Rabbi Markus currently holds an Oreach Fellowship for spiritual arts innovation, and recently published his first book, A Year of Building Torah.
Among his many educational credentials, Rabbi Markus earned double ordination as a Rabbi and Spiritual Director from ALEPH, a graduate certificate in Spiritual Entrepreneurship from Columbia Business School, and his Juris Doctor from Harvard Law School. As the range of these degrees shows, Rabbi Markus is a unique individual. He is the only full-time judicial official in the U.S. who simultaneously serves as a pulpit clergy. Named a global "innovator in public service" by Harvard's Kennedy School of Government, Rabbi Markus is a lifelong public servant with 25 years of national, state and local impact leadership, as well as Jewish movement leadership and seminary teaching. For his historic dual secular-spiritual leadership, Jewish Week honored Rabbi David with its "36 to Watch" designation for 2022.
After an extensive clergy search, Shir Ami Co-Presidents, Jackie Marschall of Old Greenwich and Marie Orsini Rosen of Stamford are excited to partner with Rabbi Markus to strengthen and enrich both Congregation Shir Ami and the larger religious and secular community:
"Congregation Shir Ami has been going strong for over 20 years, and that strength comes from the partnership between its spiritual and lay leadership. The world around us is turbulent, and our faith grounds us. But after talking even for a few minutes with Rabbi David, we are reminded that our faith also uplifts us. We look forward to where Rabbi David's accomplishments and talents — Torah scholar, experienced congregational, Jewish, and interfaith leader, spiritual counselor, published author, secular judge, and skilled vocal and instrumental musician — will take us as we explore what is meaningful in our lives."
While Rabbi Markus officially starts on July 1, the Shir Ami leadership team looks forward to introducing him to the community during a Friday evening Shabbat Service at the First Presbyterian Church in Greenwich on June 23 at 7:30pm. To learn more about Congregation Shir Ami, Rabbi Markus, and upcoming programs, please visit congregationshirami.org.
Shir Ami is a warm and welcoming Jewish Congregation with Torah at the center, embracing our heritage while creating new ways to bring us closer to each other and closer to God through acts of worship, caring, learning, giving, singing and celebrating together.