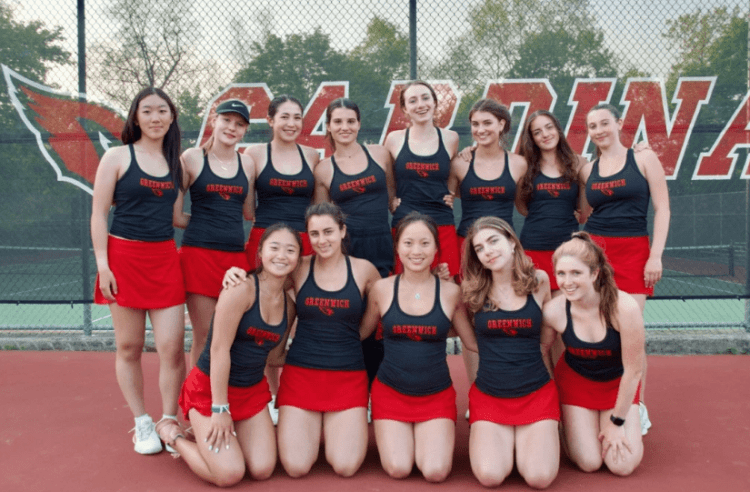 By David Fierro
Two more victories against Wilton and St. Joseph, put Greenwich High School's girls tennis team two more steps toward an undefeated season.
With only one match remaining in the regular season, the Cardinals have a perfect 15-0 record and are just one win away from achieving a regular season of perfection.
Victories No. 14 and 15 came Monday and Tuesday for the Cardinals, who topped visiting Wilton, 6-1, Monday, then defeated St. Joseph, 7-0 on Tuesday.
Greenwich, which has earned the No. 1 seed in the FCIAC Tournament and will be ranked among the top teams in the CIAC Class LL state Tournament, has received outstanding, consistent play from its singles and doubles players throughout the spring.
In the Cardinals' home match against Wilton, junior Kyra Dybas was victorious at first singles, defeating Vivian Eckert, 7-6 (3), 6-0. Second singles saw senior Ivanna Diez de Bonilla of Greenwich top Charlotte Stapkowski, 6-0, 6-0.
At No. 3 singles, junior Lilly Foley kept her standout season going, sweeping to a 6-0, 6-0 win over Wilton's Mela Rutkowski. Junior Malena Schraa registered another impressive triumph at fourth singles for the Cards, defeating Wilton's Bridget Murphy, 6-1, 6-0.
In doubles play, junior Emily Weinstein/Shining Sun were edged by Wilton's Phoebe Snow/Abbey Byrnes, in three sets at the No. 1 spot.
Sophomore Yume Inagawa and freshman Caitlin Mahoney teamed up for another doubles victory for the Cardinals, posting a well-earned 6-7, 6-1, 6-1 win over Wilton's Lilly Brown/Megan Dodman at the No. 2 spot.
In the No. 3 doubles match against Wilton, Emme Pecorin and Maddy Wilber once again, showed great teamwork and chemistry in recording a 6-2, 6-2 victory for GHS.
Dybas continued her stellar play at No. 1 singles versus St. Joseph, winning in three sets against Hannah Haywood, 6-3, 1-6, 6-2. For the season, Dybas has won 10 matches at the No. 1 singles position for GHS.
Diez de Bonilla was a 6-1, 6-4 winner against St. Joseph's Addy Chapman at No. 2. At second singles, Diez de Bonilla has been absolutely perfect this spring, winning all of her matches.
Sun notched a 6-0, 6-1 triumph at third singles, again showing her versatility, as she has played both singles and doubles this season.
Foley also kept her dominant season going, cruising to a 6-1, 6-0 win at the third singles spot. She's won almost all of her matchups in singles play this spring.
In doubles action against St. Joseph, Tamis and Weinstein rolled to a 6-0 victory at No. 1, while freshman Caitlin Mahoney and Inagawa swept their match at No. 2, 6-0, 6-0.
At third doubles, sophomore Izzy Everett and freshman Maddy Wilber posted an impressive 6-1, 6-0 win for the Cardinals (15-0).
Greenwich closes out its regular season with a match at Stamford on Thursday, then it will compete as the No. 1 seed in the FCIAC Tournament, which begins next week. The Cardinals will look to go after the FCIAC championship, following their outstanding regular season.