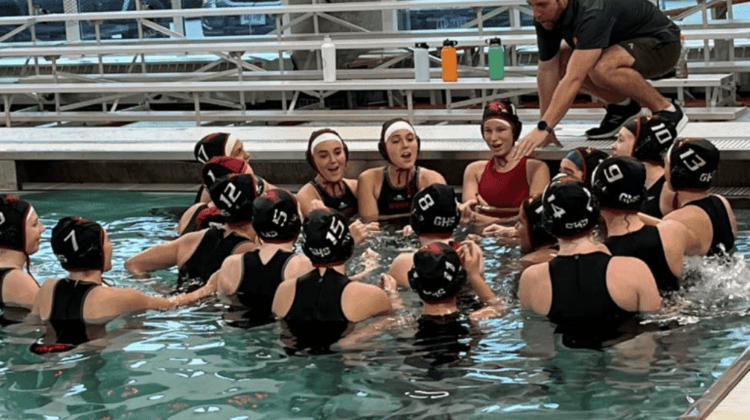 With 11 freshmen on its roster, the Greenwich High School girls water polo team features a different look this spring, yet it intends on producing the same successful results.
The Cardinals rolled to a record of 9-0 in 2022, completing the type of undefeated season they are known for, having posted perfect seasons several times in recent years.
Paul Constantin coached the Cardinals the previous seven seasons, guiding them to undefeated seasons on numerous occasions and this spring marks James Ramaley's first season at the helm. Ramaley is, indeed, a familiar face around Greenwich High School's pool deck.
He has been a part of the Greenwich boys water polo team's coaching sta since 2016 and has served as head coach of the squad the past six seasons. Now, Ramaley begins his tenure as Greenwich's girls head coach.
"I always had a connection to the program, so it's exciting," said Ramaley, whose sister Julie was the rst captain of the Greenwich girls water polo team back in 2003. "As dominant as the boys are, the girls are equally as dominant. The girls, from our upperclassmen to our freshmen, are leading the way. They are super positive, enthusiastic and they really like playing together."
The Cardinals' 2023 roster features five seniors, two juniors, one sophomore and 11 freshmen. Among the five seniors are co-captains Emma Gustafsson and CJ Weigel, both of whom have competed on the GHS squad since their freshman years.
"I'm super excited, we have a really talented group," Gustafsson said. "We have 11 freshmen, who all are super excited to play, and I think it's going to a really strong season for our team."
Gustafsson, who will continue her water polo career at the Division I level at the University of Michigan next season, should help power the Cards' offense.
"I play position two, which is attacker," Gustafsson noted. "My role is to score and drive into the center to look for the ball."
The Cardinals certainly did plenty of scoring in its season- opening game against visiting Staples on Monday afternoon. Greenwich began its 2023 campaign with an impressive 24-6 win over the Wreckers. Ten different players registered goals for the Cards' who displayed their depth and skill on both ends of the pool.
"We have a lot of attackers on the team and we are a very offensive-minded team," Gustafsson said. " e majority of our players are really talented, top-level shooters."
Weigel plays goalie for Greenwich, a position she relishes.
"It's been fun, I've always liked to be a leader and now it feels special," Weigel said of her role as goalie and team captain. "It's great to be a part of a great team and lead in that way."
The season-opener saw Greenwich seize an 11-1 first- quarter lead and never look back. Sophomore Sophia Ojjeh scored a game-high six goals, while Gustafsson and senior Ellen Norell recorded a hat trick to pace the Cardinals' triumph over Staples.
Junior Olivia Hopper, senior Bronte Brock, freshman Hannah Flakstad, freshman Kaleigh Murphy and freshman Addie Shaw each tallied twice in the winning e ort.
Ashley Hopper, Olivia's twin sister and freshman Faith Vinntiner added one goalie apiece for Greenwich, which played both Weigel and Norah Mendelsohn in goal.
Gustafsson, Norell, who will play at Brown next season and Ojjeh should be among the athletes powering Greenwich offensively.
"Emma is a really strong shooter, she played out in Barcelona as well," Ramaley noted. "Ellen Norell should be another scoring option, along with Emma."
Bronte Brock and Brenna Coffey also bring experience and scoring punch to the pool as seniors. Joining the Cards as freshmen this season are Shea Morris, Maggie Wilson, Ainsley Sarhbeck, Julia Gustafsson, Lily Norton, Gigi Peck, Shaw, Vinntiner, Flakstad, Murphy and Mendelsohn.
"I think the season is starting off great and it's going to be super fun as we go forward," Weigel said. "The new freshmen are going to amplify the team. We just have to to see how we all work together. So far, it's really great, the team is bonding really well."
"I think it will be a really fun season," Weigel continued. "We know a lot of the players through Greenwich Aquatics and have built strong relationships with them."
Included in the Cardinals' schedule this spring are games against neighborhood rivals Greenwich Academy and Sacred Heart Greenwich. One of the NEPSAC teams GHS will face is Williston- Northampton, also a stellar program.
Soon, the Cardinals will travel to Barcelona, Spain for a special water polo training trip.
"We are going the day a er Easter for six days," Ramaley said. "Our team is going to train in the morning and then in the evenings, Barcelona has over 20 different clubs – we are going to try to scrimmage a different club each night."
The journey will provide the team with valuable experience against formidable opponents.
"The reason we are doing that is outside of Florida and Illinois, no other team does water polo in the spring," Ramaley noted. "California is winter and fall, so we are trying to branch out for more opportunities to play some good competition."
Said Emma Gustafsson: "I played over there for a semester, so I hope we can go out there and play them tough. I hope we can match that level."
Emma Gustafsson and Weigel are taking over the role of captains from 2022 graduates Bella Schraa and Emma Phillips. Schraa, an All-America player for the Cardinals, is playing water polo at Bucknell University.
"We hope to continue their legacy and build on what they created," Emma Gustafsson said. "Greenwich water polo from our freshman year has evolved. This is the final year we can show how much we've evolved."
"This year, we want to go undefeated, which will be our h year undefeated, that will be really fun," Weigel said. "And, we want to see goals from every player consistently. Hopefully, it will be a productive, great season."