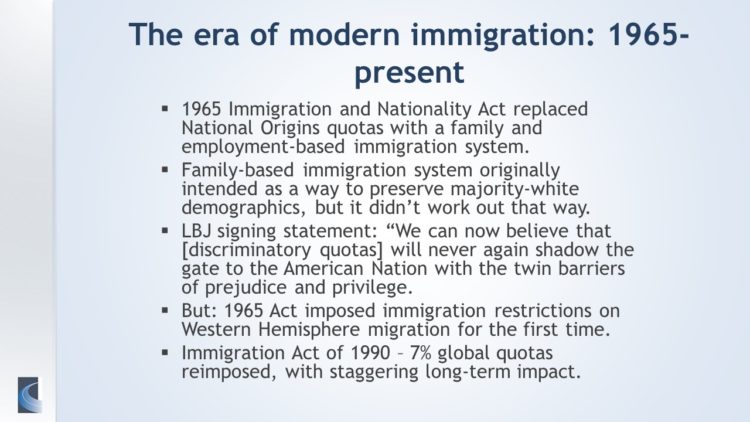 By Arthur Stampleman
At the Retired Men's Association (RMA) meeting on March 1, Aaron Reichlin-Melnick, senior policy counsel of the American Immigration Council, delivered a very informative presentation regarding "The border crisis: The current state of immigration in America." Mr. Melnick's presentation focused on the history of immigration in the United States and current immigration issues facing our country. Aaron has a J.D. from the Georgetown University Law Center and a B.A. in Politics and East Asian Studies from Brandeis University.
The initial part of the presentation focused on the time between 1789 and 1882 when the US had quasi-open borders. The Nationality Act of 1790 provided that "free white persons" may apply for naturalization. This Act governed until 1952. At first no federal laws regulated immigration – state laws did. The first federal immigration law was passed in 1882; it barred paupers, the mentally ill and criminals, and restricted Chinese. After that, Congress increasingly formalized the role of the federal government in immigration, including setting up Ellis Island, and Angel Island in California as processing centers.
Nearly all Europeans were allowed into the US until backlash grew and Congress passed the Immigration Act of 1917 regulating European immigration for the first time. It imposed a literacy test, created the Asiatic barred zone and increased the grounds of inadmissibility. The Immigration Act of 1924 created the modern concept of a visa and required processing abroad. It heavily restricted immigration from Southern and Eastern Europe, and further restricted non-white immigration. The result was that few Jews were allowed entry before and during WWII.
The 1965 Immigration and Nationality Act replaced national origin quotas with family-based and employment-based criteria. Family-based immigration was intended to preserve majority white demographics, but it didn't work out that way. It added restrictions on the Western Hemisphere immigration for the first time. The Immigration Act of 1990 imposed quotas for each country, with staggering long-term impact. US citizens and lawful permanent residents can bring certain relatives; the employment-based immigration has different quotas for people with different skill levels. Visas must be obtained abroad, and depend upon the category of the applicant and his country. Currently the review of an application for a visa can take as long as 10 to 25 years, depending on the category of the applicant.
Over the years the percent of US population who is foreign born has varied, from a peak of 14.8% in 1890, to a low of 4.7% in 1970, and is about 14% at the current time. There recently has been a rising level of undocumented immigration. US border patrol annual apprehensions have varied widely but came back to well over a million by 2021 and 2022.
Asylum-seekers are individuals who come to the border claiming a well-founded fear of future persecution based on race, religion, nationality, membership in a particular social group, or political opinion. In theory, the asylum seeker should get an interview within seven days by an asylum officer, can go to court to apply for asylum, and gets a decision within six months. In practice asylum-seekers could be expelled, sent to detention, released with a court date in a few months, and could wait anywhere from six months to six years for a decision. The Title 42 law instituted in 2020 now allows the CDC to expel them without normal immigration processing on the basis of a threat to public health.
The current White House is trying to follow new humanitarian programs. It has expanded the use of Title 42, has proposed a new process at ports of entry, and proposed new asylum restrictions on individuals who cross between ports of entry. It has also asked Congress for more funding to handle immigration challenges.
A lively Q&A followed the talk, with questions about what could be done to stem the flow of illegal immigrants, the prevalence of fraudulent amnesty claims, and how to shorten the long wait times for legal immigration.
To see the full presentation, go to https://greenwichrma.org, cursor to "Speakers" and click on "Speaker Videos."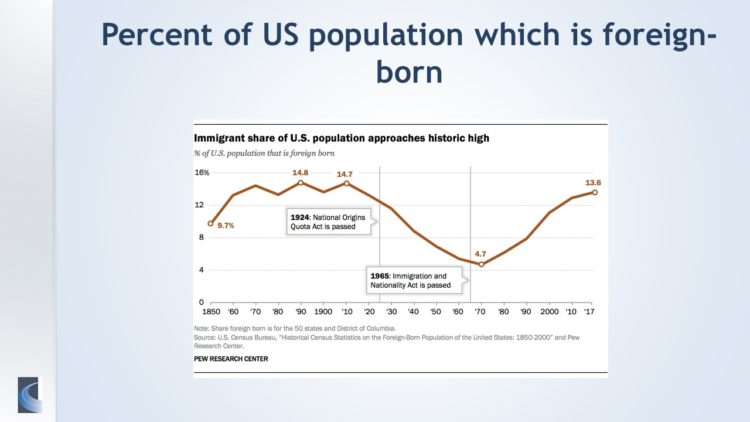 The RMA's next presentation, "Heart Health and the Management of Atrial Fibrillation and Cardiac Arrhythmia", will be given by Dr. Alexander DelVecchio who will discuss heart health and the management of two of the most common heart conditions: atrial fibrillation and cardiac arrhythmia. He will offer an overview of arrhythmia, and such issues as how to recognize arrhythmia symptoms and what treatments and interventions are currently available. Dr. DelVecchio will also focus on atrial fibrillation, a cardiac rhythmic disturbance, especially prominent in older adults. Its treatment often involves medications that have serious potential side effects, and its treatment options depend on many factors, particularly the prevention of life-altering disease if not treated effectively.
Dr. Alexander DelVecchio is a Cardiology Specialist and has been affiliated with Greenwich Hospital since 2004 and Yale New Haven Hospital since the two medical facilities entered into a partnership. He has extensive experience in Heart Conditions, Cardiac Electrical System Procedures, and Adult Congenital Heart Conditions.
Dr. DelVecchio earned his medical degree from Albert Einstein College of Medicine in 1996, did his residency in internal medicine at Montefiore Medical Center from 1997 thru 1999, and completed his training with two fellowships at Montefiore Medical Center, one in Cardiovascular Disease, and one in Cardiac Electrophysiology. He is board certified and has been selected as one of the top doctors in the Metro Area since 2017 and accorded other honors.
This informative presentation will occur on Wednesday, March 15, at 11:00 a.m. at the First Presbyterian Church in Greenwich as well as on webinar at: https://bit.ly/30lBj21.
RMA speaker presentations are presented as a community service at no cost to in-person or Zoom attendees, regardless of gender. The RMA does request that all eligible individuals consider becoming a member of our great organization, and thereby enjoy all the available fellowship, volunteer and community service opportunities that the RMA offers to its members. For further information, visit https://greenwichrma.org or contact Joe Mancinelli (mailto:jlmanc@optonline.net) or Peter Stern (mailto:members@greenwichrma.org).
Note: The views expressed in these RMA presentations are those of the speakers. They are not intended to represent the views of the RMA or its members.