Raising the bar on the fight to cure pancreatic cancer via the GlenArbor Golf Club
By Anne W. Semmes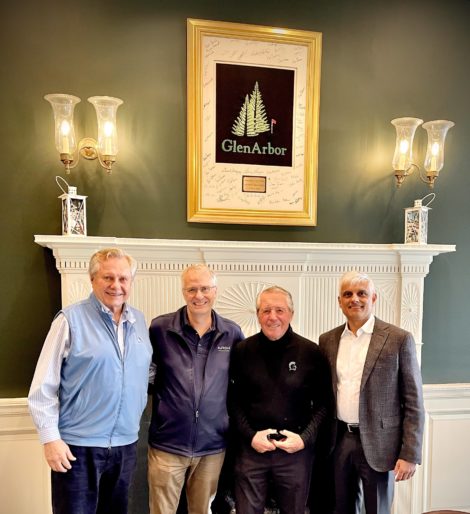 There is a passionate pursuit to bring a cure to one of the deadliest cancers – pancreatic – being shared by Greenwich's Grant Gregory, a private equity investor and retired chairman of Deloitte, the famed golfer Gary Player, and a pioneering oncologist Dr. Sunil Hingorani, that has taken root in the fertile fields of the GlenArbor Golf Club located in the Bedford Hills of New York.
That pursuit began two years ago at GlenArbor at its annual fall Berenberg [Bank] Invitational charity golf event that has for nearly a decade raised funds to fight cancer while featuring legendary golfers. But after pancreatic cancer recently took the lives of the wives of both Gary Player and Tom Watson the focus of that fundraising has shifted to pancreatic cancer.
"The huge story here," shared Gregory, "Is that pancreatic cancer is the most lethal form of cancer, 95-percent mortality rate. So, when you get pancreatic cancer, you're already in Stage IV. Its already terminal. And no one has ever stepped up before and said they're going to create a center of excellence for early detection and eventually the cure for it." But Gregory's alma mater, the University of Nebraska (UN) in Omaha is doing this. "It's called the Fred & Pamela Buffett Cancer Center. It's part of the UN Medical Center (UNMC), and part of that is the Pancreatic Cancer Center for Excellence."
"As you know," Gregory continued, "at GlenArbor we've been involved for a lot of research with prostate cancer. And that has been a long-standing charity that has been very successful. And the [sponsoring] Berenberg Bank has now adopted pancreatic cancer research as their cause. And it's been very successful. We've raised almost $1.5 million in just two [annual] events."
So, with the creating of the Pancreatic Cancer Center for Excellence as of two years ago, Gregory told, "They went out to find the number one authority in the world. They found Sunil Hingorani, an MD and a PhD from Yale, then associated with Dana-Farber, and Harvard, with a post-doctoral fellowship at the Center for Cancer Research (now the Koch Institute) from MIT. And today he's widely viewed as one of the most brilliant research scientists in the world."
And Hingorani, like Gary Player and legendary golfer Tom Watson, has also lost a loved one to pancreatic cancer, his father. "And it galvanized Hingorani," said Gregory, "to a lifelong mission."
From that mission came Hingorani's goal "to build a mouse with pancreas cancer that was 100-percent the same as the human disease," told Gregory, "Which allowed him to cancers that arose spontaneously in the pancreas of these mice to get exact replicas of what they would be in human beings." And from that replication has come important and fascinating discoveries of how cancer drugs can overcome barriers to their working in pancreatic cancer tumors.
Oncologist Dr. Sunil Hingorani's pioneering ideas
But it was time, Gregory encouraged, for this reporter to learn more directly from Dr. Sunil Hingorani, the inaugural recipient of the Nancy Armitage Presidential Chair in Pancreatic Cancer Clinical Research and first director of the Pancreatic Cancer Center of Excellence at UNMC, and Professor of Medicine, Division of Hematology/Oncology!
So, is pancreatic cancer on the rise? "It's one of the very few cancers that are actually rising in incidence," answered Hingorani. "Most of the rest of them have either plateaued, or are frankly decreasing each year, as we learn about risk factors. Pancreas cancer is actually increasing, and we think that's being contributed to by the increase in both obesity and diabetes."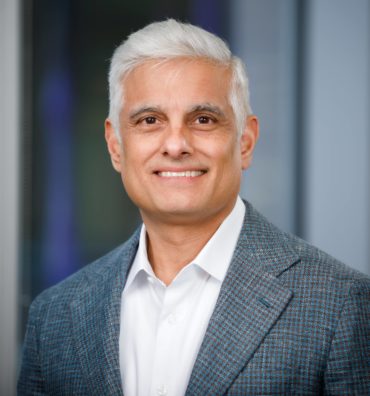 Since arriving at his new Pancreatic Cancer Center Hingorani has been working to put in place his groundbreaking multidisciplinary approach to treat a pancreatic cancer patient. He had created the model previously at the Fred Hutchinson Cancer Center at the University of Washington and is set to launch it in a few weeks. "So," he described, "We're completely reorganizing the way the clinic works, the way we deliver care. You put the patient and the disease at the center of everything you do, and you bring everyone around the table simultaneously as much as possible and get them to interact with each other. And by that, I mean, if there's a cell biologist, or a geneticist, or a surgeon, or a medical oncologist, the cell biologist, instead of thinking of themselves as a cell biologist who happens to study pancreas cancer, the goal is to have them think of themselves as a pancreas cancer scientist, who happens to use the techniques of cell biology.
"So," he continued, "Our full-fledged multidisciplinary clinic is going to meet, let's say on Wednesday afternoon. So, let's say we have 48 hours to get all the records…We look at the scans that get sent over and if they're really not adequate, or they weren't done according to the right protocol, we have slots reserved so we can get a CT scan urgently by Tuesday, and if they even need to repeat a biopsy, we have a clinician standing by, and they will do a semi-emergent biopsy for us, so that we can get a piece of tissue and look at it…So, by the time the patient comes in on Wednesday, we have everything and we've reviewed everything…and then we have what we call a patient conference, where all the various providers, 30 plus people…they're all sitting around the table…The pathologist takes the slides from the biopsy, puts them on the microscope and projects it on the screen. So, we're all looking at the biopsy together, and then, we ask each other,
'What would you do?' So, you ask Dr. Jones, the surgeon, 'How do you want to approach this?'
"We all respect and admire each other," he noted, "and we all recognize that we're here for the patient. So, you need to put the egos aside…and let's figure out the plan for this patient…and we go and deliver that plan to the patient right then…So, the next six months of their therapy, they'll have the appointments already made in the book, and that's how you should take care of any patient, frankly, but certainly someone who has this devastating disease like pancreas cancer."
Sharing those pioneering ideas worldwide
Hingorani's inclusive oncology approach has led to his organizing an extraordinary to-be annual summit of fellow pancreatic cancer researchers this past October at the GlenArbor Golf Club. "I invited 10 of the world's leading figures in pancreas cancer research," he told, "all different aspects of it, and colleagues I knew well. Grant Gregory very graciously offered that beautiful location and site for us to do this, and the idea there too is to lift them out of their normal environment, put them in a completely different setting.
"We entered the conference room, and I closed the door, and I said, 'I declare this a safe space…I have respect and admiration for every single one of you, and I know you all care about and respect each other, but what I want in this room is for us to roll up our sleeves and have a free for all…And if we can think of experiments that we want to do together, we will find a way to fund them. For example, one of the immunologists might say, 'Well, I would love to do this experiment, but I haven't found a cell biologist to do this part of it with me,' and then I smile, because sitting right next to him is the cell biologist that I invited specifically for that reason…It turns out that the atmosphere that we created in the dialogue even exceeded my expectations. It was probably the most scientifically engaging and enjoyable meeting that I've been to in over a decade, and we spent the whole day doing that."
Concluding he shared, "I would be very remiss in not saying Grant Gregory, of course, has been a champion of all of this. He's helped the Berenberg Bank organize that Invitational Tournament at GlenArbor with Gary Player, and he's really helped us get the message out."