POLICE AND FIRE
12 Residential Burglaries Under Investigation
The Greenwich Police Department is currently investigating twelve residential burglaries. The burglaries have been occurring since October 2022, and detectives are working on several leads and applying for arrest warrants. The break-ins have been occurring throughout town and have not been localized in one area, they have been happening in the late evening or overnight hours. GPD is asking residents to report any suspicious or out of the ordinary behavior at 203-622-8004 24hrs, or 911 for emergencies. Confidential tips can be provided to TIPS@greenwichct.org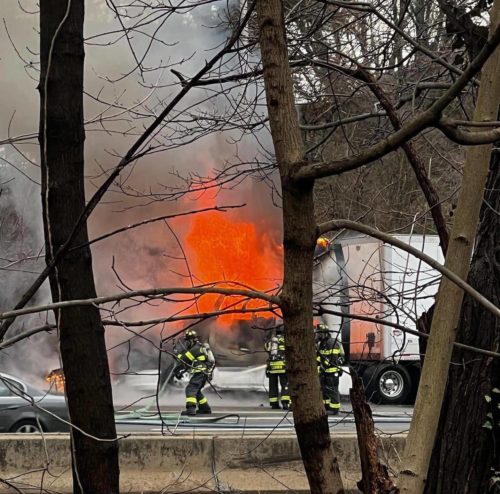 Car Fire Near Exit 2
Late last week, Greenwich Fire Firefighters responded to a tractor-trailer fire on I-95 Northbound near Exit 2. Fire companies were able to contain the situation before the fire reached the trailer containing an unknown, non-hazardous chemical. The fire is being investigated by the Greenwich Fire Marshals office.
FROM TOWN HALL
Extended Hours for Tax Collector's Office
The Tax Collector's Department will be open Saturday, January 28th from 9 am to 12-noon, and Wednesday, February 1st from 8:30 am to 7 pm.
AROUND TOWN
Eversource Cautions Against Scammers
Eversource is cautioning customers against scammers who are claiming you've overpaid your utility bill. These scammers then request your personal bank account or credit card information in order to give you a refund. Scammers can even manipulate caller ID to display "Eversource," creating a greater sense of confusion. If you receive a call, email, or text requisition payment information immediately it is a scam and you should not respond.
Aquarion Water Company President Selected to Lead National Water Organization
Aquarion Water Company President Donald Morrissey was named Chair of the Board of Directors of the National Association of Water Companies. Morrissey will be serving as Chair for a one-year term.
Vote for Bruce Park for Favorite Park
USA TODAY is holding a contest to rank the top 10 favorite parks in 2023, and Bruce Park has been nominated. Last year Bruce Park was ranked #8. The contest ends on Monday, February 6th at noon. Vote online at https://www.10best.com/awards/travel/best-city-park-2023/bruce-park-greenwich-connecticut/
LOCAL BUSINESSES AND NONPROFITS
Greenwich Hospital Orthopedic Programs Awarded
This past Wednesday it was announced that Greenwich Hospital has earned The Joint Commission's Gold Seal of Approval for recertification in spinal fusion surgery, as well as Advanced Certification in total hip and knee replacement surgery.
PEOPLE IN TOWN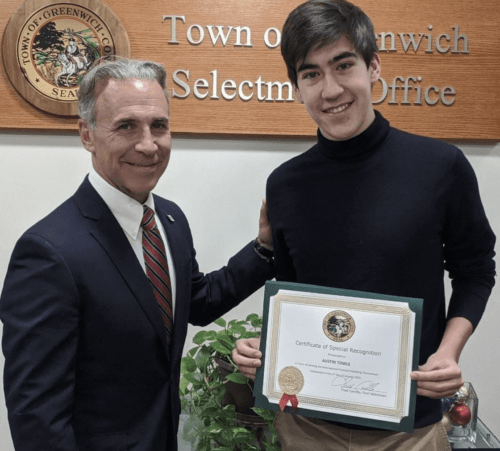 Greenwich Resident Wins Financial Modeling World Cup
Greenwich resident Austin Towle, Greenwich High School graduate and now Ohio State University student, and his team won the Financial Modeling World Cup's Microsoft Excel Collegiate Challenge. Austin is a Greenwich High School graduate who is currently a sophomore at The Ohio State University. First Selectman Fred Camillo honored him over at Town Hall with a certificate.
New Director of Environmental Affairs
Late last week, Beth Evans took over as Director of Environmental Affairs in town after Pat Sesto retired at the end of 2022. Previously Evans ran Evans Associates, an environmental counseling firm started in 1988. Evans earned two Masters Degrees, one in Regional Planning and the other a Masters of Science in Geology from the University of Pennsylvania, she also earned her Bachelors Degree in Biology from Cornell.
New Director at Smilow Cancer Hospital Care Center
Earlier this week it was announced that Dr. Patrick Kenney was appointed as the cancer service line medical director for Greenwich Hospital, and regional physician leader for oncology services for lower Fairfield and Westchester Counties at Smilow Cancer Hospital at Yale New Haven.
SCHOOLS
Five GHS Students Included in Top 300 Scholars
Five Greenwich High School seniors were included in the top 300 scholars for this year's Regeneron Science Talent Search 2023. Those five seniors are Stephanie Chang, Isabella Gega, Ronit Gupta, Angie Fogarty, and Ambika Grover. Stephanie Chang: A Multi-Omics Approach to Host-Microbe Interactions in Inflammatory Bowel Disease and Targeted Cell-Type Discovery; Angie Fogarty: Rapid, Visual Detection of Illicit Substances in a Variety of Environments via Competitive, Amine-Responsive Fluorophores; Isabella Gega: Synthesis of Polysaccharide-Encapsulated Hydroxyapatite Nanocomposites To Stimulate Plant Growth and Promote Phosphorus Absorption; Ambika Grover: Design of a Novel, Dual-Functioning, Tissue Plasminogen Activator and Factor XI-Inhibiting Anticoagulant Therapeutic for Rapid Ischemic Stroke Treatment; Ronit Gupta: Design of a Rapid, Lateral Flow COPD Diagnostic via Detection of Cyto-Keratin 19 Biomarkers
Western Middle School Field Remediation Update
Last Wednesday night, more than one-hundred residents gathered inside the Western Middle School auditorium for the hearing on the proposed Remedial Action Plan for the fields. Remediation would take just under 150 days with a preliminary budget of about $19 million, and work could begin as early as this summer pending the permitting process and other approvals.
Greenwich Public Schools' New Special Education Coordinator
Greenwich Public Schools has named Joseph Baynes as the new special education coordinator after having previously served as interim special education coordinator since October of 2022.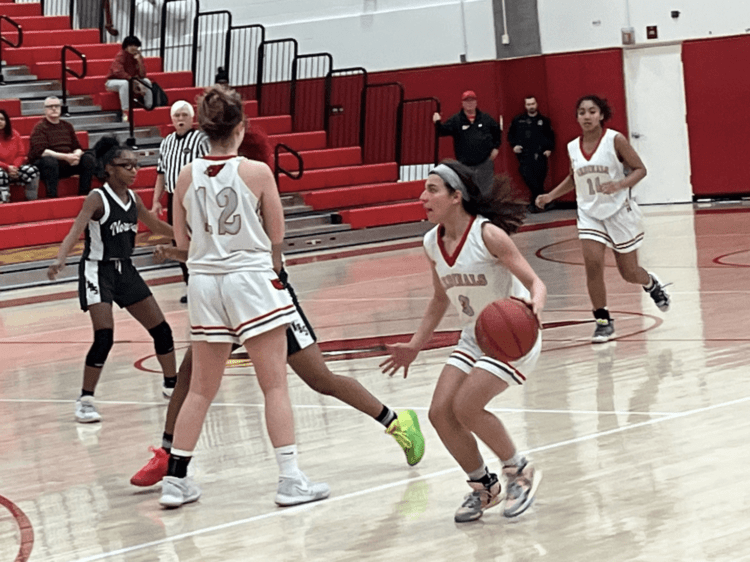 SPORTS
Carolyn Frankle's career-high 27 points sparks Greenwich basketball team to victory against visiting Norwalk, 59-44
Whether it was converting pull-up 3-pointers in transition, or making layups, while being tightly guarded, Carolyn Frankle's shots were falling for the Greenwich High School girls basketball team throughout tonight's game against Norwalk, which tried, but couldn't keep pace with the Cardinals' dynamic guard.
Brunswick skates past visiting Hill School for fourth win in five games
After losing to the Hill School in Pennsylvania on Friday, the Brunswick School hockey team returned the favor last Saturday in what coach Mike Kennedy described as "a near complete game."
Greenwich boys basketball team topped by undefeated Staples, in FCIAC matchup
Staples entered last Friday night's game against FCIAC boys basketball foe Greenwich undefeated through its first six matchups and coach Dave Goldshore's team showed why they have an unblemished record almost one month into the season.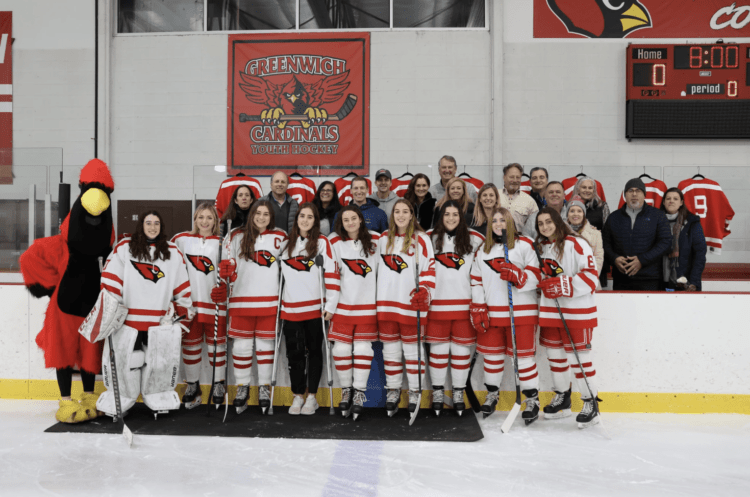 Greenwich High School girls ice hockey team edges Staples/Westhill/Staples, 3-1, for key Senior Night victory
The go-ahead goal for the Greenwich High School girls ice hockey team in its key FCIAC game against Stamford/Westhill/Staples came in especially fitting fashion on its Senior Night. Three of the Cardinals' senior captains – Caroline Lawrence, Peyton Jelinek and Sophie Roth – combined on the goal during a night in which the team paid tribute to its senior athletes.
Greenwich Academy basketball team posts first win of the season with road triumph against FAA opponent Masters
Receiving a career-high 14 points from senior forward/captain Ellie Johnson, the Greenwich Academy basketball team topped Masters School, 33-29, in an FAA game, held in Dobbs Ferry, N.Y., last Wednesday.
Brunswick notches third straight win by doubling up Millbrook in ice hockey action; Bruins visit The Hill School next
Brunswick School's hockey team returned to the road, where it has flourished so far this season and it notched another league victory, posting a 4-2 win last Wednesday evening against Millbrook School.
LOCAL POLITICS
RTM Vote Ends in Questions Over Correctly Counting Votes
At the end of Tuesday's RTM meeting, the vote on whether or not to accept the $500,000 grant money was left unanswered as some members of the RTM remarked that their votes had not been counted. The Town Clerk's office issued an email on Wednesday letting members know that they are reviewing the votes and working with the electronic voting platform vendor to determine what happened.