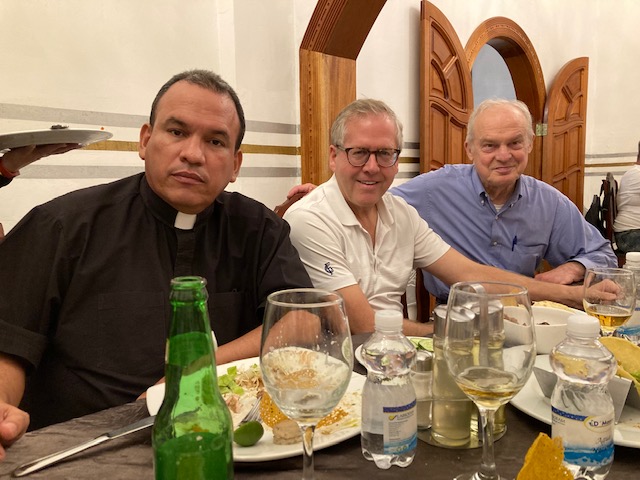 By Dick Schulze
We all are very much looking forward to a Happy Thanksgiving with family, friends, and a sumptuous feast. That is a tradition in our country, especially here in New England, where it dates back to the 17th century. Thanksgiving was celebrated when the harvests were in, and people could take the time to prepare a memorable meal for the whole family.
But it is hard to imagine a Happy Thanksgiving from Cuba's perspective. Nine of us from Christ Church Greenwich have just returned from a week in Cuba, visiting two of the 52 worshipping Episcopal communities, including our companion parish San Marcos, in Holguin.
What we saw, as our accompanying Rev. Marek Zabriskie summarized, were the worst living conditions Cuba has experienced in the past 60 years. The average monthly income is USD $40. A pound of pork will cost about 10 percent of that, as will a dozen eggs. We hosted dinners for the congregations at two churches having sent money in advance so they could buy the food.
Here, Americans leave food on our plates at the end of a meal, especially at Thanksgiving, and throw away a significant portion of all the food grown. At the end of each meal there, people sorted through any food not consumed, and distributed it to families in the congregations who are literally starving – eating only a portion of what an adult or child needs to survive.
That, plus random power outages each day for about half the day and night makes life in Cuba a real challenge! That's why some 350,000 Cubans, mostly young people, are leaving Cuba each year. That is the tragedy of what is currently happening in Cuba. At some point when the country wants to grow, it will have to do so without most of their young people – their most valuable asset. I believe that the government's perspective is, at least the young won't be there to push for political change.
When our group flew down, we were bringing the components for a water filtration system to be installed at San Marcos, so that the local community could walk into the Church with water containers and fill them with potable water – something that is lacking in most of Cuba. The goal of the Episcopal Church in Cuba is to have water filtration systems in all their churches to help their communities.
But, when we checked in for our flight, we were told that the plastic containers we were using were no longer permitted by the Cuban authorities, so the Agents would not allow to us take them with us. After explaining to two airline supervisors what we were bringing with us, one opined, "If this Church group of nine is going to help the people in Cuba, we should help them, not stop them." They provided a solution so that all our baggage, including medical supplies and vitamins, arrived intact!
The Episcopal Church in Cuba in the past year has added six worshipping communities and ordained five new priests. This growth in attendance is because in adversity, the only thing the Cubans can look towards is their faith. They welcome our visits because it shows that the Church in the U.S. cares enough for them to visit, to worship together, and to help augment what they cannot buy.
In summary, they care for us because we care for them. Hugging a Cuban is always from the heart.