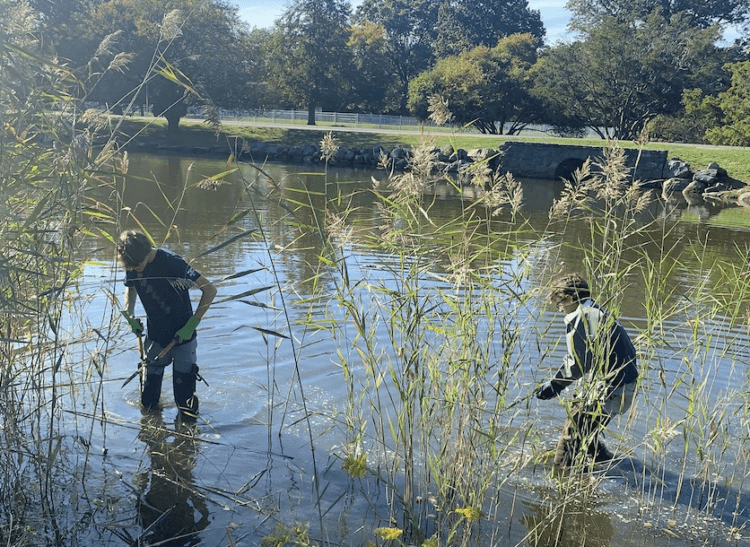 The Conservation Commission, Parks and Recreation and Pollinator Pathway took on Phragmites removal in Bruce Park. This activity was permitted by CT DEEP. The affected area included two tidal ponds with a total of 3 phragmites stands (two in the large pond and one in the small pond). The stand in the small pond was successfully excavated by Parks and Recreation last year with minimal regrowth this season. The excavation is an expensive activity and large equipment had to be utilized to reach out to the deeper parts of the tidal ponds. The Conservation Commission Staff has applied for grants to carry out this excavation process but was not successful in securing the necessary funding.
On September 23, the Conservation Commission (CC) staff and Pollinator Pathway (PP) members with a handful of Greenwich High School (GHS) students made the first attempt to tackle the Phragmites stands. The work started at the stand located across from the tennis courts within the large pond and was tackled by four students, one member of the PP (Myra Klockenbrink), two members of CC staff (Aleks Moch & Snehal Mhatre) and an observer from Parks and Recreation (P&R).
There were three consecutive removal dates including Thursday October 6 with members of the CC Leslie Patrick, Aleks Moch of CC & PP and Myra Klockenbrink of  PP, Phil Scarano Park Gardener Foreman, Walter Burke Park Gardener II, Jonathan Rodriguez Park Gardener II from P&R, October 21 with 48 students from GHS, 2 PP members (Myra Klockenbrink & Patricia Adams), Aleks Moch & Leslie Patrick of CC, Robert Conlan, GHS AP Biology teacher. The last event was on November 4 with 44 students from GHS, Patricia Adams of PP, Leslie Patrick of CC, Aleks Moch of CC & PP and Kristen Lodato of IWWA, Phil Scarano Park Gardener Foreman and Stacey Mortenson of P&R and Land Use Attorney Casey O'Donnell, Esq.
This work was performed during the low tide and successfully removed Phragmites from the two tidal ponds in Bruce Park.