By Emma Barhydt
The Stanton House Inn delights and satisfies goers with luxury and know-how about Greenwich. If you're looking for a place to stay in Greenwich look no further than the Stanton House Inn. Whether your home is under repairs, you need a stay-cation, or your in-laws are visiting, you have the perfect place at your fingertips to spend a night, or two. Located right in the heart of Greenwich on Maple Ave, the Stanton House Inn has Greenwich right at your fingertips. It's a short walk from Stanton House to Greenwich Ave and the Train Station, granting you easy access to New York City as well.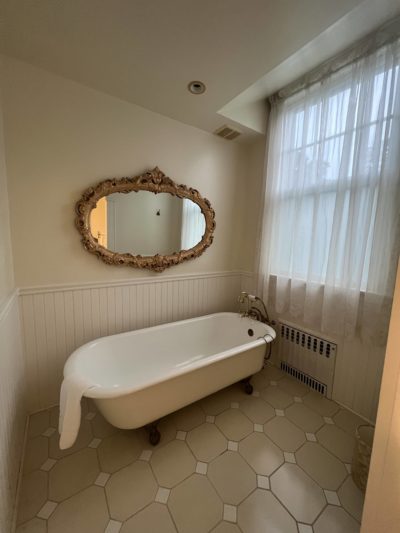 Before you even arrive, you'll receive a text message or voicemail with check-in and out instructions, the door code, and a notice to text them for anything you may need "before, during, or after your stay." The accessibility to staff members is great, I didn't end up needing anything extra during my stay; however, I did end up needing a later check-in which they accommodated with ease. Upon my arrival, the first thing I noticed was the parking situation. They have a circle driveway and a few spots just by the door to drop off your bags, and a good size lot, so you don't need to worry about parking. Parking is always a huge consideration for me, since I'm a chronic overpacker. To enter, you go through their front door which opens immediately into a small enclosed entryway situation with a door where you enter the door code. Once through that you're standing in the foyer.
After walking in, you're welcomed on either side by two sitting rooms; on your right, a red sitting room and on your left, a yellow sitting room. Through the yellow sitting room, you're led to the dining room and the way to the pool. Upon my arrival, it was already dark, and the early October evenings no longer retained the end of summer heat like September, so I was unable to utilize their pool, but I did take a walk around and wow it was just beautiful. A romantic patio with plenty of tables and chairs sits adjacent to their pool lit with strings of bulbs.
After exploring their patio and pool situation, I headed back inside to see the dining room. The dining room is a cute little area with beautiful bay windows, a gorgeous fireplace, and, of course, plenty of places to sit and eat. I was pleasantly surprised that even at 8pm, the dining room area still gave guests access to bottles of water or seltzer, tea, coffee, and hot cocoa, as well as little bags of chips as snacks.
I'm always a little nervous when I have to do a late check-in, there's a lot of variables that could go wrong, but I had nothing to fear with Stanton House. Once I told them I'd need a late check in, they let me know to expect a "welcome letter with [my] name on it" waiting for me in the lobby. I noticed it as soon as I walked in the door, thank goodness it was impossible to miss. I now finally circled back around to my welcome letter, inside were instructions and keys to my room. I followed my instructions up the incredible main staircase to the second floor and entered my room.
I was awestruck. I stayed in the Brush Suite which not only has a four-poster king size bed, it also has a wide screen TV, kitchenette, small sitting area, a work area, and an utterly luxurious clawfoot tub in the bathroom. Inside of the room you also have access to a wealth of knowledge about Greenwich. Waiting for you in your room is an informational packet about local businesses and restaurants, including their phone numbers and if they deliver. They also provide a small booklet with the history of Greenwich (including Stanton House) and information about the Inn.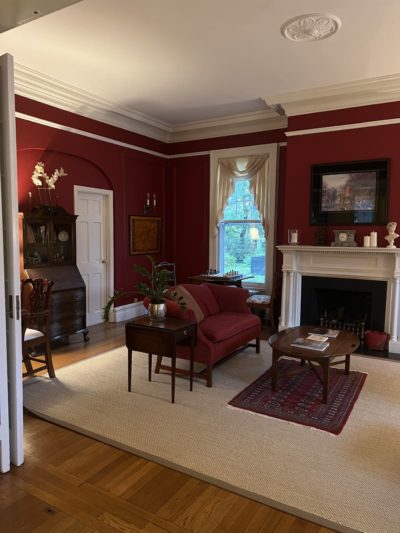 I took off my shoes, hung up my coat and immediately took a shower. The water didn't take long to heat up, water pressure was good, and the controls were easy to use. After my shower, I pulled on PJs and made myself dinner. I heated up takeaway I'd brought with me in the microwave, and made myself tea with the hot water kettle provided. The kitchenette is pretty robust, you have a mini fridge, microwave, tea kettle, and a sink- all of which work well and are clean. After I was done, I finally made my way to bed.
I crawled into bed with my phone and my laptop, ready to finish up my day by answering some work emails and calling my friend. I was not expecting the comfort level of the bed to have any sort of affect on me beyond getting a good night's sleep, but I got right in the center and basically passed out. I didn't even bother opening my laptop. I woke up in the morning feeling refreshed, to find I'd slept for almost 10 hours.
At 9am, I received another text message from the Stanton House Inn with more expansive check-in instructions, letting me know I was "welcome to leave [my] room key on the marble front desk" upon my departure. As is industry standard, check out in the morning at the Stanton House Inn is at 11am. I left my keys on the marble front desk as instructed and enjoyed a muffin from the continental breakfast in the dining room and headed home.
The Stanton House Inn is phenomenal, and combines luxury with comfort at the best levels of each. The thought they've poured into each and every detail to make your stay as easy and happy as possible is unmatched, from their text messages to the amenities in the rooms, to the topics on their blog. Everything has been thought of. The Stanton House Inn is a member of Select Registry, a diverse collection of independent, boutique properties delivering a level of personalized service unheard of at hotel chains and a quality of experience only a select few independent properties can attain. Each is authentic, and staffed by people who love to take great care of you. I felt incredibly safe staying here as a young, solo woman.
There's a lot about the Stanton House Inn I didn't get to enjoy this time, like their gardens and pool, or one of their dog friendly rooms; but I'm excited to explore even more during my next visit. For now, Thanksgiving and Christmas are both on the horizon, don't wait to book visiting friends and family (or even just yourself) at the superb Stanton House Inn.