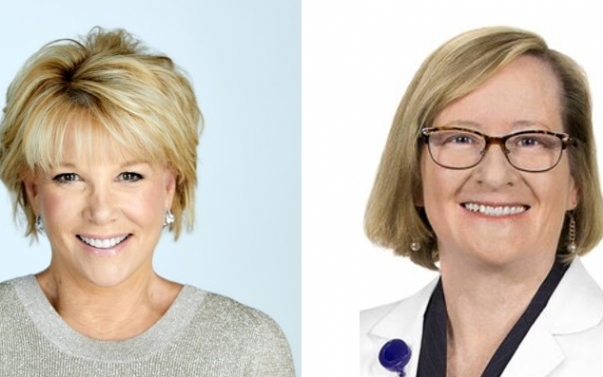 Breast Cancer Alliance will hold the webinar Navigating Triple Negative Breast Cancer (TNBC): Joan Lunden and Dr. Barbara Ward, in conversation with BCA Executive Director, Yonni Wattenmaker, on Wednesday, September 28, 7:30pm. Ms. Lunden will share her personal story as Dr. Ward informs about this breast cancer type, surgical options, treatment and more.
An award-winning journalist, bestselling author, television host, and motivational speaker, Joan Lunden has been a trusted voice in American homes for more than 40 years. For nearly two decades, Joan greeted viewers each morning on Good Morning America making her the longest running female host ever on early morning television and she continues to be one of America's most recognized and trusted personalities. This mother of seven children was diagnosed with triple negative breast cancer in June of 2014. An eternal optimist, she turned her diagnosis into an opportunity to become an advocate and help others. She chronicled her experience in her memoir Had I Known.
A physician for 38 years, Barbara A. Ward, MD, is the first female chair of Surgery at Greenwich Hospital, medical director of the Breast Center at Smilow Cancer Hospital Care Center in Greenwich and an associate clinical professor at Yale School of Medicine. Her experience spans both research and clinical.
Prior to joining Greenwich Hospital, Dr. Ward served as director of Yale Comprehensive Breast Care Center. Following medical school at Temple University School of Medicine, Dr. Ward completed surgical training at Yale New Haven Hospital and a two-year fellowship in surgical oncology at the National Cancer Institute. She is the recipient of numerous awards and distinctions and is first or co-author on more than 45 peer-reviewed papers.
Dr. Ward sits on the Medical Advisory Board for the BCA, which partners with Greenwich Hospital to provide mammography and other services to women who have no or little health insurance. She also is a member of various professional societies, including American College of Surgeons, American Society of Breast Surgeons, Eastern Surgical Society, New England Surgical Society and Yale Surgical Society.
For more information, visit https://breastcanceralliance.org/events