"A Shot to Save the World, The Inside Story of the Life-or-Death Race for a COVID-19 Vaccine"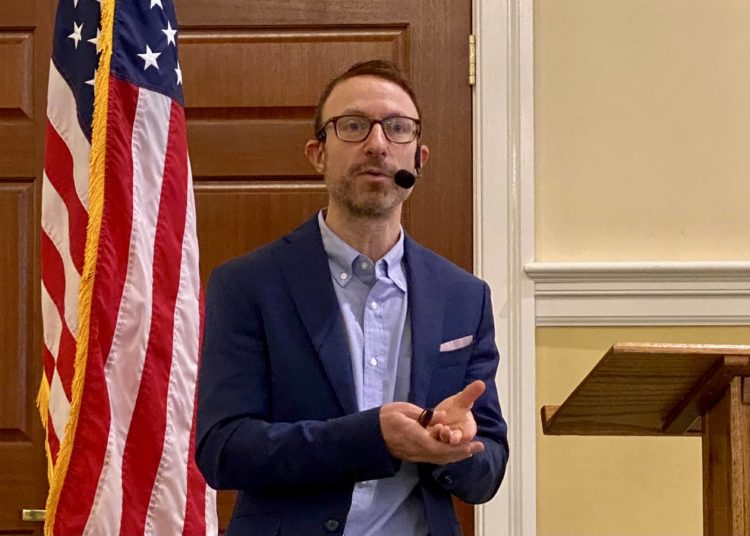 At the Retired Men's Association (RMA) of Greenwich's meeting on Wednesday, August 24, Skip Auch and Jim Campbell introduced Gregory Zuckerman, a 26-year special writer at the Wall Street Journal. Greg has authored several business best sellers plus he regularly appears on CNBC, Fox Business, Bloomberg Television and other news channels. He is a magna cum laude graduate of Brandeis University.
Greg spoke to the RMA members about his most recent book, A Shot to Save the World: The Inside Story of the Life-or-Death Race for a Covid-19 Vaccine, which recounts the efforts to develop a vaccine in a very short period of time. Whereas developing a vaccine typically took eight to ten years, with four years being the fastest any prior vaccine was developed, the current Covid-19 vaccines were developed amazingly in only 330 days.
Greg characterized the fast development of these Covid vaccines as modern science's greatest achievement. He explained that this was attributable to the convergence of several facts and forces:
• Previously unheralded basic research,
• An almost fanatic preoccupation with developing the vaccine by some biotech firms with no previous record of success,
• Wall Street financing, and
• The United States government's help.
The heroes of Greg's story were not the most likely candidates, the large vaccine producers like Merck, Sanofi, and GSK. These companies did not pursue a Covid vaccine with great vigor because it did not appear to be that profitable a venture given that it appeared possible that the pandemic might just die off, meaning that working on a vaccine was financially risky. Also vaccines in general are not big money makers for pharma companies that profit much more from their drugs that people take every day compared to a once-a-year or once-a-lifetime vaccine.
Into this vacuum stepped two companies: Moderna and BioNTech. Moderna is an American company that had attracted attention because of its high-tech approach that focused on mRNA, but as of early 2020 it was viewed with skepticism because after more than a decade of work it still had delivered no product.to the marketplace. When its CEO learned of the coronavirus, he concluded that it was a problem for which Moderna's high-tech technology might be the solution. He then redirected the company's efforts to focus with very high intensity on a Covid vaccine. Early indications were that Moderna was on the right track with the vaccine it was developing, but unfortunately it lacked the money to complete the job. The CEO's early efforts to raise funds– directed at the government, Merck, and the Gates Foundation – all failed. Ultimately, it was Wall Street and capitalism that bailed Moderna out. Morgan Stanley purchased $1.3 billion of newly issued Moderna stock, that it then resold to its clients. This $1.3 billion infusion of capital provided Moderna with the funds to complete development of its vaccine.
BioNTech is a German company that had been working on developing a cancer vaccine and other products for over a decade, but none of its products had yet reached the market. Its CEO was convinced that its mRNA-focused technology was the way to deal with the coronavirus. At first his wife and partner was skeptical that the company should shift its focus to this new health crisis, but she eventually was persuaded. As BioNTech was then partnering with Pfizer on other projects, it asked Pfizer to fund its development of the Covid vaccine. Pfizer initially declined, but the BioNTech CEO persisted and persuaded Pfizer to collaborate and provide the necessary funding.
Notably the science underlying the Moderna and BioNTech vaccines did not start with these two companies. For decades, largely unheralded scientists had been doing the fundamental work on messenger RNA (mRNA) that was employed in both of these vaccines. But making mRNA actually work required overcoming huge technical hurdles, and much of the work that enabled Moderna and BioNTech to do so was performed at the University of Wisconsin in the 1990s and later at Duke, the University of Pennsylvania, and MIT. The U.S. government also played a role. Its Operation Warp Speed, the government's program to expedite the development of the vaccine, eventually provided funding that helped some of the vaccine developers, and it helped speed up the process of vaccine approval.
Those interested in viewing the full presentation, including the lively question and answer session, are urged to go to the RMA website and click on the video at https://vimeo.com/user9053619/videos.
The RMA's next presentation will be by Jonathan Lemire, an American journalist and political correspondent, who is currently the White House bureau chief of Politico and host of MSNBC's morning news show Way Too Early. This presentation will be about his new book "The Big Lie: Election Chaos, Political Opportunism, and the State of American Politics After 2020" and will occur on Wednesday, September 7, at 11:00 a.m. at the First Presbyterian Church in Greenwich as well as on webinar at: https://bit.ly/30lBj21. Please Note: Those attending the presentation at the Church must show proof of vaccination and a booster at the door for admittance.
RMA speaker presentations are presented as a community service at no cost to in-person or Zoom attendees. The RMA does request that all eligible individuals consider becoming a member of our great organization, and thereby enjoy all the available fellowship, volunteer and community service opportunities that the RMA offers to its members. For further information, visit www.greenwichrma.org or contact Joe Mancinelli (mailto:jlmanc@optonline.net) or Peter Stern (mailto:members@greenwichrma.org).