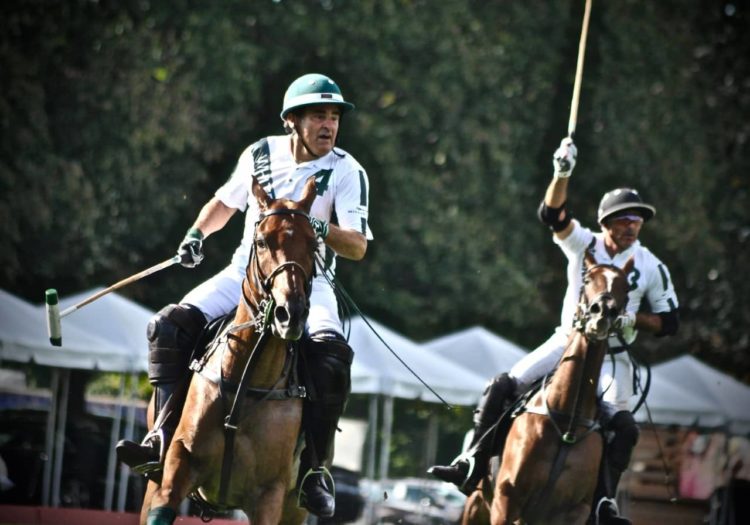 By Liz Leamy
White Birch, the iconic Greenwich-based team responsible for helping render the Greenwich Polo Club as a premier high-goal U.S. destination, has been preparing steadfastly for the upcoming 2022 East Coast Open, the premiere annual 20-goal tournament slated to kick off on August 28th and run through mid-September at Conyers Farm.
This renowned team, established in 1979 by Peter Brant, the renowned business mogul who also founded the Greenwich Polo Club in 1981, is said to be in optimal form as they get ready to face off at this celebrated event, regarded to be one of the most competitive and decorated championship showdowns of the sport.
Over the years, White Birch has had terrific success playing in this tournament, claiming a total of 13 East Coast Open titles to date, with the most recent being back in 2020, when they defeated Black Hound/Don Ercole 13-10.
Certainly, White Birch's competitive record is just as impressive as it is astonishing.
Throughout the past several decades, this team has scored dozens of first-place finishes at major high-goal events around the country, including 12 Perry Cup wins along with other major titles that have come to designate them as one of the most formidable high-goal forces in the sport.
Standing at the helm of this esteemed organization is Peter Brant, the remarkable alchemist of the Greenwich Polo Club (one of only three high-goal venues based in the U.S.) who has been responsible for helping to make White Birch one of the most accomplished and powerful high-goal teams around.
Brant, the White Birch patron who last played at the 2016 East Coast Open when his team edged out Audi 12-11 in sudden-death overtime at the Greenwich Polo Club, has always crafted and developed a unit that has involved many of the sport's finest players, horses and handlers.
Moreover, Mariano Aguerre, the iconic Argentinian seven (formerly 10) goaler known as one of the 10 most famous players of the sport, has been a central force for the team over the years, having helped propel White Birch into the high-goal spotlight since the 1990s due to his skills and fiery spirit.
Inducted into the Museum of Polo and Hall of Fame in 2017, Aguerre's incredible skills and star power have also been much of the reason why so many hundreds of thousands of spectators have attended the Greenwich Polo Club public Sunday matches over the years.
For Aguerre, it's all about love of the sport.
"I think the combination of speed and adrenaline of the sport and interacting with the horses make [polo] really unique," said Aguerre in 2017 when he was inducted into the Museum of Polo and Hall of Fame in Lake Worth, Florida. "I love the lifestyle of polo, getting to play in Argentina and the U.S., but every location feels like home with plenty of friends and family. I'm extremely lucky to earn a living doing what I love."
Aguerre, who grew up in Argentina, found his calling on the polo field as a young boy when he had been spending time at stables and polo farms close to his home.
Through hard work and expert guidance, Aguerre quickly catapulted to the pinnacle of high-goal polo by the time he was in his 20s, reaching the coveted 10-goal mark, a level achieved by only a few athletes in the sport.
During this period, Aguerre had been working closely with Gonzalo Pieres, Sr., the Argentinian 10 goaler from the 1980s who was largely responsible for helping to elevate polo to the uber-professional level that it has come to be known for today.
During this time, Aguerre also caught the attention of Peter Brant, who brought him on to White Birch to be its number-three (lead) player, a position he has maintained to this day.
In his 20s, Aguerre also married Gonzalo Pieres's daughter, Tatiana, with whom they have four children, Sophie, Lola, Antonio, and Carmen, as he continued to build his epic career. (Meanwhile, Gonzalo Pieres Sr.'s three sons, Gonzalo Jr., Facundo and Nicolas, are also premier professional polo players and all have 10-goal handicaps.)
In regard to this amazing journey, Aguerre credits his success to Peter Brant and the entire White Birch organization.
"Let me put it this way," said Aguerre when he was inducted into the Museum of Polo and Hall of Fame. "I'm not sure there would be any Hall of Fame moment for me if it wasn't for the White Birch organization and all of their support."
"I've been playing with White Birch and Peter Brant for more than 30 years," said Aguerre. "I think the longevity of our partnership and the team we've been able to build throughout the years is pretty rare."
Today, Aguerre honors that relationship more than ever as he and the rest of the team, including Peter Brant's son, Christopher Brant, its stealth and lightning-quick number-one player, have been preparing to compete at the 2022 East Coast Open.
"We've been working very hard," said Aguerre. "We have been training many hours each day both on and off the field and we're looking forward to playing in the East Coast Open."
In addition to training at the Greenwich Polo Club, their home base, Aguerre, Brant and the rest of the White Birch continent have been practicing at the Two Trees Stables in Bridgehampton, New York, in order to further prepare themselves for the East Coast Open.
Certainly, as they get ready to face off at this tournament, it seems as though it will be another benchmark experience for players and spectators alike, that is for certain.
Meanwhile, the role of the Greenwich Polo Club management structure also appears to be as strong as ever, mirroring the same golden standard of the White Birch team and further bolstering the presence, role and impact of the whole organization.
The Greenwich Polo Club is helmed by Leighton Jordan, its dedicated and laser-focused longtime Managing Director, as well as Harlan Zeerip, Director of Marketing and Events and Esteban Panelo, Manager, all of who are collectively responsible for also helping make magic happen at this famous venue, much to the delight so many thousands of fans, especially those who live here in the local community.
For more information on the 2022 East Coast Open and the Greenwich Polo Club, please visit www.greenwichpoloclub.com