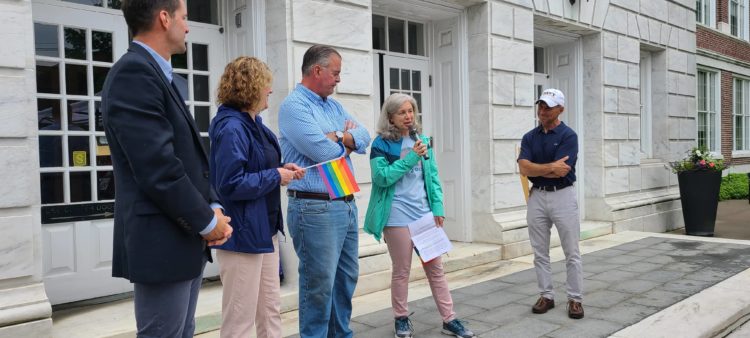 In honor of June as LGBTQ+ Pride Month, Greenwich hosted a community gathering on Sunday, June 12. Community members gathered at Town Hall for the Pride flag raising, a reading of the Pride proclamation and to hear from local elected officials, religious leaders, and community members. Also on display was a local art show with Pride-themed paintings made by kids at the local middle and high schools in town. An ice cream truck also served up cold, delicious treats to all in attendance.
In attendance were First Selectman Fred Camillo, members of the Board of Selectmen (First Selectwoman Lauren Rabin and First Selectperson Janet Stone McGuigan), Congressman Jim Himes, Rep. Steve Meskers, along with other officials, religious leaders, community members, families and allies.
June is LGBTQ+ (Lesbian, Gay, Bisexual, Transgender, Queer, plus) Pride Month, a time when we honor the progress made to LGBTQ+ equality, celebrate diversity in LGBTQ+ identities, and acknowledge the barriers that continue to prevent LGBTQ+ people from realizing true equity. It is a time for both LGBTQ+ people and allies to come together to honor the community and to commit to creating a more inclusive world where everyone can belong and thrive.