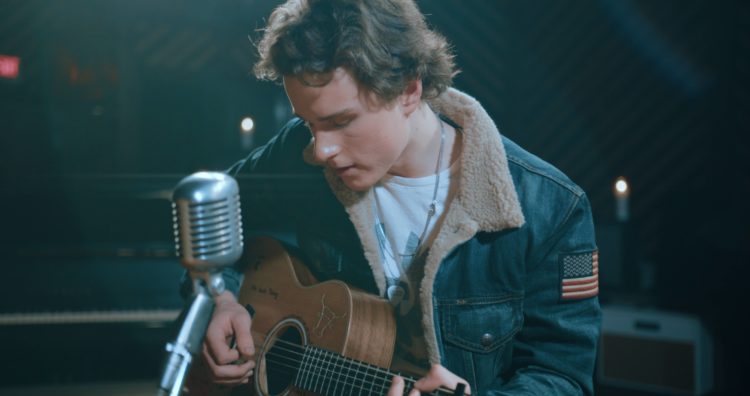 By Kate Turkeltaub
Gifted with grace and humility, Greenwich local Winston Rider may be the town's next big talent. Currently working with two producers, this high school student is living in a world far beyond his years.
A quick Google search will inform you of the singer's early success; a performance at Z100's star-studded 2021 Jingle Ball is no small feat. In fact, the likes of mega-stars such as Shawn Mendes found early recognition on the same stage.
After performing in the Z100 All-Access Lounge by entering an online content on a whim calling for a high-school aged opening act, Rider was shown the true potential of his future in the music industry.
"I kind of forgot about it, didn't think much of it, until I got a phone call… saying I had won," Rider said. "That was probably the first time I had felt like this was paying off, and something had come of it. It was just so cool."
It's hard to believe that Rider is just 17 years old, yet his anecdotal description of receiving the call while on the bus home from a school-sponsored hockey game reminds you of his youth.
Rider has always been drawn to music. His childhood passion was fostered by the music his family would show him. The musician's earliest performances involved attempting to learn how to play his favorite pop songs on the guitar and singing along.
"There are so many pictures that I'm seeing now on my family computer of me, always holding a guitar… which I don't even remember," Rider said.
He also has a love of filmmaking, fostered by filming 'music videos' of sorts, many of which starring his sister during their childhood.
As he grew older, Rider turned to Youtube to learn more about music and instruments.
"I've learned a lot just by ear. I would hear a song and watch a video on how to plan it, and have gotten so much better at guitar because of it," he said.
He has been able to further explore his talent between classes at the Brunswick School, where he uses their music class rooms. He's not always alone in his venture; Rider's friends come to jam out, as well.
"We've played some of my original songs in [music] class, which is really cool to see them come alive with my friends playing the instruments. They all add their own unique twist on the parts," Rider said.
Rider's family and friends are supportive of his musical endeavors (regardless of how often his older sister used to demand he stop playing the guitar so late at night).
While he wasn't able to meet Billy Joel after the Greenwich Town Party, Rider expressed appreciation for the crowd that came to experience his performance and extreme respect for the team that made the event possible.
Rider sets himself apart with his inherent ability to write songs, gifted at composing thoughtful lyrics alongside soulful acoustic guitar. With over 120 original songs, Rider's songwriting formula is a proven success.
While most of Rider's music is stripped down and mellow, he is hoping to release his new song, "Over and Over," this summer. He explains this song will be the most energetic yet, and is his favorite venture to date.
"Music is a funny thing," Rider said. "It's almost like you're writing your first song every time."
Every attempt at lyrics is different. Some lyrics come from inspiration derived from a particular chord progression, while other times a simple word he hears in conversation or while reading books may become a song of its own.
Instead of pressuring himself to churn out an instant hit, Rider allows himself to sing random notes and words along to his guitar, helping him to find melodies that he can later replace with more meaningful lyrics. This is a similar tactic to that of one of his influences, Ed Sheeran.
He also produces his own music using software such as Midi Instruments.
"There's a lot of ways to be inspired to build a song, and then the rest just comes from my love of songwriting," Rider shared.
In addition to Ed Sheeran, Rider takes inspiration from John Mayer, Rex Orange County, the Arctic Monkeys, and Shawn Mendes' album Handwritten.
"I love being the artist and the voice behind my music, and it would make me happy to be the voice behind a song people related to," Rider said.
And, Rider has a lot to look forward to. He's performing at SummerFest in Milwaukee on July 9th, and hoping to release an EP this summer.
"I never have a plan of picking up the guitar: it's just something I did. It's just in me. If anyone has a passion like that, and if it doesn't feel like a chore, then it's a special thing," Rider said.
Rider encourages others to pursue their dreams, sharing that "if you can make that something you can do for a living, that's the coolest thing in the world."