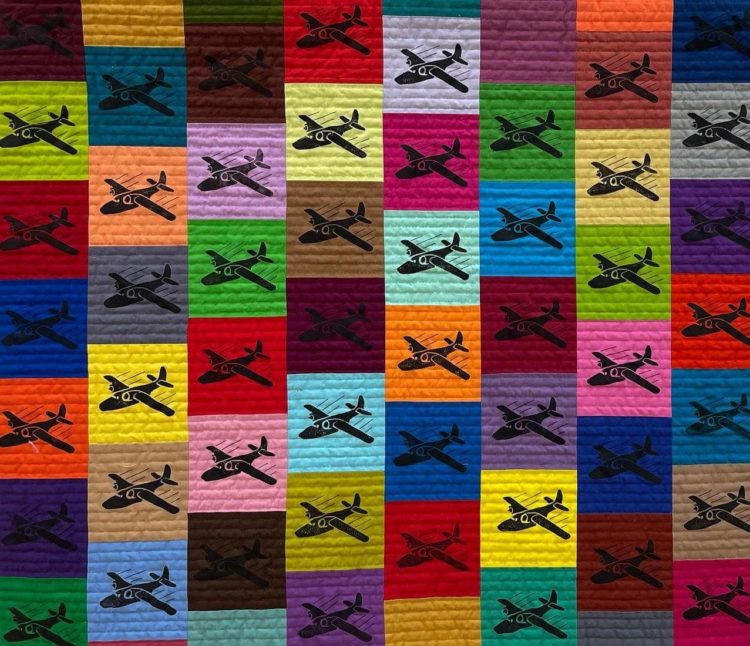 A selection of works from an exhibit of fiber art – "A Connecticut Welcome" – is on view at Greenwich Art Society. The artists are all members of the Connecticut Region of the Studio Art Quilt Associates (SAQA). The show was juried by Anna Patalano, President/Director of GAS.
The exhibit was a great success at the Guilford Art Center and we are thrilled that pieces of the exhibit will be available for viewing in Greenwich in May. Society members Margaret Phillips and Mayann Weinberg have work in this exhibit. Twenty-two pieces are on display at GAS. The imagery ranges from scenes of Connecticut, to people or events that welcome you in, to concepts or words that create a feeling of welcome or offer ideas of how to explore Connecticut. The artists range from internationally known fiber artists to first-time exhibitors.
SAQA is a non-profit organization whose mission is to promote art quilts – "creative visual works that are layered and stitched or that reference this form of stitched layered structure". SAQA has over 4000 members – artists, curators, collectors and art professionals – from all over the world; 122 of them participate in the Connecticut Region.
To learn more about SAQA go to saqa.com.
"A Connecticut Welcome" will be on display at the Greenwich Art Society until May 31. The Society is located at 299 Greenwich Ave. The Gallery is open for viewing Monday through Friday, 10am – 4 pm, and from 12-4 on weekends. The Gallery is on the second floor. The exhibit moves to the Milford Art Center in June and the Windham Textile & History Museum in August and September.
A catalog for the show which includes photos of all the work is available through Amazon.com – look for LOCAL COLOR: A Connecticut Welcome: An Exhibition of Fiber Art by Members of SAQA, Connecticut Region: Themel, Kate: 9798787283044
For sales inquiries, contact the Greenwich Art Society: 203-629-1533, admin@greenwichartsociety.org