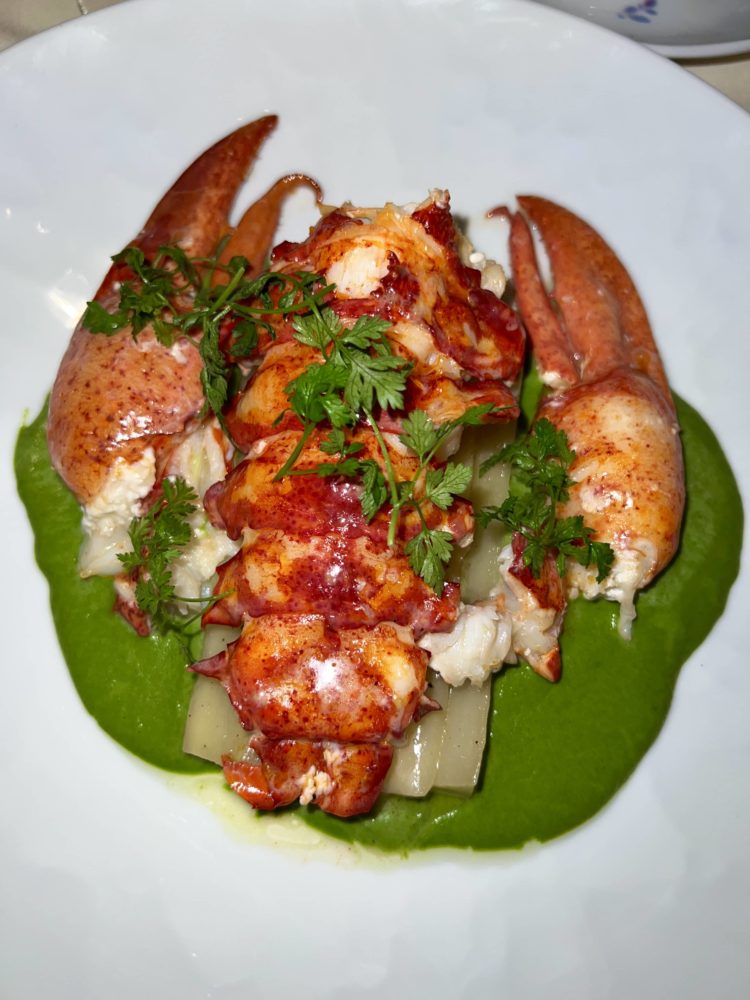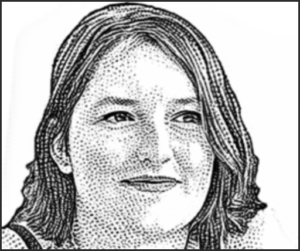 By Emma Barhydt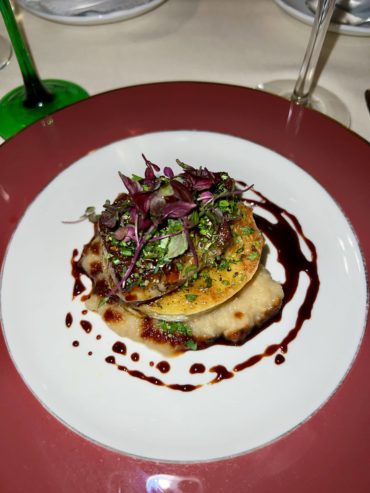 La Crémaillère is cozy, warm, and inviting; it's a destination without being out of the way; and the food is expertly prepared by a chef who has clearly found his passion. Winding down the back roads of Greenwich, past the Babcock Preserve and the polo fields, La Crémaillère is just 15 minutes from Downtown Greenwich, but it feels like a destination. Stepping through the doors you're greeted by an upscale yet cozy atmosphere. It's a unique change of pace– often "cozy" and "fancy" seem like contradictions, but they've married well at La Crémaillère.
I had the amazing opportunity to have the chef, Thomas Burke, come out to explain the dishes that I had and talk a little bit about his technique and ingredients. Chef Burke has a love for cooking that cannot be denied. It was incredible to be able to get his take on why he chose or sourced what ingredients and how the cooking style was classic or unique.
The first dish that began my night was a cauliflower and black truffle "aperitif" with chives and a brown butter crumb. Not alcoholic so not a true aperitif, but it certainly wet my appetite! Service in a demitasse cup, it was a beautiful and delicious way to begin my meal.
For my first true dish I received leeks vinagrette, gently steamed and served with a simple vinaigrette, avocado mousse, topped with fresh parsley. The simplicity of this dish accentuated the tenderness of the leeks as well as served to highlight the flavors of every aspect of the dish. You get that hit of tartness from the vinaigrette which is balanced by the sweetness of the leeks balanced out with the freshness of the avocado and parsley.
After the leeks, I had the Watercress & Citrus salad, watercress with a classic vinaigrette and avocado mousse, segments of blood orange and grapefruit, and topped with crispy shallots. This salad blew me away. I'm not usually one to order a salad at a restaurant but I will be going back for this salad alone. The greens were crisp and had a bite to them, the citrus was perfectly sweet and mingled with the vinaigrette perfectly. The crispy shallots mixed in to give it just a hint of richness. Simply superb.
Next, I tried the Hudson Valley foie gras, which came on a bed of honey roasted parsnip puree, a piece of delicate toasted brioche, topped with herbs de provence and a local apple cider reduction. This dish embodied decadence. The foie gras just melted in your mouth, I barely had to chew. Every part of this dish elevated it to a higher level.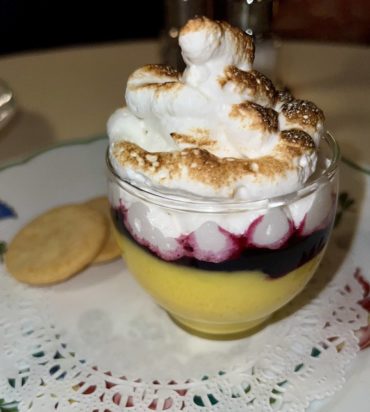 I also tried their black truffle risotto, a classic risotto base combined with Gruyere cheese, fine herbs, and of course black truffle on top. The artistry of this dish is the first thing you notice when they bring it out. The truffles have been shaved into slices and fanned out atop the rice. It's truly a beautiful sight. Then, the aroma hits you. That beautiful truffle aroma. The risotto was delicious. I'm a huge truffle girl, so having a dish like this was heaven.
For my next dish I felt like I was transported to France with Escargot. Burgundy snails sat in a bed of trumpet pasta, with a parsley cream and garlic crumb. I've never had escargot before, and I'm glad my first time trying them was at La Crémaillère because this was delicious. It was a very fresh dish that has definitely turned me on to escargot!
The second to last main dish I tried was their scallops with a classic vinaigrette, tangerine puree and tangerine pieces, topped with diced mangos and peppers. This dish was so vibrant and such an interesting flavor combination with the scallops that I never would have thought of. This dish encapsulates that perfect summer dish, I felt transported to the beach!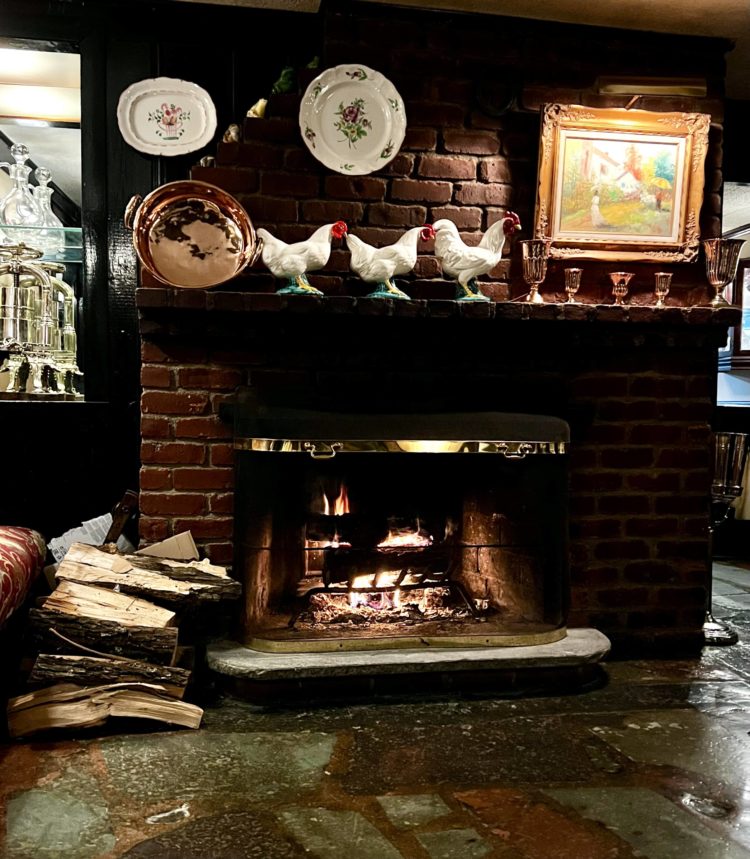 The final main dish I had was their butter poached Maine lobster, with glazed salsify, fennel confit & leek nage. This lobster was absolutely stunning. Before you even get to eat it, visually the dish is a knockout. Then you bite into sweet lobster in a sauce that highlights the flavor of the lobster without covering it up.
For dessert I received the full complement. Dish after dish came out and my sweet tooth and I were in heaven. Chef Burke came out to explain what each dessert was, and give a preface that he was not the best dessert chef. I have to say that's nonsense. These were some of the most delicious, thoughtful desserts I've ever had. My particular favorite was the Grand Marnier souffle. An orange scented souffle with an orange anglaise sauce and vanilla ice cream.
My whole meal was paired with a fabulous Riesling wine, recommended by Chef Burke that paired phenomenally with each dish. In the whole meal there was not an extraneous ingredient in any dish as far as I could tell. Everything was thoughtfully created and prepared, from the appetizers to the desserts. The icing on the cake of this experience was being seated across from the fireplace in their main dining area on a chilly early March night. La Crémaillère is a fantastic spot for date nights, anniversaries, get-togethers. Leave your watches at home, because eating at La Crémaillère feels almost like you're stepping out of time into a wonderful world of exquisite food.