By Emma Barhydt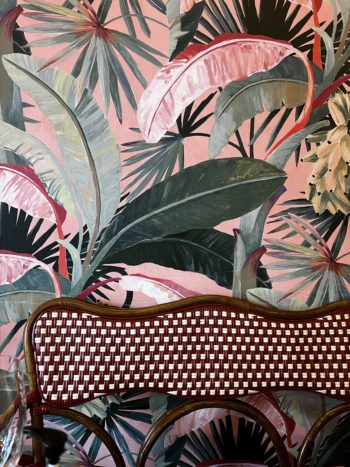 After the beloved Chinese restaurant Penang closed years ago, many people (myself included) wondered about what kind of a restaurant would fill that space just off of Greenwich Avenue. Luckily for Greenwich, a great new restaurant has entered that space and is ready for you to make new memories in the chic, delicious, french-vietnamese fusion Orienta.
Orienta has completely revitalized the space. You step into an airy, bright dining room with a cushy bar and colorful wallpaper. It's perfect for lunch with your girlfriends, happy hour with a date, or dinner with your family. The food is light and refreshing with new takes on old world tastes.
I started off with the Chicken Satay– chicken skewers served with cucumber salsa and peanut sauce and a lime wedge. There was a gorgeous char on the chicken, the balance between the light cucumber salad and the rich peanut sauce gave it a very robust and all inclusive flavor while also bringing an interesting texture that you don't usually get with chicken dishes. The fresh lime squeezed on top gave it a tang that finished it off beautifully.
Next, I had the Spring Rolls– crispy vietnamese rolls with ground pork, shrimp, and wood ear mushrooms. This dish was phenomenal. The spring rolls also come with greens, carrots, and a tangy dipping sauce. I was instructed that the proper way to eat them is to put the roll and carrots inside of the greens, roll it up, dip it in the sauce, and enjoy. It did not disappoint. The depth of flavor that comes from the pork, shrimp, and mushrooms is unbelievable. It's so rich and delicious but not greasy at all like some spring rolls tend to be. Then when you add the greens, carrots, and sauce it elevated the dish to a whole new level. It truly does feel like "spring" when you're eating it.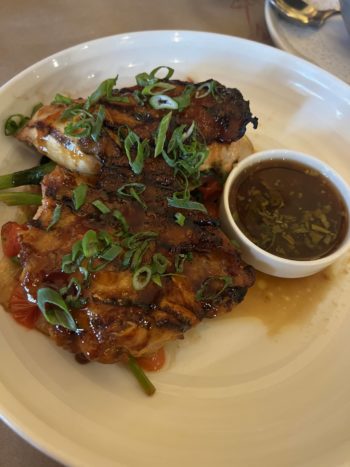 Probably my favorite thing that I ate, and I was told one of their most popular options, were the Lobster Shooters– crispy lobster bites with chili mango relish and red curry coconut sauce served in sake cups. It comes as a serving of 6 and let me tell you, I could probably eat about 20 of these. They also do single servings of the shooters at happy hour. You need to go just to get these lobster shooters. I've never had lobster with this kind of flavor profile before and I was absolutely blown away. It's the perfect amount of tangy and crispy inside of a creamy curry sauce and just the right amount of spice. Even with all of the other flavors, you don't ever lose that sweet lobster taste. Just incredible.
I also had the opportunity to try two of their mains. The first being the Vietnamese Savory Crepe– shrimp, chicken, chilis bean sprouts, carrots, served with a fish dipping sauce all encompassed inside of a turmeric crepe. The sheer amount of flavor Orienta is able to pack into each of their dishes is honestly mind blowing. Every bite has a slightly different flavor to it, tangy, sweet, umami, it's all there and yet all of the flavors compliment each other perfectly without overwhelming each other.
The second main I tried was their Saigon Caramelized Chicken– marinated and grilled ½ chicken glazed with caramelized chili sauce atop sauteed pea shoots. The level of crisp on this chicken while still being juicy and tender was perfect. There was a perfect level of sweet to spice. Like with all their other dishes there's a depth of flavor here that is almost indescribable. I was also served their side of Garlicky Fried Rice with the chicken with the recommendation that I eat them together. It rocked my world, to be entirely honest. The Garlicky Fried Rice alone was phenomenal for any garlic girls out there, but having the chicken and rice together was one of the best dishes I think I've ever had.
Run, don't walk to Orienta today for one of the best, most flavorful meals of your life. I, myself, will be taking my family for dinner here ASAP. For all kinds of people, vegans, vegetarians, carnivores, Orienta has a dish for everyone. This is definitely a restaurant you don't want to miss.