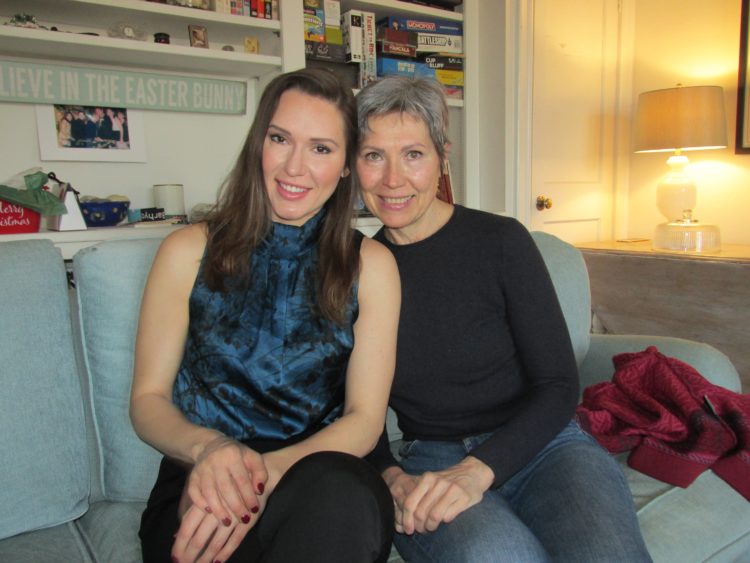 By Anne W. Semmes
Olga Litvinenko is a success story. She came from Ukraine with her family as a child and entered the Greenwich Public Schools and flourished. As a teenager she was volunteering, serving as a vice president of fundraising for Habitat for Humanity at Greenwich High. As a college student at Syracuse University with a major in marketing and finance she was mentoring those in her college community how to best run their businesses, to keep them out of poverty.
Olga would represent her state as Miss Connecticut USA 2017, while keeping her hand in supporting nonprofits like the Greenwich Hospital Foundation and fundraising for the Bruce Museum. She's now an entrepreneuring marketer and businesswoman. Through her Olga & Company enterprise she's providing, she tells, "email marketing services with Flowium to ecommerce businesses, and consulting for a wide range of industries, with a recent focus in cryptocurrency and blockchain."
Add to that her own perfume, candle and fashion brand, Lola and Leone, found on sale at McArdle's. But Olga is now gripped by what is happening in her native country and is focusing on ways to use her skills to help the desperately fleeing Ukrainians from their Russia invaded country. That includes even the struggling animal shelters in Ukraine. She's enlarging that Lola and Leone brand to include animal products to fund those animal shelters.
"You think about what can I do to help," she says, "and you get people together, you start knocking on doors, you start talking to people, you put together anybody who wants to help, and really the rest of it naturally unfolds."
"There are Ukrainians here in Greenwich," she says, "local business owners that I'm talking with. We're actually holding a press conference at Greenwich Town Hall. And we're inviting everybody to come, Ukrainian or not, just to stand with Ukraine, to come and support."
Olga stays in touch with her Ukrainian family members like her great aunt in Kyiv. "I got off the phone with my great aunt this morning. She's 74 and strong. She hasn't showered for two days. Right now, everybody's hanging tight. People are staying strong. They're working together."
So, how does she stay connected with them? "WhatsApp, Viber, Instagram, and Telegram," she lists. "It's mostly done over Wi Fi.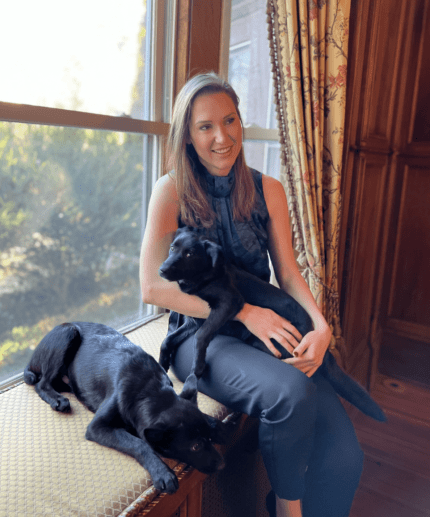 "But at the same time," interjects her mother Tamara, "If we will be disconnected, it will feel like the end of the world." As of February 14, Tamara on an extended visit to her Ukrainian family was able to leave Kyiv to join her daughter in their Greenwich home, 10 days before the invasion.
Olga comforts her mother with news of Elon Musk offering his Starlink satellite internet service. "So, there will always be service," she tells. [But satellite dishes will need to be installed to receive signals from the service.]. "[President] Zelensky picked up the phone and called Elon who gave it within I think less than an hour. He made it happen. And that's a very big showcase of people helping other people without any sort of question and making an effort and providing help."
Olga is helping Ukrainian refugees in Poland, "because that's where the main hub is," she says. "Just the other day somebody put me in touch with a woman who is getting out of Ukraine, and she recently had a surgery, so she was not really mobile. And she was not far from the Romania border. And we were able to put her in touch with a group … And now she's actually on her way to Italy for better care and to find work."
"It's every minute that somebody is crossing over," she tells. "It's an incredible amount. So one of the things that I've been talking about with our state representatives and what we're going to do with funds from a fundraiser is to be able to give the people who are crossing over their own money so that they can actually go travel, establish new homes, take care of their family members, buy a bus ticket, a plane ticket, whatever it may be for them to continue living."
Olga identifies Razom for Ukraine as a stateside charitable organization she's considering fundraising for. (She notes that Razom is accepting Bitcoin and Ethereum which are two main cryptocurrencies). "I primarily have been helping them on the medical supply side. They are trying to get medical supplies to the people who need it over there – Poland primarily. But they're also able to work with people who are inside Ukraine."
Olga is grateful her mother escaped. "She became a superwoman because of all the stuff that she had to do. So, we had these two rescue dogs. They are a black lab mixed breed They were left outside the shelter. This was early November. I was in Ukraine as well." Her father had passed away in Kyiv. "So, we had serious reason to go there," says her mother. "We were thinking to spend time because we had a lot of family and friends."
Olga was able to get the dogs appropriate care and start with their vaccination process, before she had to return to America, leaving her mother behind to continue their care. But with the U.S. Embassy urging American citizens in Ukraine to get out, Olga was pressing her mom to return to America. But Tamara was getting different messages. "On the TV, the message from the [Ukrainian] government was that whatever you hear, whatever is happening around, it's not true. Relax."
But Tamara listened to her daughter, got her papers for the dogs and passport for herself in order. Arriving at the crowded airport she found the lines long and "people carried a lot of baggage." But she had left some belongings behind.
A bit of Deja vu for Tamara stretching back to 1993 when she and husband, young son and daughter Olga immigrated to America. "It was the most dangerous and difficult time when changes happened." Ukraine had declared independence in 1991. "People didn't know what to do with this freedom. Some creative people started businesses, started making money. And there was a lot of high-level criminal activities. The economy was way down, there was lack of food."
The family first lived in Chevy Chase, Maryland. "Because we wanted to be close to our Ukrainian embassy in Washington DC." Olga's father Yuri Litvinenko had served as ambassador to Uzbekistan. "We lived in the same building where employees lived so I got a lot of help, because we came practically without anything – we had just small suitcases." In 1999 they came to Greenwich, "and here we are."
Olga looks back to her father's death last April as a gamechanger for her. Up until his death she had considered returning to Ukraine. But she says her life "took a 180 when he passed away."
"Everything just started going downhill." She describes her dad as, "a very proud Ukrainian. He always stood up for the country – and all that he wanted to do was uplift it. Had Dad been alive, he would have been there with a gun. Even if one of his legs was not the best and he probably was not as good in shape as Zelensky. But he would have been standing there saying I'm going to fight for my country and stand up for what is right."