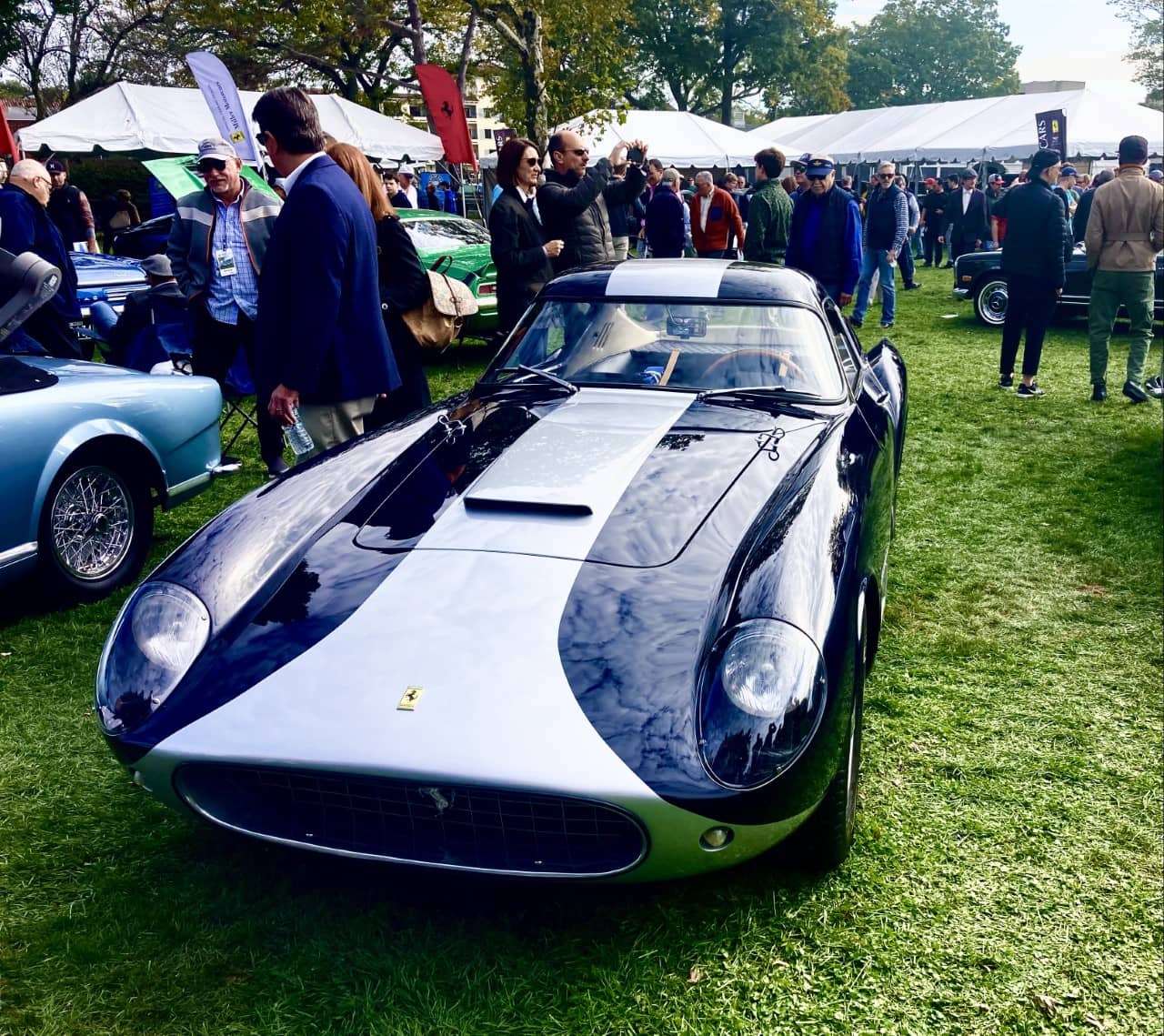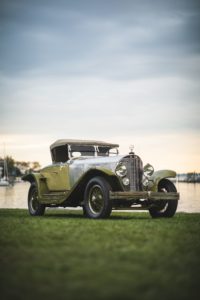 By Liz Leamy
Last weekend was an affair to remember as thousands of spectators, exhibitors, vendors, officials and car industry greats convened at the picturesque Roger Sherman Baldwin Park in Greenwich for the 25th annual Concours d'Elegance, designating it as a runaway success.
This famed weekend annual show, reputed to be one of the top-three luxury car events in the U.S., had been run by the legendary Wennerstrom family for nearly two and a half decades before being taken over by Hagerty, the esteemed Michigan-based classic car insurer this season following a year's hiatus due to the pandemic and lived up to its stellar reputation in every way, leaving a lasting golden imprint in its wake.
"Greenwich has always been an important town of car enthusiasts," said Larry Auriana of the iconic Fratelli-Auriana Racing Team that has been an exhibitor at the Concours d'Elegance since its inception back in 1996. "It's great to be here. This has been a lively and good event."
Throughout the weekend, scores of individuals, many of who had traveled from all over the U.S. to participate in this extravaganza, teemed around this popular waterside park all weekend, taking in the stunning display of American and international classic and modern vehicles while also visiting and chatting with one another, enjoying its many range of activities and checking out the wares of the retail vendors, among other things.
"There is so much happening here. It's a passion, particularly to collect cars, so you see and meet a lot of people who are passionate about all aspects of this pursuit," said Joe Colasacco, driver for the internationally renowned Fratelli-Auriana Race Team and Auriana Car Collection that features Ferrari, Maserati, Lancia and Alfa Romeo vehicles. (Joe's son, Dominic Colasacco, who works for Ferrari Factory Motor Sport at the Ferrari headquarters in Englewood Cliffs, New Jersey, carrying on his family's racing tradition, was also in attendance.) "Everyone here is very friendly and you run into a lot of people you know. There are so many dimensions to being involved with cars and that's what always makes the whole experience so great."
The roster of activities offered at this year's Concours was extensive and included seminars, a live auction, meet and greet events with industry personalities and of course, the opportunity for attendees to interact with the owners and overseers of the automobiles on display, something they seemed to very much enjoy.
"It's so exciting to be here at the Concours d'Elegance in Greenwich. It's such a beautiful place with so much history," said Jay Ward, Grand Marshal of the 2021 Concours d'Elegance and Pixar Animation Studio's Creative Director of Franchise. "Everyone here, including so many of the younger children and teenagers, are passionate about the whole concept of cars, and you can feel that in the air. It's just electric."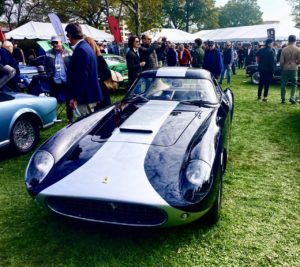 Others, including Maya Cigal, whose working 1967 Good Humor Truck was a main stopping spot for attendees, echoed similar sentiments.
"This event is awesome. The cars are incredible and everyone is so nice," said Cigal of Redding, Connecticut who has been a vendor at the Concours d'Elegance for 19 years running. "I just love being here. You can see everyone having fun and enjoying being around all of the cars. That, I think, is what makes the Concours so special."
In its traditional custom, the cars at this event were judged by a distinguished group of officials who evaluated the entries in various classes ranging from the pre-war era to contemporary supercars based upon specific criteria.
The dedicated members of this contingent were excited and honored at the prospect of being able to participate in this event at this capacity.
"I love being here. It's always an honor," said Bob Pfister, a Concours d'Elegance official from the Bronx who has been a judge at the Greenwich Concours d'Elegance for nine years running. "The cars are incredible, the people are great and the weather's been fantastic."
This year, the judges selected a stunning 1927 light green and silver Mercedes-Benz Model K owned by Michael and Joannie Rich of Pennsylvania as the Concours d'Elegance Best of Show winner. (The coach work for this car was provided by Fleetwood Metal Body, the famous 20th century automobile coachbuilder based out of Fleetwood, Pennsylvania.)
"The car world has a belief system. And the belief system is that certain cars are just super important, deserving of celebration and recognition," said McKeel Hagerty, Chief Executive Officer of Hagerty, based in Traverse City, Michigan. "The Mercedes-Benz Model K selected as Best of Show represents that greatness-one that the judges recognized following significant deliberation."
This year, with Hagerty in charge of this event, some changes had been made in regard to the traditional Greenwich Concours d'Elegance format.
During the period the Wennerstrom family had been in charge of this event from 1996 to 2019, the American classic and luxury cars had been displayed on Saturdays, while the international luxury and classic automobiles had been shown on Sundays.
This year, however, both the domestic and international cars were shown on Sunday, while the Saturday roster was geared around activities such as seminars, a live auction, a kids zone featuring a host of games, several new car showcases and various other exciting offerings.
This year's new showcases included 'Porschella by CarPark,' a display of modified Porsches and 'RADwood, a presentation of cars made during the 1980s and 1990s.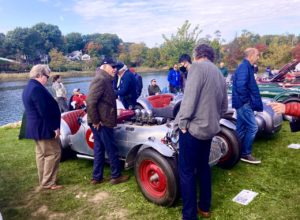 Other offerings included the popular Hagerty Ride and Drive, slot car competitions, Hagerty Youth Programs and the Concours Kids Zone, where youngsters and their friends and families raced cars against one another on a track designed by 'Road and Track' magazine, among other things.
"We're honoring the traditions set by the Wennerstroms, but also introducing some new innovations and elements to the format," said Chris Brewer, Director of Event Communications for Hagerty. "They set the standard and we are continuing to build upon that. This is an event that is very special and we are honored to be here. Greenwich is a beautiful place and with so many friendly and great people."
Some of the special classes at this year's Concourse, meanwhile, included automobiles from the Jim Glickenhaus Racing Team as well as Duesenbergs, Lancias, Bentleys, Rolls-Royces, Fords, Allards, General Motors cars, Right Coast Rods and a first-ever event SUV class.
At the same time, the motorcycle class featured Indian and Moto Guzzi, among other illustrious makes.
A lifesize model of 'Lightning McQueen,' the iconic character from the smash animated Pixar film, 'Cars' that was situated right near the entryway of the park was also a big hit at the event and provided some excellent photo opportunities for children and adults.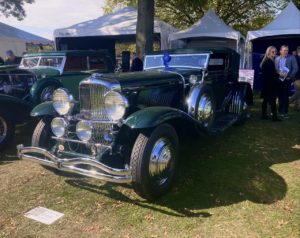 "Cars are such a big part of people's lives and I think [individuals] of all ages relate to what they represent in their lives," said Jay Ward, who also consults on all 'Cars'-related projects around the world. "It's so much about the stories surrounding the cars. Cars are what have brought everyone here together this weekend and that is such a key thing."
This event also featured major car media personalities such as Wayne Carini, an event judge and host of the popular television series, 'Chasing Classic Cars' as well as Tom Cotter, host of Hagerty's 'Barn Find Hunter,' who was signing his book, 'Tom Cotter's Best Barn-Find Collector Car Tales' for fans. (Both Carini and Cotter participated in a standing room-only seminar on Saturday as well.)
Other industry greats at this event included original Ferrari North American Racing Team members Francois Sicard and Roger Colson, both of who were its main car mechanics, as well as Dick Fritz, a Concours judge and former member of the NART Team, which was based out of Greenwich for many years. (This lively contingent also included Jerry Cotrone of Greenwich, the 'car wash boy' for Luigi Chinetti Senior, owner of Chinetti Motors with his wife Marion and son, Luigi Chinetti Junior, with Chinetti Motors having been the exclusive importer and distributor for Ferrari in North America at one time.)
Other crown jewels at this event relating to the aforementioned brand included two exquisite award-winning Ferraris, a 1958 navy and silver 250 Tour de France owned by Nick Soprano of Motor Classic & Competition Corporation based in Bedford Hills, New York and a 1961 Ferrari Testarossa owned by private collector Peter Sachs, both of which drew throes of enthusiastic admirers.
Clearly, the design and engineering of these legendary Italian racing cars seemed to capture Luigi Chinetti Junior's quote, 'They're more than magnificent automobiles, they've become three-dimensional art," a statement that was mentioned frequently by the former NART Team members and others during this event.
Ultimately, this event was all about the celebration of this incredible collection of stunning automobiles, serving as a platform that brought together so many people who have a common interest in automobiles which made this a truly unforgettable experience.