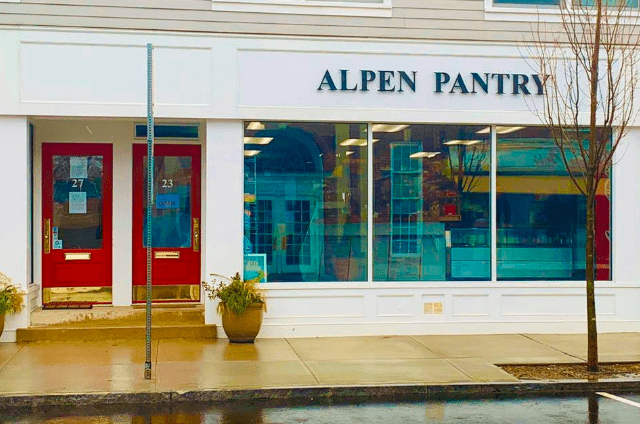 Husband and wife team Drew Nemetz and Frannie Willsey announced today Alpen Pantry, the long-time sandwich institution, is under new ownership. The enthusiastic couple are restaurant veterans with experience at notable establishments including Eleven Madison Park, Roberta's, and nearby Bartaco.
Under their new management, Alpen Pantry will temporarily close its doors for renovation on October 4, 2021, with the aim of reopening early November, 2021. Guests can expect updated furnishings throughout the store, with the same great menu offerings, including the popular high-quality gourmet sandwiches. Alpen will also continue to employ its loyal employees, some of which have been on staff for 15 years.
"I grew up in Old Greenwich, grabbing Alpen sandwiches and heading to Todd's Point. We couldn't be more excited to carry on the legacy that is Alpen. We want our customers to know that our menu will remain the same, ensuring our famous black bread and delicious dressings will live on for years", says Nemetz.
Located at 23 Arcadia Road, Alpen has been a fixture of downtown Old Greenwich for over 40 years. Sandwich offerings include the ever popular Stilton, a fantastic combination of ham, swiss, turkey, lettuce, tomato, and tasty blue cheese dressing, atop Alpen's legendary black bread. "Alpen is such a staple in Old Greenwich. It's the taste of home for so many people. Our family is thrilled to continue the tradition for many years to come", says Willsey.
Alpen Pantry's business hours will remain Monday-Saturday, 9am-5pm.
Visit www.alpenpantry.com and follow @alpenpantry on Instagram for more information.