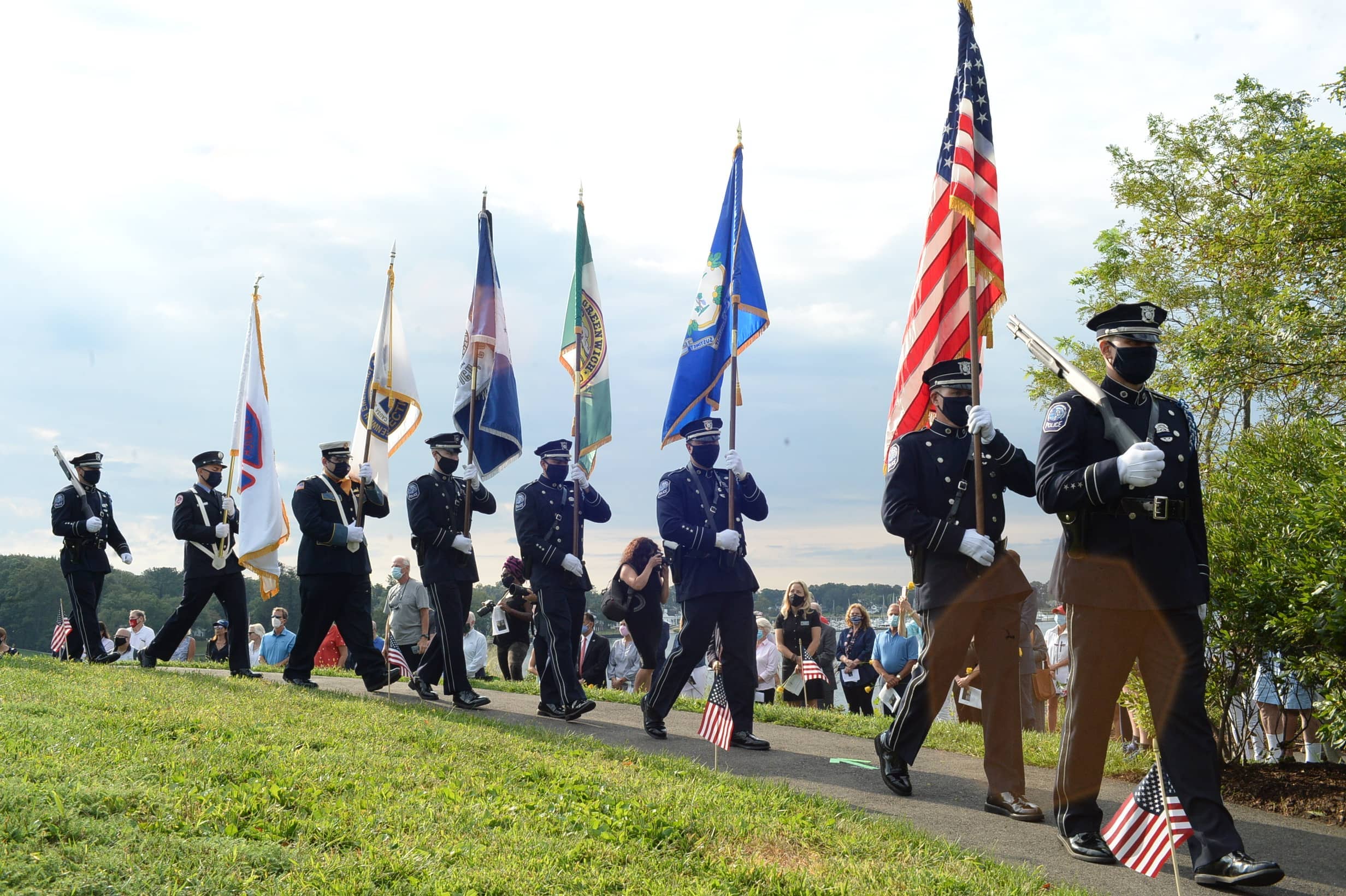 The 20th anniversary of the attacks will be remembered in town at two ceremonies.
The first ceremony will be held at 6 p.m. Sept. 10 at the Glenville Volunteer Fire Company station.
A piece of steel from the World Trade Center has been turned into a memorial at the fire station. The ceremony will recognize the Greenwich citizens who were killed as well as all of the first responders.
The second ceremony will be held at the memorial in Cos Cob Park beginning at 8:46 a.m. Sept. 11. Some family members of those who died in the attacks will attend as well as town and state elected officials, members of the military, the American Red Cross and local first responders.
Attendees will place flowers at the base of the memorial. The service will begin with a cannon shot and a ringing bell to mark the moment that the first hijacked jet hit the World Trade Center. Another bell will ring at 9:03 a.m., when another plane hit the second tower. It will ring again at 9:37 a.m., when a plane hit the Pentagon; at 10:03 a.m., for the plane crash in Shanksville, Pa.; and at 10:28 a.m. when the first tower collapsed.
The names of the 33 victims tied to Greenwich will be read during the ceremony.
In 2010 Charles Hilton Architects of Greenwich was selected to design the 9/11 Memorial.
For his design, Hilton drew inspiration from the Towers of Light Memorial more than the Twin Towers themselves. "I remember, after Ground Zero was cleared, seeing those Towers of Light, and how ethereal they were," Hilton says. "The towers were back, but they had this kind of ghost-y effect. They were kind of there and not there at the same time. For me, that was very powerful. And I thought, 'I wonder if we could capture this in some kind of material form.' The element of the glass towers was born out of that."
In contemplating the design, Hilton also remembered the impromptu memorials that went up near Ground Zero after the attacks. "There were these memorial walls with flowers and people's names and little notes stuck in, and little flags. All these little symbols were incorporated. So the towers we've designed, we draped them with a motif of an American flag, and the victims' names from Greenwich in the flag." As a setting for the towers, Hilton designed an abstraction of the World Trade Center Plaza—the black granite terrace—with two spiraling walkways leading up to it. If you were to see the walkways from above, their design would resemble the mathematically perfect curve of certain seashells; a Fibonacci ratio, also referred to as God's fingerprint.