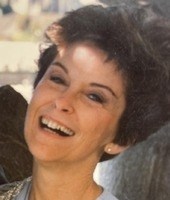 It is with great sadness that we announce the passing of our loving wife, mother, sister, friend, and grandmother, Jean Armbruster Dickson. Jean passed away peacefully June 3, 2021, at her home in Corona CA, with her loving family by her side.
Jean was born in Greenwich, CT on Oct. 3,1932 to Anna and Harold Armbruster. She graduated from Greenwich High School. Jean loved to read, and spent many hours volunteering at her local library. She enjoyed the gym, attending to her fruit trees and politics. Jean also loved her cats, who will now remain with her son. Yes, she made him promise. Loved ones that cleared the path for Jean are her father, Harold Armbruster; and mother, Anna Armbruster.
Jean is survived by her husband Robert (age 92) whom she married in Glenville, CT, in a polish church, where her sister, Nancy, was the bridesmaid. Loved ones that will miss Jean until they meet again are her sons, Robert C Dickson III and Thomas T. Dickson his wife Robin Dickson and sister Nancy Walkenford. She was blessed with 7 grandchildren, 3 great-grandchildren, and 3 nieces.
Please send any memorial donations to The Humane Society in honor of Jean Dickson.