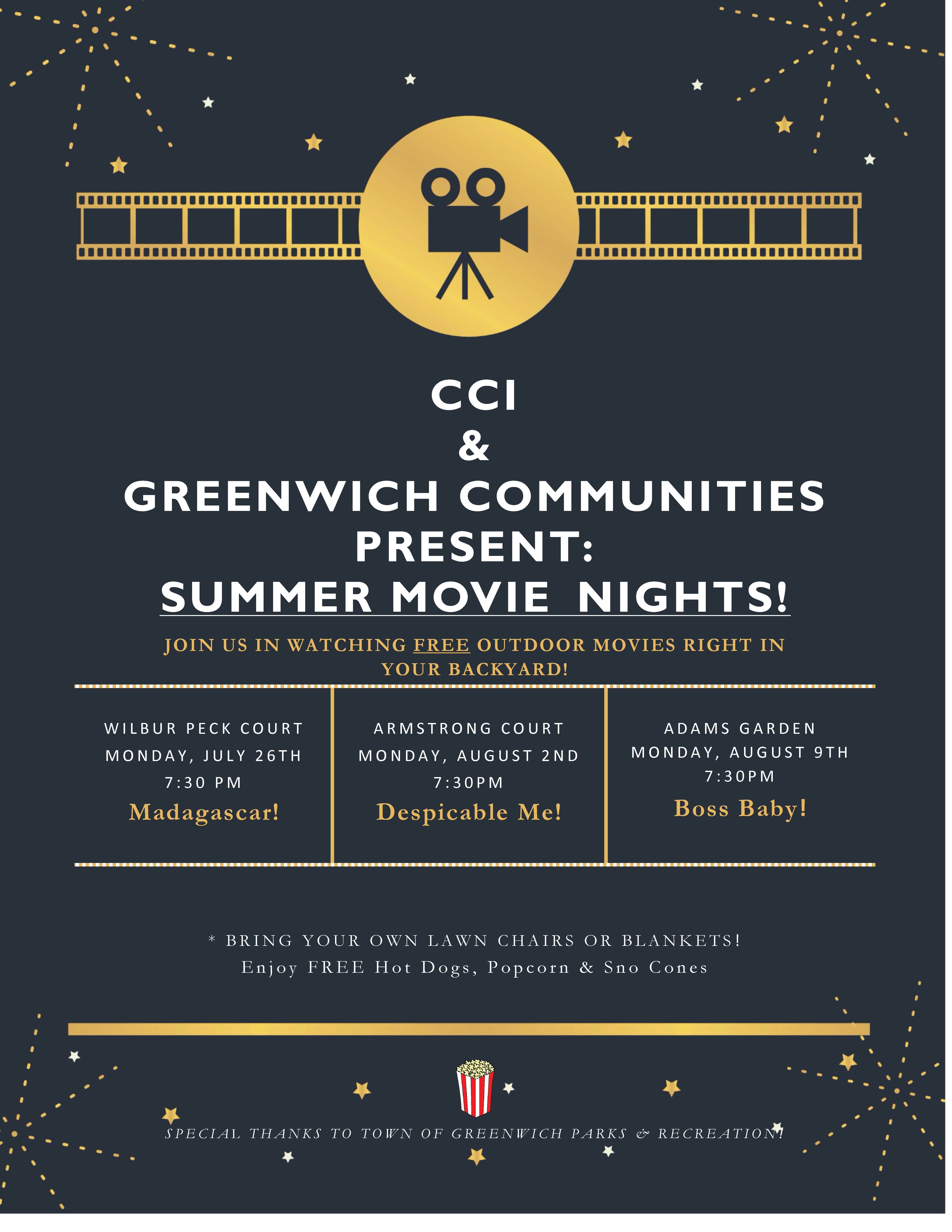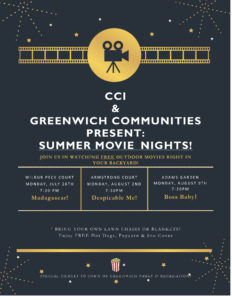 Greenwich Communities and Community Centers, Inc of Greenwich (CCI) presents Summer Movie Nights.
The free family-friendly movies series includes:
Monday, July 26 – Madagascar at Wilbur Peck Court
Monday, August 2 – Despicable Me at Armstrong Court
Monday, August 9 – Boss Baby at Adams Garden
[RAIN DATES: Tuesday, July 27 – Madagascar at Wilbur Peck Court, Tuesday, August 3 – Despicable Me at Armstrong Court, Tuesday, August 10 – Boss Baby at Adams Garden]
The Summer Movie Nights will start at 7:30 pm. Bring your own lawn chair or blanket and enjoy free food, including hot dogs, popcorn, snow cones, cotton candy, and drinks. Don't forget the bug spray.
"We're excited to partner with CCI to host these free Summer Movie Nights for the Greenwich community," said Anthony Johnson, Executive Director of Greenwich Communities. "The public is welcome to come and join the fun as we celebrate summer and the opportunity to come together."
"We are so grateful for our ongoing partnership with Greenwich Communities and our ability to serve GC residents. We can't wait to see families gather to spend some summer nights under the stars watching movies," said Gaby Rattner, Executive Director of CCI.
CCI is a Greenwich-based social service agency dedicated to building skills that empower clients to overcome educational, social, and economic barriers. CCI's mission is to make the enormous natural, educational, cultural, and financial resources that comprise this incredible community accessible to all.
For questions about CCI, please contact Gaby Rattner, gaby.rattner@ccigreenwich.org, 203-869-1276.
For more information about Greenwich Communities, please visit their website, https://greenwichcommunity.org/.
Or call Maria Morris at Greenwich Communities (203) 869-1138, ext. 101.