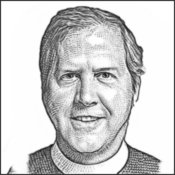 By Marek Zabrinskie
While most of us may never meet a shepherd, all of us do some shepherding. The Bible tells us that the good shepherd will leave the flock to rescue the one lost lamb.
So, too, God seeks after us when we stray or get lost. Sheep get lost by eating their way out of the flock. They look down, eat for hours, and eventually look up and see that the flock is gone.
We humans do something similar when we get over-engrossed in our work, studies, hobbies, or become consumed by fear, anxiety or addiction. We become lost, isolated and vulnerable.
A good shepherd can hurl a sling full of stones and drop it right by the nose of a stray sheep. The startled sheep suddenly realizes its predicament and can quickly rejoin the flock.
Each of us needs to exercise the shepherd-like courage and be willing to startle a friend, loved one or colleague who may be going astray or eating his or her way out of the flock. Some loving souls have shepherded me when I became lost. How about you?
The good shepherd expends himself or herself for the sake of the sheep, and doesn't count the hours, but works until the job is done.
Life is busy. We can wear our busyness like a badge of honor, signaling that we are important and in demand. Being busy makes us feel needed, as if the world could not run without us. But Eugene Petersen wisely notes in his book The Contemplative Pastor, "How can I lead people into the quiet place beside the still waters if I am in perpetual motion?" A good shepherd but operate from a calm center.
Constant activity can be a vice when left unchecked. A spiritual director once told me, "A good priest must have some holy hanging around time, where people feel that they can come and share their problems with him or her and their minister will have time for them."
Parenting is similar. It is when we're at home seemingly doing nothing and our child returns from school and dissolves into tears that we instantly become a shepherd. We stop, listen and empathize, then wrap our shepherd-like arms around our child and whisper, "We'll get through this together."
I love the Japanese author Tokio Megashia's paraphrase of the Psalm 23, which reads:
The Lord is my pace-setter, I shall not rush;
He makes me to stop for quiet intervals.
He provides me with images of stillness
which restore my serenity.
He leads me in ways of efficiency through calmness of mind
and his guidance is peace
Even though I have a great many things to accomplish each day
I will not fret, for his presence is here;
his timelessness, his all-importance will keep me in balance,
as he prepares refreshment and renewal in the midst of my activity.
When he anoints my mind with his oils of tranquility, my cup of joyous
energy overflows.
Truly, harmony and effectiveness shall be the fruits of my hours.
For I shall walk in the pace of my Lord.
And dwell in his house forever.
The Good Shepherd takes risks for the flock. The shepherd is not a hired hand. When you're paid by the hour, then you don't care as much. But when it's your flock, you do everything possible to support and protect it.
The sheep know their shepherd's voice, touch, and walk. When a shepherd calls to the flock, his or her sheep can separate from other sheep in a matter of seconds. The shepherd knows them by name. Billy is a bully. Sally is shy. Max is prone to stray. There is an intimate relationship.
The Good Shepherd who guides us through difficulties. "Yea, though I walk through the shadow of the valley of death, I will fear no evil." The 23rd Psalm is written mostly in third person singular. "The Lord is my shepherd… He leadeth me beside the still waters… He restoreth my soul… He leadeth me in paths of righteousness."
But when the psalmist refers to the most devastating moments of life, the author switches to first person singular. "Yea, though I walk through the shadow of death I will fear no evil, for thou art with me." So it is that God leads us through our darkest days.
We are never alone as we face career setbacks, cancer, Alzheimer's, depression, divorce, death of loved ones, or battles with addiction. God leads us. Shepherds walk in front. I once saw a Palestinian shepherd walking over a hill as the sheep followed like metal filings drawn to a magnet. There is no place that we can go where the Good Shepherd has not already been.
The renowned theologian Karl Barth said, "This Lord is never absent, passive, non-responsible or impotent, but always present, active, responsible and omnipotent. [God] is never dead, but always living; never sleeping, but always awake; never uninterested, but always concerned…" The Good Shepherd uses a rod and staff nudge us back onto the path of abundant life.
I find at times that the only way that I can salvage my role as a shepherd is to to marinate myself in Scripture and have time for quiet prayer and spiritual reading. When Eugene Petersen sensed that he was burning out, he blocked out an hour each day to read the spiritually-infused novels of Fyodor Dostoevsky. This discipline replenished his soul and kept him from burnout. He was able to serve one church for many years while becoming a famous author himself.
In order to be a shepherd, we must ask ourselves three questions. Can I be a shepherd who prays? Can I be a shepherd who conveys the love that God? Can I be a shepherd who listens?