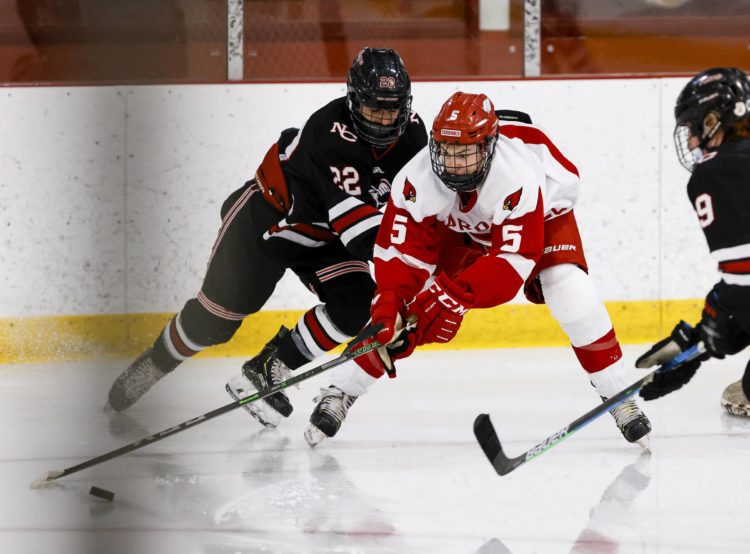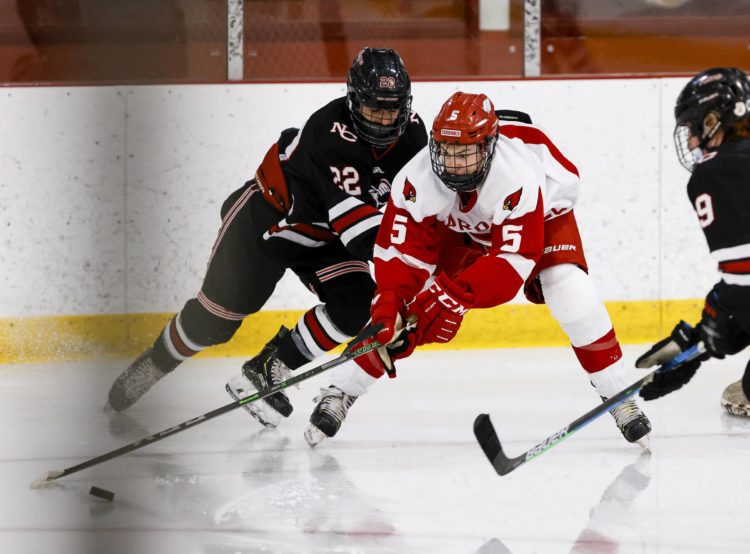 By Paul Silverfarb
Battling through adversity and determined to make the most of this season, the Greenwich High School boys' ice hockey team is once again looking reclaim the FCIAC championship.
"It's been strange and a little surreal," said first-year head coach Jack Duffy. "The kids have been 100 percent resilient and positive so far. We went from a situation in October when we didn't know if we were going to have a season to having a 12-game season schedule and an FCIAC tournament. So everybody is just really happy to be involved and on the ice."
Because of the pandemic that has rocked the athletic landscape, this year has looked nothing close to normal. Logistically it's been tough. The Cardinals have been working alongside the school administration and the Dorothy Hamill Ice Rink staff to make sure that everybody on the team is staying safe and adhering to the COVID-19 protocols.
"It's tough because you can't just show up to the rink and get on the ice and have fun with your friends," Duffy said. "You have to make sure that you're wearing masks and staying distant. It's been a logistical difficult time, but at the same time everything that we're doing is worth it because we are on the ice again."
And making sure that the players, coaches, and rink staff are safe, the Dorothy Hamill Ice Rink, one of the louder places to play in recent years, has basically gone silent. The fans that would scream for Big Red to come away with the victory are not allowed in the bleachers. The only cheering is coming from the players and a family member that each player is allowed to bring to the rink.
"It's definitely quieter," Duffy said. "We often comment on how eerie the rinks are when you're in a game situation. The boys really miss having their friends in the stands. We have gotten to the point where we could have one parent that can come to the game. And the school has been really great at streaming our games so people can watch at home. But the experience inside the rink is a little different on gameday. There's still the excitement for the game coming up and during the actual game the boys are still very intense and focused. It's just you don't have that sixth man that helps out when you're at home and that you have to battle on the road. We look forward to having the fans back in earnest next year."
And when it comes to goals for Greenwich High, it's quite simple. They want to be the last team standing during the FCIAC tournament that concludes on March 27.
"It's a tough road," Duffy said. "We have a lot of seniors that are great players, and it seems like every night we are playing great teams. All the games are competitive and a lot of hard work. The kids don't have an easy game. We had one game when we beat St. Joseph 9-1, but they were competitive, physical, and tough. I think that was a one-off because they have had a lot of closer games since then."
Greenwich High lost to Ridgefield 2-0 in a battle came back to beat New Canaan 1-0 in another hard-fought contest. A few days later it was another game against the Rams and Big Red won that 3-2. On Saturday, the Cardinals took the ice against Ridgefield and this time it was Greenwich that came away with the 1-0 victory. In yet another close contest, GHS was edged by Darien in another battle, 1-0.
"It's great for the kids to be out there competing," Duffy said. "Win or lose we are going to give it everything that we got, and I think that it's awesome for the kids because they know that they can't take a day off. This schedule and the competitiveness of the FCIAC doesn't allow you to rest. And it's awesome."
Because of Big Red's large senior class, Greenwich has elected five captains this year. Seniors Ben Bates and Chris Cataldo are leading the team at defense, while Thatcher Danielson, Sean Duffy, and Jack Hutchins are pacing the team at the forward position.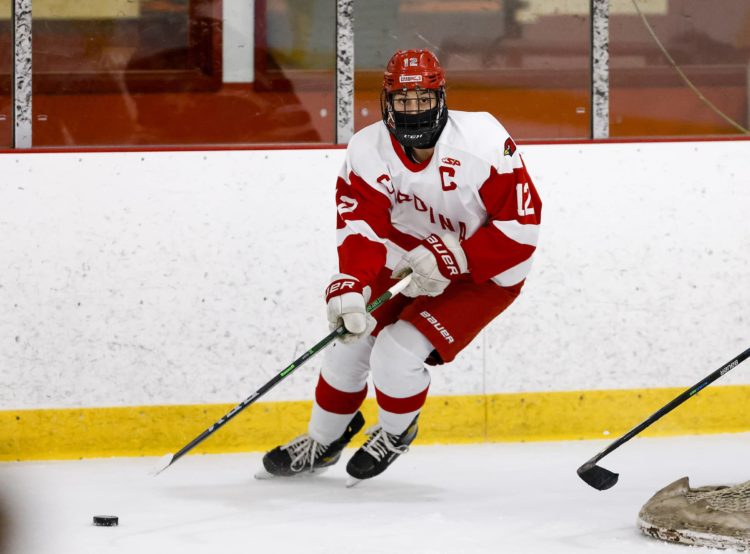 Duffy said that he's been talking to the boys about overcoming adversity, staying positive, and being resilient. And his captains have all bought into the system and are leading the way.
"I think that their senior teammates and younger teammates have followed suit," Duffy said. "I think this team is really coming together and starting to be on the same page. That comes from leadership, not just from the captains but from all of our seniors."
As of press time, Big Red has been outstanding when it comes to team defense. While the pucks are not finding the back of the net as much as Duffy would like, Big Red has also been lights out keeping the opposing team off the scoreboard. In the team's past five games, all against perennial powers, they have only given up a combined five goals.
Keeping the pucks away from the net has been junior goalie Charlie Zolin. Junior Jack Ryan and sophomore Cole Studwell are also between the pipes for Big Red if called upon.
"Charlie has been playing great and I think he's gotten better after every game," Duffy said. "It's a short season and you want to have a hot goaltender. If Charlie is starting to heat up, we're going to be that much better of a team. He's doing great and we are very confident of the guys that are behind him."
Joining Bates and Cataldo at defense is sophomore Peter Lewis, followed by juniors Shea Madden and Brendan Frost. At the forward position, junior Wesley Zolin has been leading the team in scoring this season and has been a big threat along seniors Danielson, Duffy and Hutchins. In addition, senior Jake Shreders will be looked upon this season to find the back of the bet.
One of the improvements Duffy would like to see is on the attack. Greenwich has had its issues filling the net with pucks this season. In the team's past five games, they have scored a combined five goals and have been kept off the scoreboard twice.
"We are working on that in practice," Duffy said. "Our strength right now is our good, solid team defense, but we are struggling to score goals. That doesn't only come down on our forwards. You need a five-man attack these days and we are working on it as a team. But it's not easy to score against the teams we are playing against. They are tough and there is plenty of great goaltending in this league."
Duffy keeps on mentioning resiliency when describing his team and also adds that the entire team has really stepped up its game to overcome adversity. Back in July, their former head coach, Chris Rurak, passed away suddenly and to say the team was devastated would be an understatement.
"They have responded as well as they could have," Duffy said. "I think we are lucky because we our coaching staff stayed together. Coach (Jim) Marzullo, Coach (Tom) Feda, and Coach (Neal) Rich all came back and Danny Goggin came on this year. Those guys were really supportive of the boys right from the start. The parents have been very supportive of the boys. These boys are hockey players, but they are also just high schoolers and this is a tough time. They have stuck together pretty well and I think this is something that they use for motivation. They know that Coach Rurak would like us to forge on, want us to enjoy our experience here, and to be competitive."
While Duffy is no stranger to the program, as he was the assistant coach under Rurak for the past two seasons, he's thrilled to be able to lead Big Red.
"It's fun," Duffy said. "The kids are intense and they are good teammates. They want to go out there and win and work hard in practice. That makes my coaching job a lot easier. To help these boys with their high school experience is a real privilege because they treat it as a very special time. Being a part of that is just a lot of fun."