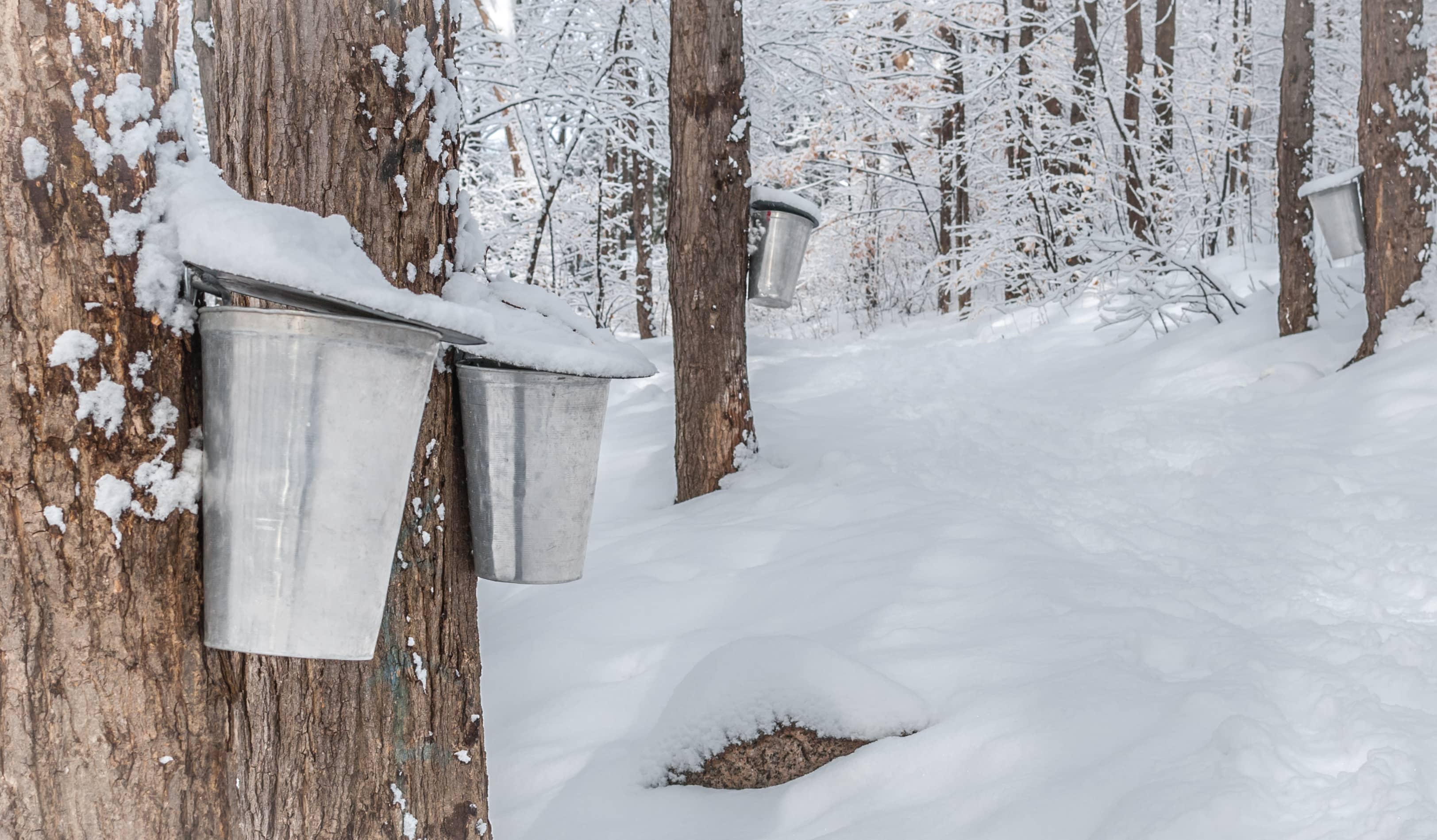 March is Maple Season in Connecticut and that means ample opportunities to safely tour sugarhouses, learn about the origins of the maple syrup-making process, participate in tree tapping demonstrations and sample Connecticut-made sweets—all while supporting Connecticut farmers and businesses.
The Connecticut Office of Tourism has compiled a list of ways to mark the sugaring season on www.CTvisit.com. Highlights include:
Learn Connecticut maple facts at CTGrown.gov and CTMaple.org. Did you know Connecticut is 10th in maple syrup production in the United States? Freezing nights and warm sunny days yield sap from Connecticut maples which is boiled into syrup and other sweet treats.
Visit a sugarhouse near you with the Maple Syrup Producers Association of Connecticut's 2021 Guide to Connecticut Sugarhouses. There are 29 sugarhouses across all eight Connecticut counties, so it's easy to plan a socially distant outing. Be sure to contact sugarhouses prior to visiting for hours of operation and any important visitor information. You can also read the COVID-19 guidance for maple sugarhouses here.
Shop for locally-made products. Shop in person or online at Connecticut sugarhouses for locally made maple syrup, candy, peanuts, cream, kettle corn and fudge. Connecticut maple products can also be found at farmers markets across the state.
Make a day or weekend of it. Many large, annual festivals and pancake breakfasts have been reimagined as multi-day, mini-festivals and to-go meals to ensure visitor safety. Learn more about each event, read about safety precautions and pre-register with the links below.
Maple Syrup Demonstrations (Feb. 28 & March 6, 7, 13, 14) and Pancake Breakfast To-Go (March 7) at Flanders Nature Center in Woodbury: Staff and volunteers will demonstrate turning sap into syrup with an entertaining mix of science, stories and humor. The Center's annual breakfast is now a drive-through event.
Maple Syrup Open House at Blue Slope Country Museum in Franklin (March 6, 7): Learn all about maple harvesting and its origins.
Maple Sugaring Sunday and Pancake Breakfast Party at Lyman Orchards in Middlefield (March 7): Environmental Learning Centers of Connecticut's traveling sugarhouse will be on site for families to learn about the tradition of maple sugaring. Kids and adults can try their hand at tapping a "tree" before or after indulging in a delicious 'Pancake Party' brunch menu.
Maple Festival at Sweet Wind Farm in East Hartland (March 13): Take a guided tour of the sugarhouse with an educational presentation, shop in the outdoor farm store and much more.
Syrup Saturday: A Pancake & PJs Party at New Canaan Nature Center in New Canaan (March 13): Enjoy flapjacks, syrup and an array of tasty toppings in the Visitor Center, as well as tree tapping demonstrations, a real maple sap "boil down," campfire with marshmallows, and a real versus fake syrup taste test.
Maple Weekend in Connecticut by the Maple Syrup Producers Association of Connecticut (March 20, 21): Tour local sugarhouses, taste maple products and bring some home to enjoy. During the two-day event, sugarhouses across the state will be open for tours, demonstrations, samples and product sales. See the list of participating sugarhouses and hours here.
"The maple sugaring season is a highlight of Connecticut's agritourism offerings," said Randy Fiveash, director, Connecticut Office of Tourism. "Not only does it provide a unique opportunity to safely explore new experiences in your own backyard this winter, but also support the many local farmers and maple producers across the state who keep this tradition alive."
"Visiting a maple sugarhouse is a fun, safe, family-friendly activity that everyone can enjoy," said Bryan P. Hurlburt, commissioner, Connecticut Department of Agriculture. "The warm days and below freezing nights are ideal conditions and allow sugarhouses to tap into nature's sweetest treat. Support Connecticut's small businesses with your purchase of syrup, candy, or taffy made from maple."
About the Connecticut Office of Tourism
The Connecticut Office of Tourism, a division of the Connecticut Department of Economic and Community Development (DECD), is dedicated to enhancing the economic growth of Connecticut's tourism industry. Together with its many state and industry partners, the Office of Tourism works to bolster the state's reputation as a destination that offers a diverse mix of activities and attractions, all in close proximity to each other—from the exciting and relaxing to the historic and innovative to the culture and nature-focused. For more information, visit www.CTvisit.com.