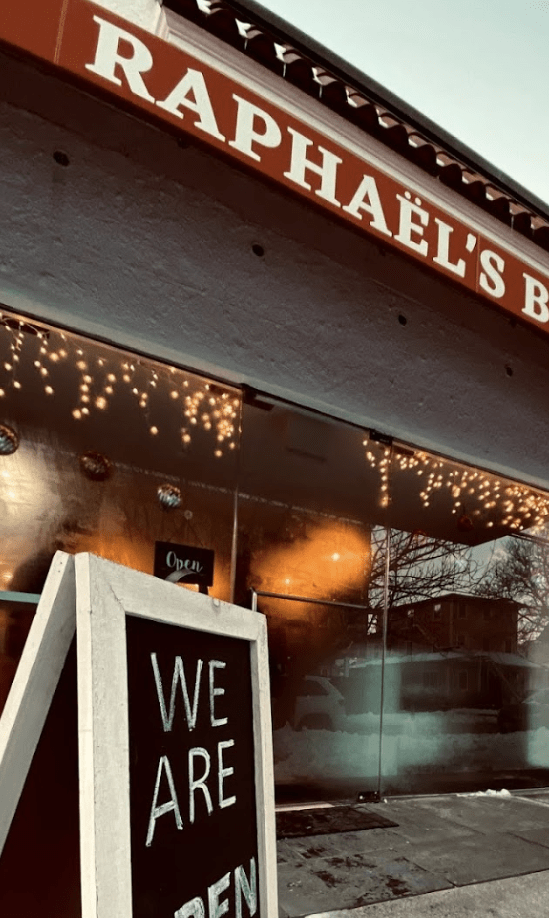 By Kris Herndon
On a recent Tuesday morning, the smell of fresh-baked bread emanated from a storefront on Mason Street as customers — masked and distanced, of course – awaited their turn to buy fresh-baked baguettes, croissants and cookies in the Breton style. Despite cold temperatures, the line stretched from under the friendly orange awning all the way to the corner. In this long pandemic winter, Raphaël's Bakery is having a moment.
Owned by Raphaël and Charlotte Dequeker, the bakery offers baked goods authentic to France, including croissants, baguettes, pain de campagne, pain au chocolat, chouquettes, and macarons. Also on offer are espresso drinks and fresh-brewed coffee from Shearwater Coffee, all locally roasted, organic and Fair Trade.
The doors open at 7am, and, as Charlotte Dequeker explains, it's a good idea to get there early.
"We do sell out," she said. "I had a customer get upset with me recently – how could you run out of baguettes? But we try to make only what we will sell that day or the next, because it's best enjoyed very fresh." That's because baked goods in the traditional French style – like baguettes, pain au chocolat, and croissants – are meant to be enjoyed fresh, the same day they are baked.
In France, baking has a rich cultural history. Famously, after the French Revolution in 1793, the price of bread was regulated by law as a way to ensure egalitarian access to what was then, and remains today, both an important dietary staple and a populist symbol.
More recently, French President Emmanuel Macron called for the baguette to be declared a cultural treasure by UNESCO, calling France the "cultural home" of baked bread.
The French take their national cuisine seriously, and the quality of bread is subject to strict control. In America, bread is often mass-produced and filled with additives, like high fructose corn syrup and artificial colors. Of course, poor quality bread exists in France too. But in 1993, what is known as the French Bread Law codified the various types of bread, and it also set regulations that govern what these types must contain and how they must be prepared. For example, not every long, skinny loaf can be sold as a baguette. To earn that designation, the bread must be baked on the premises where it is sold, and can contain only flour, water, salt, and yeast.
Incredibly, the price of bread remained under government control in France until 1978. While that is no longer true, this meant that for decades, bakers could not undercut each other in price wars, nor could they cut corners with ingredients. "So you have to be really on top of your quality," Charlotte explains.
That level of rigor is second nature to French bakers, and the baguettes, as well as the other breads and treats at Raphaël's, are made according to the same strict standard. The flour is imported from France, as is the oven.
Raphaël, a third-generation baker, got his start at the family bakery in Brittany, and began studying in earnest at an early age.
"His dad pretty much sent him away to Paris when he was 16, saying, okay, you need to learn your craft now, so have fun!" Charlotte laughs. "Raphaël has worked with some of the best-known chefs in France to gain experience." Indeed, the Dequekers met in Monaco, when both were working for renowned French chef Alain Ducasse. Then, in 2001, the couple were visiting Greenwich when Raphaël was offered a job at Valbella, where he remained as the Executive Pastry Chef for 18 years.
Opening their own bakery has long been a dream for the Dequekers, who raised a family in Greenwich: three sons who now help with the family business. Charlotte says the entire family is thrilled to bring their rich cultural heritage to Mason Street. So far, the colorful sweet macarons have been a big hit, and the Dequekers plan to expand the menu, adding some additional savory items as well as traditional pastry treats from Raphaël's native region of Brittany.
"We want to recreate the experience that you would have in a little village in France, going to the local bakery and grabbing a fresh baguette for the day," Charlotte said.
Raphaël's is located at 146 Mason Street, and is open 7 a.m. to 4 p.m. Mondays through Saturdays and 7 a.m. to 2 p.m. Sundays. You can view the menu online at www.raphsbakery.com or contact raphsbakery2020@gmail.com or 203-485-0450.