November 6, 2020
Celebrating the artistry and generosity of Cos Cob donors to the Greenwich Historical Society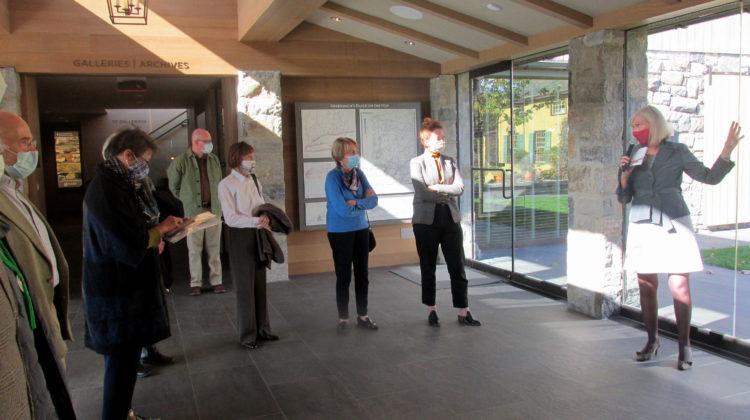 By: Anne W. Semmes
Last Monday the Greenwich Historical Society warmly welcomed with tea and crumpets those who share its Cos Cob roots, Josie Merck and friend Florence Phillips, with their two new gifts of art now displayed in the Society's expanded and newly named James Stephenson and Josie Merck Stevenson Library and Archives. Fifteen or more friends of the gift givers attended the celebration.
"The original idea for this event," said Society Executive Director Debra Mecky to the gathered group, "was an informal dedication of a print by John C. Phillips, Florence Phillip's late husband [known as Jack]. And thanks to Florence, we were able to restore it and reframe it and you will really be able to see how lovely and beautiful a print it is." With its title of "Horseleech Pond I," Mecky described it as "a beautiful marsh" now seen off the reading room of the Library.
"It's a place we go to on Cape Cod," Phillips described that marsh. She gave thanks to Josie Merck for her idea "to bring something of Jack's" to the Library. "Jack would be so proud to be a Cos Cob artist to be in the Library room of Josie and Jim's."
The Phillips Cos Cob roots include Jack Phillips' sister, Madelyn Phillips O'Neil, wife of Horton O'Neil, the architect of the Cos Cob Amphitheater, memorably saved and moved to Sarah Lawrence College, with the generosity of Josie Merck.
Mecky then described Josie Merck's donation of a landscape painting by former "Postmaster" of the Cos Cob Post Office, Gerald "Gerry' Van Gorden. Its setting is in the Montgomery Pinetum. "It has been installed in the Archivist's office," said Mecky. She surprised some in the group with the history that the original site of the Cos Cob Post office was located on the Society's campus. "It was located behind the Bush Holley House, in the old Justus Lake Bush Storehouse which I can take you to see. In those days, [late 19th – early 20th c] the postmaster had to provide a room in his residence in order in to be appointed Postmaster."
"Gerry wasn't really our postmaster," noted Merck. Van Gorden had served as a postman for 40 years. "He's a fine painter and very modest. He had a few shows at the Cos Cob Library. But what he was for some of us was our Greenwich historian and such a passionate connector of people and places."
Van Gorden's roots went beyond his many years at the Post Office, Merck shared. "His grandfather, William Van Gorden had a boatyard located on the shores of the new Cos Cob Park. He serviced, winterized, built, and stored many a vessel for the Belle Haven and Greenwich residents. He was close friends with the chief of the power plant, Mr. Lewis Grant O'Donnell, whose daughter Gertrude Riska wrote an oral history for the Greenwich Library back in 1989."
Merck held up some postcards Van Gorden had sent her. On one recent one mailed from the Amish country in Pennsylvania where Van Gorden has retired had shared his regrets he was unable to attend the Society event. Another postal had a teepee drawn near the stamp. "And that's because he delivered mail to my mailbox," and "I did have a teepee," she smiled. On another card was his photo taken in the Cos Cob Post Office. "And that's our beloved Cos Cob postman, Gerald Van Gorden. And I'm giving these postcards to Archivist Christopher Shields because his handwriting is extraordinary."
Guests then divided up five at time to explore the Archives led by Shields. There, waiting to be publicly displayed in January was another recent art gift, Childe Hassam's painting of "The Red Mill, Cos Cob." "It was purchased at auction at Christie's probably two months ago," shared Shield. The painting dates to Hassam's first visit to the famous Cos Cob art colony in 1896.
In light of these recent art donations Mecky was asked by this attendee what were the Society's present collecting objectives with the Society's increased spaces. She shared their "Collections Management Policy" that addresses both its Archives and Museum.
"The Archivist's collecting objective is to maintain and build the present collection the acquisition of unique or rare historical collection items pertaining to all aspects of Greenwich. These items include but are not limited to: Personal papers and manuscripts including letters, diaries, journals, memoranda, reminiscences, rosters, service records, account books, charts, surveys, published works, and field books. Photographs, negatives, and slides. Ephemera and memorabilia such as ribbons, medals, lapel buttons, awards, and other small objects. Audiotapes, videotapes, DVDs, and digital audiovisual formats both amateur and professional. Material pertaining to all aspects of Bush-Holley House and its occupants through the years.
The Museum Curator's collecting objective is to maintain and build the present collection of objects documenting the material culture of present and former inhabitants of Greenwich and its region. Particular emphasis is given to those items connected to the history of Bush-Holley Historic Site or useful to its interpretation. Objects include, but are not limited to fine and decorative arts, maritime, agricultural, industrial and domestic artifacts, such as: Items reflecting the lifestyles of the occupants of Bush-Holley Historic Site. Items reflecting the activities of members of the Cos Cob Art Colony. Items made or used in Greenwich reflecting historic or present-day Greenwich. Items concerning or associated with Greenwich people, places or events.
For further information contact Archivist Christopher Shields at cshields@greenwichhistory.org, or Curator Maggie Dimock at mdimock@greenwichhistory.org.