November 5, 2020
GPD Recognizes Custodial Staff & Goodway Technologies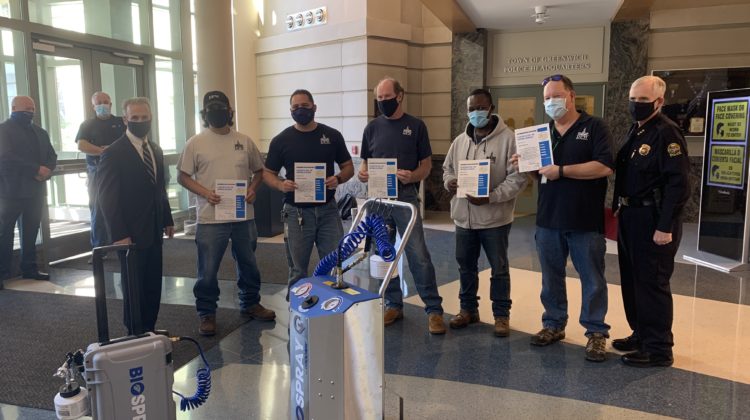 By Richard Kaufman
Sentinel Reporter
Essential workers have been the unsung heroes during the COVID-19 pandemic, and on Thursday afternoon, the custodial staff at the Greenwich Police Department was honored for the work they've done in keeping people safe.
The Department also recognized Goodway Technologies, a local business which manufactures specialized industrial maintenance products. Goodway donated a sanitizing machine to the GPD several weeks ago.
"As first responders, we have a little bit of cache. We have badges, and we have sirens and all of that, but it wouldn't all happen if it weren't for the entire staff," said GPD Chief, James Heavey, to a small crowd inside the lobby of the Public Safety Complex in downtown Greenwich.
"The police department has 152 sworn officers who work full time, but the remainder of the employees are civilians, and they don't get recognized enough."
Heavey issued a certification of appreciation and a GPD pin to members of the custodial staff: Richard Gonzales, John Thompson, John Gleeson, Jonas Dorelus, and Raul Builes.
"On behalf of the residents of the town of Greenwich, please accept my appreciation for the excellent job that you've done over the past seven months in the Town of Greenwich's response to the COVID-19 pandemic. The response to the pandemic continues to be an enormous undertaking and you have risen to the occasion with professionalism and understanding," Heavey said. "Thanks to your dedication, teamwork and energy, the Greenwich Police Department has set the standard for other agencies in their response to the COVID-19 pandemic. You should take great pride in this accomplishment.  You have significantly contributed to keeping Greenwich safe."
First Selectman, Fed Camillo, was in attendance as well, and thanked the staff for their hard work.
"Thank you for keeping everyone safe, and thank you all for the work you do every single day," Camillo said. "To everybody at Goodway, thank you so much. This is much appreciated."
After focussing so much on the intense manufacturing that occurred at the beginning of the pandemic, Goodway, based in Stamford, wanted to turn around and take care of the surrounding communities.
Timothy Kane, President and CEO of Goodway, said he reached out to Camillo to see where he could help out the most. After taking care of the Boys and Girls Club of Greenwich, Goodway donated a Biospray Sanitizing System, worth almost $4,000, to the GPD about three weeks ago.
The machine utilizes a unique sanitizer that is a little more than 50% isopropyl alcohol, mixed with carbon dioxide, or CO2, to neutralize flammability and allow for safe sanitization of hard, non-porous surfaces and even electronics. The sanitizer is also sprayed through the nozzle in a very efficient manner, up to 80% better than using a squirt bottle. It can be applied to surfaces from roughly 10 feet away.
"All these months we've been struggling to keep our workforce safe. This is just another great tool in the toolbox that will allow us to give the officers some confidence when they have to use a shared workspace, that it's clean and that we're not going to be spreading any kind of illness," Heavey said. "Fortunately for us, we keep this [machine] in an area where the desk sergeant and the dispatchers are, because both groups have to share a workspace. We clean between every shift, and it's also available for our cars."
Heavey also noted that the department's Marine Division has used the machine, and that the Greenwich Fire Department has access if they need it.
"I think this will be a great asset once we get more of them," Heavey said.
Kane was happy to see the GPD's custodial staff get recognized.
"It's kind of special for me to be standing here today and have these folks being recognized. At the end of the day, the equipment needs to be operated by folks. The sheer fact is that the equipment is being operated in an area that at least has the potential to be unsafe, and you never hear these guys complain. They just go about their job everyday," Kane said.
Kane added that it's also special to give back to Greenwich, since he was born and raised in Cos Cob.
"This is really a great feeling. We've fortunately been in the position over the past seven months of helping people all over the world with this equipment. It feels a lot different when helping my own community," Kane said. "That's a more special feeling. We just wanted to make sure we took care of the folks at home here."
Tags:
Goodway
,
GPD
,
greenwich
,
Greenwich Police Department
,
Town of Greenwich