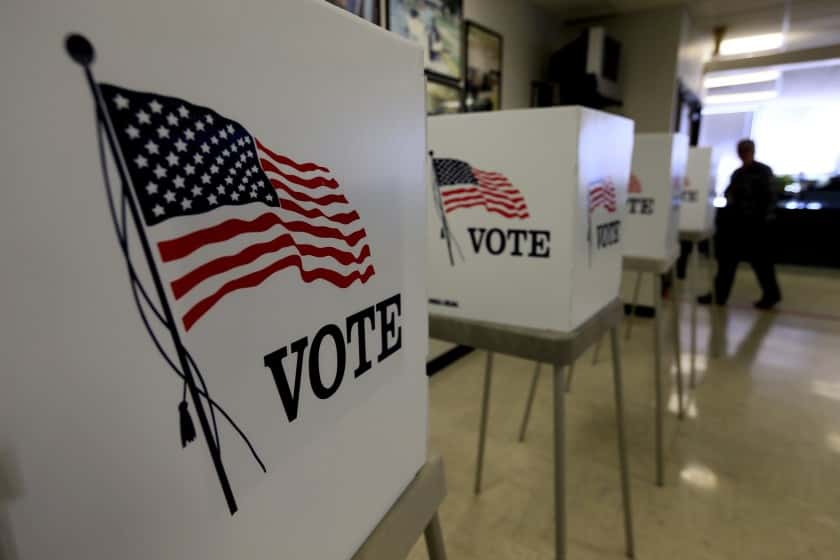 Story posted 11:45 p.m., Nov. 3
*All vote tallies are unofficial. To track unofficial results, click here.
Even though the results are unofficial and there are absentee ballots still to be counted, Greenwich Republicans celebrated on Tuesday night both at their headquarters in town and virtually at home.
Absentee ballots for New Canaan and Stamford still need to be counted, but Republican Ryan Fazio (17,347 votes) holds a slim lead over incumbent Democrat, Alex Kasser (17,142) in Greenwich in the race for State Senator in the 36th District, which covers Greenwich and parts of New Canaan and Stamford. Results from absentee ballots from Stamford and New Canaan are expected to come in tomorrow.
Similarly in the 149th State Representative District, absentee ballots are still needed from Stamford, but Republican Kim Fiorello holds a lead of 779 votes on Democrat Kathleen Stowe. The absentee ballots are expected to be counted on Wednesday.
Incumbent Republican State Rep. Harry Arora will retain his seat in the 151st District, after defeating Democratic challenger, Hector Arzeno 53% to 47%.
Stephen Meskers, a Democrat, will retain his seat in the 150th State Representative District. He defeated Republican Joe Kelly by over 1,000 votes.
Kelly watched the election results come in at his home, and he conceded the race to Meskers. On Facebook, Kelly said: "You win some and you lose some. We will get them next time. Thanks everyone for the support."
Greenwich Republicans held a small gathering at their headquarters with most of their candidates in Greenwich in order to comply with state guidelines on COVID-19. The event was broadcast on Facebook and Zoom. Democrats gathered at the Greenwich Social Club.
Republican Town Committee Chair, Dan Quigley, called Tuesday "a really good night" for Republicans in town.
"I think we proved that if you stay on message and you speak plainly to people about facts and you hold people accountable for their performance and their record, you don't get knocked off track and you'll do well in campaigns. We have very sophisticated and well-informed voters here," he said.
Quigley did say that this election was especially challenging because of Republican newcomers.
"We had three candidates that were new this year that had no name recognition really throughout Greenwich and some parts of Stamford. Our incumbent (Arora) had held office for eight months. We didn't have these people who had been around for a while, whose name recognition was high in Greenwich. We had to establish our candidates' names, and they had to go out and do the hard work," Quigley added.
Arora thanked his supporters, and pledged to continue working for his constituents in Hartford. Arora was elected several months ago to finish out Fred Camillo's term when Camillo became Greenwich's First Selectman.
"Our community has sent a strong message that the policies and the ideas that we have, the concept of serving our community well, and representing their interests, is what everyone in Greenwich wants," Arora said. "Even in the minority party in Hartford, we're going to bring change. The last 10 months, it's been a great honor serving the community, and I can promise you that I'm going to leave no stone unturned to bring change and to put us on the path of good policy, and to make sure each one of us gets from the state what we deserve, which is good policy and good responsive government."
Fiorello acknowledged that the race was not over yet, but she thanked those who supported her campaign throughout a "humbling" process.
"I am proud to be a Republican, I am proud to be an American," she said. "I truly thank those who have faith in the Republican principles… We will still see [what happens with the results], but I am so grateful for all the people who came out to support this campaign. I am truly your voice."
Fazio is looking to take back the 36th State Senate seat from the Democrats, as Kasser became the first Democrat since 1930 to win in 2018.
"We do not know what the outcome is at this moment, but we do know we did very well. What that says is that this campaign inspired a lot of people to the fact that we can do better in Connecticut. That with change in Hartford, we can create a brighter future for our community and the entire state. Whatever happens, we should keep our eye on the prize," Fazio said.
Fazio, a newcomer to politics, is a lifelong native and graduate of Greenwich High School. He has worked in the shipping, agriculture and renewable energy industries, mostly in Stamford, and is a member of Representative Town Meeting District 12.
Fazio said the campaign has been contentious and difficult, but after the official results come in, whatever they are, the focus should turn back to helping the people.
"Win or lose, I recognize how blessed I am and I recognize that a lot of people around our community are hurting today and have been hurting for a long time," he added. "The reason we started this campaign is to unite people, to bring people together, and to make a brighter future for everyone in our community. Tonight, we'll continue to work, tomorrow maybe we'll celebrate, but the next day we'll have to get back to creating a brighter future for everyone in Connecticut."
Elsewhere, Greenwich's Registrars of Voters, Democrat Mary Hegarty and Republican Fred Decaro, will return to their positions.
Jim Himes, the Greenwich resident and Democratic U.S. Congressman representing the 4th District, won re-election handedly against Republican challenger Jonathan Riddle.