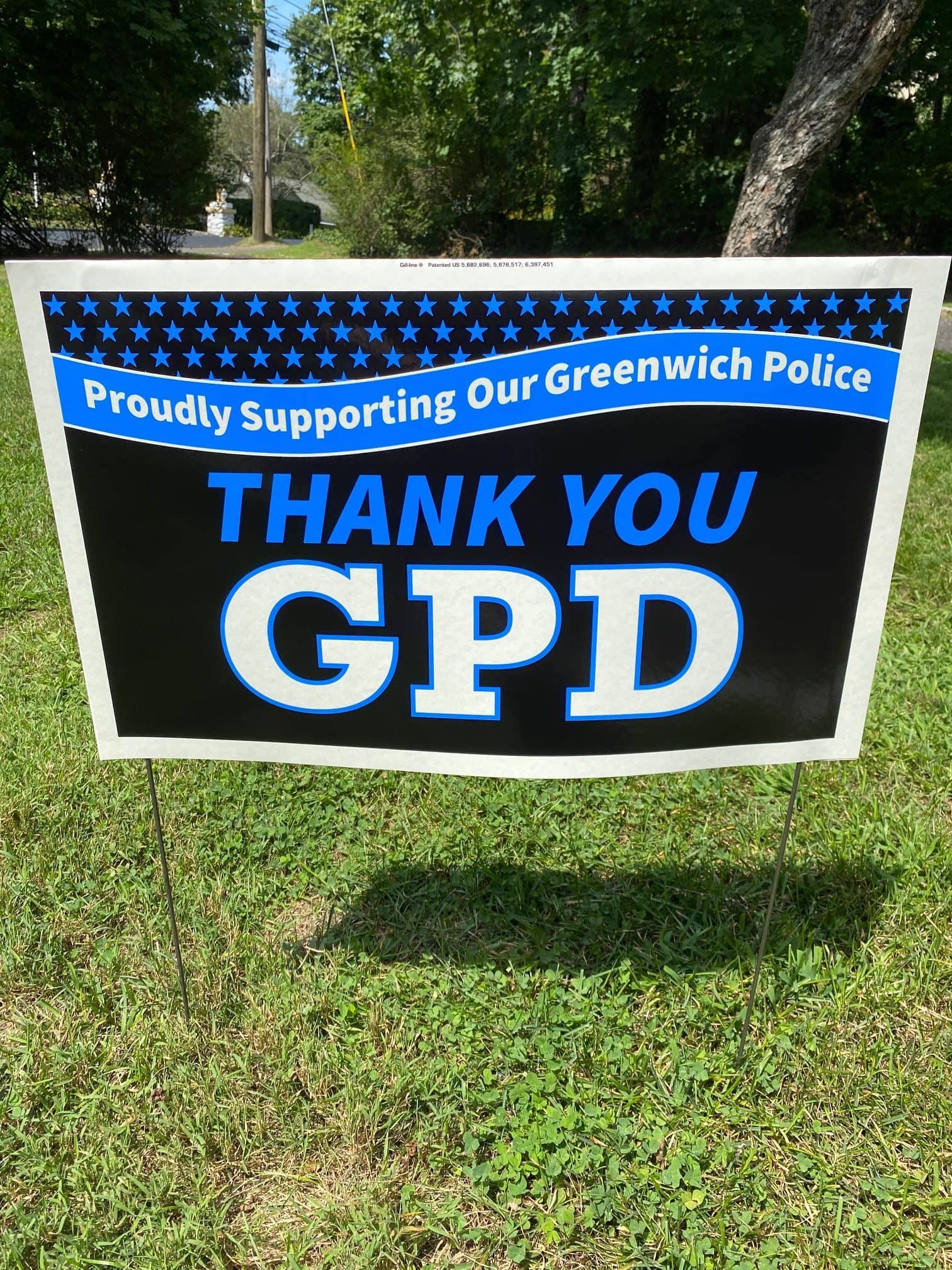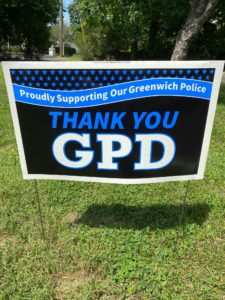 Every year, during the third week of October or so, political yard signs begin to appear in just about every available Greenwich space in town. We love it! It is free speech, one of our fundamental rights protected by the U.S. Constitution.
Every candidate running for office seems to have a sign out in every circle, street corner, and roadside possible. That said, it seems there are fewer political yard signs displayed in front of peoples' homes than in years past. Our current political environment has made it so that fewer people want to publicly acknowledge who they are supporting, and therefore signs appear predominantly in public spaces.
Recently, we came upon a few signs we had never seen in Greenwich that took on a negative tone. Given the current state of political discourse, we should not be surprised, but nonetheless it is disappointing.
One of our favorite yard signs we love to see all over Greenwich is the blue and white one declaring it's support of the Greenwich Police Department. These signs started appearing earlier this spring, first as hand-made signs, then purchased and sold in limited quantities. The Greenwich Sentinel Foundation, a 501(c)(3), proudly undertook the effort to purchase and distribute subsequent signs, thanks to the generosity of a handful of individuals.
The stories of why people want to proudly display a GPD sign in their yard have been heartwarming, emotional and inspiring.
In one retelling, a woman was at Tod's Point this summer with her young children. Her child had an accident and was in need of medical attention. Within minutes, a Greenwich police officer appeared at the beach and rendered the medical assistance necessary. What might have been a very scary situation was ameliorated by the calm, professionalism of this officer.
Other inspiring stories come from the many family members of police officers who have requested signs. There was the father whose son was going on his very first patrol as a fulltime officer. He was nervous and proud and wanted to have a sign in his yard for his son to see while he was on patrol.
There have been countless conversations with people who do not understand why one would not support the police. One person described policing as the most selfless profession there is and that she tells her children that constantly. We agree.
The conversations with officers and their family members can be emotional as well. They don't understand why their loved one's professions are under attack. These are fathers and mothers, brothers and sisters, sons and daughters who want to serve and protect their community. Eight months ago, when the COVID pandemic began, they and all the first responders and medical workers were our heroes because they were all on the front lines.
Today, the pro-GPD signs are a small but public way to let the Greenwich Police Department know we support them. In fact, we would love to see more signs for GEMS, the fire department and the hospital workers. These working professionals have earned our respect and gratitude and we want them to know it.
If you would like a pro-GPD sign, please email Info@GreenwichSentinelFoundation.com The foundation still has a few left and would love to see them out around town.