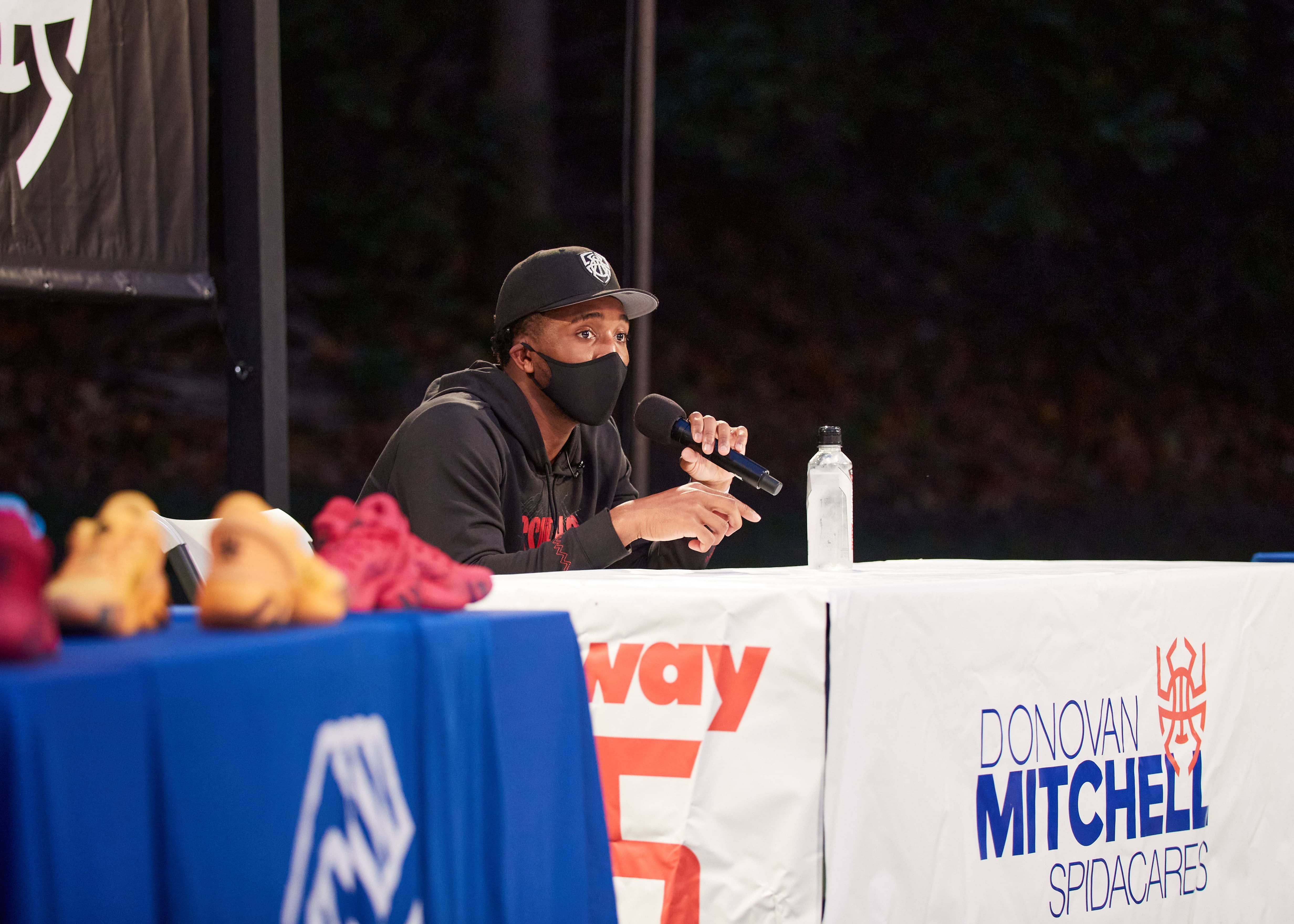 By Richard Kaufman
Sentinel Reporter
On July 8, 2010, 13-year-old Donovan Mitchell found himself outside the Boys & Girls Club of Greenwich on the night of NBA star LeBron James' much-anticipated free agency decision, which was broadcast live from inside the gymnasium. His mom had dropped him off, so he could witness one of the biggest sports spectacles in recent memory.
Fast forward to 2020, and Mitchell was once again back at the BGCG on Wednesday evening, as an NBA star in his own right, speaking to Keystone and Torch Club members about how to succeed in life both professionally and personally, and how to practice a healthy lifestyle.
The Keystone Club is a national Boys & Girls Club leadership program for teens, and Torch Club is a chartered small-group leadership and service club for boys and girls ages 11-13.
Mitchell was born in nearby Westchester County, but attended Greenwich Country Day School from grades 3-9. After going to Brewster Academy in New Hampshire, where he was class president, he went to the University of Louisville on a basketball scholarship. There, he made the NCAA Atlantic Coast Conference All-Academic Team, and ACC First Team over his freshman and sophomore years.
In 2017, Mitchell was the 13th overall pick in the NBA draft, going to the Utah Jazz. He made the All NBA Rookie Team in 2018, and was the slam dunk champion during All-Star weekend that year. In 2020, he made his first All-Star team.
On Wednesday night, it all came full circle for Mitchell.
"It wasn't too long ago that I was in your seat when I was here watching LeBron's decision," Mitchell told a socially-distanced crowd of over 100 people, who were seated on the athletic field outside of the club. Each attendee had their temperature checked prior to entry, and answered health screening questions.
"For my whole life, I always wanted to be an NBA player. Looking back and sitting here, it gives me chills thinking about how I've come this far and to be able to speak to you guys."
Camryn Ferrara, a BGCG alum, 2010 Youth of the Year recipient, BGCG athletic coordinator and national award winning Torch Club advisor, helped facilitate Wednesday's event.
Cristina Vittoria, CEO of the Boys & Girls Club of Greenwich, said that over the past seven months, celebrations and special events have been few and far between. But club members and staff have remained resilient and patient.
"We are thrilled to welcome you back to our club," Vittoria said to Mitchell. "And please know you are always welcome here. Our court is your court, and always will be."
Mitchell stressed the importance of education, hard work, and listening to your elders.
"You look at guys who make it to the NBA and become professional athletes, the only thing that will stay with you is education, because eventually I'm going to retire. Dwyane Wade is one of my favorite players, and he retired. And what does he have now? He has his education, and he's doing different things in the business world," Mitchell said. "Education is huge. Listening to your teachers is huge."
Mitchell spoke about his experience coming up as a basketball player in high school who wasn't highly ranked, and how listening and asking questions helped him improve both as a player and as a person.
"The biggest thing for me was being able to listen to my elders and people ahead of me who have done it before. That goes a long way," Mitchell added. "It's like taking a test you haven't studied for, and assuming you know all the answers. That can't be the right mindset you have. Without listening, you don't get anywhere."
During the question and answer portion of the event, Mitchell was asked if he experienced any setbacks in his life, and how he overcame them.
This year has certainly been difficult for everyone, including Mitchell, who called it "the craziest year of my life."
In March, Mitchell and a few of his teammates became some of the first professional athletes in the United States to get infected with the coronavirus, and the outbreak eventually led to the NBA postponing the season.
In September, Mitchell's grandmother, whom he was very close with, passed away. The last game she saw him play was his 57 point performance in Game 1 of the Jazz's first round matchup with the Denver Nuggets.
"There's going to be plenty of setbacks, whether it's basketball or life. There's going to be plenty of things. I look at what's going on right now, and this is a huge setback for a lot of people in today's world. I think the biggest thing is finding ways to push through by any small increment,"  Mitchell said. "If you're trying to get somewhere [in life] and they say you have to jump over this wall, but you're dead tired; are you going to want to turn back, or are you going to finish and jump over that wall?"
On the court, Mitchell told the kids he uses setbacks as motivation for the future. This year, the Jazz squandered a 3-1 series lead to the Nuggets in the first round of the playoffs.
"The moment everyone sees [after we were eliminated] is me laying on the court, crying. In my head, every time I go train, I'm never going to have that feeling again," he said. "You have to go through certain things in order to adjust and get around it. Failure is what helps you succeed."
Mitchell was asked what advice he had for girls who want to play sports in college and beyond.
"Go for it!" he said, urging the kids to just have fun and enjoy playing sports at their age. "But how hard are you willing to work in the classroom? The amount of work you put in on the court can all go to waste if you don't put the same amount of effort in in the classroom."
In 2019, Mitchell founded SPIDACARES, after his nickname, Spida. The nonprofit foundation helps to foster and promote the physical well-being and mental health, ethical character, confidence and good sportsmanship of children and adults through amateur athletic programs, and assists communities in need by making athletic equipment and instruction available for young people. It also provides grants and scholarships to deserving students with financial need.
In tough times like the country is in now, Mitchell said after the event that reaching out to the youth is even more important.
"I can only imagine what certain families might be going through, what the kids are going through. I've seen moms and dads cry after losing jobs. I can only imagine what that's like for a kid. I want to give them a glimpse of hope and continue to feed them knowledge as much as I can, and continue to inspire," Mitchell said.
Giving back and trying to make a difference has been a theme for Mitchell this year.
Earlier this week, Mitchell joined other NBA players in a sit down with Vice Presidential candidate, Sen. Kamala Harris, to discuss education.
"Being able to speak with Sen. Kamala Harris and talking about education reform, and finding ways to improve that and letting people know there are two different Americas that we live in, and understanding that until we're all educated about what's going on, we can't come together as a nation," Mitchell said.
From having COVID-19 to meeting with Harris, and returning to the Boys & Girls Club of Greenwich to hold an event for young people — many of them the same age he was when he wanted to get a glimpse of his favorite basketball player, LeBron James — 2020 has been a wild ride.
"This is one year I'll never take for granted. I think when I'm 60 or 70, I'll look back and say this was a memorable year for me. Not just because of basketball, but because of what I'm doing personally," he said.