October 16, 2020
On my watch – Seeing what's truly presidential in Susan Eisenhower's new book, "How Ike Led"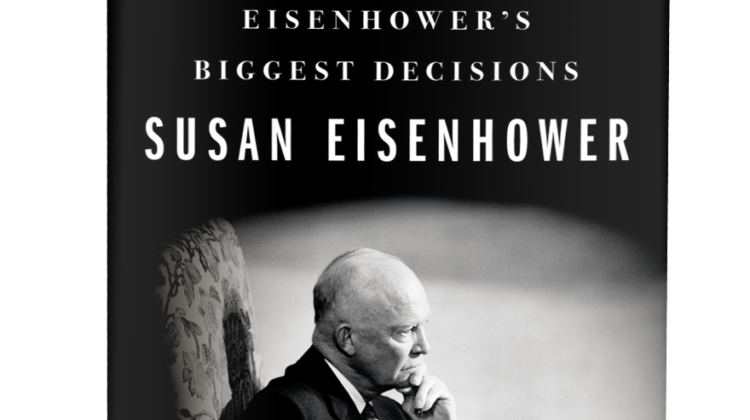 By: Anne W. Semmes
Imagine having on your resume when applying to be president of the United States a recommendation of, "You have been selfless in your actions, always sound and tolerant in your judgements, and altogether admirable in the courage and wisdom of your military decisions."
This is how Susan Eisenhower, granddaughter of the 34th President Dwight D. Eisenhower begins her new book, "How Ike Led – The Principles Behind Eisenhower's Biggest Decisions," with a quote from General George C.
Marshall, Chief of Staff of the Army, dated May 8, 1945. Susan Eisenhower, who I met with pleasure years ago, is a respected policy strategist and consultant based in Washington, D.C. Her book launch is timely, with this year's 75th anniversary of VJ Day marking the surrender of Japan and end of WWII, and the unveiling of architect Frank Gehry's Eisenhower Memorial in Washington – and in a presidential election year!
She describes her book as neither a biography, nor a history of her grandfather's wartime or presidential years, but rather "a primer" for those who may not recall how Ike "approached the important questions of his day." She notes, her grandfather was "arguably the most bipartisan president we have had in modern American history."
This reader has found a number of surprises. First off is where Ike the warrior came from. The third of six sons, Ike's mother was an "ardent pacifist" having grown up in the wake of the Civil War. His engineer father was the disciplinarian. His mother, when not reading the Bible would "rotate her boys through a range of household chores, from washing clothes to cleaning the house, to doing the sewing…some of the cooking and all the washing up."
Parents Ida and David "conveyed to Ike and his brothers a respect for the dignity of a man's work, even the most humble among us." Thus, one of their chores was to "sell their garden grown vegetables door to door across the railroad tracks in the wealthy part of Abilene [Kansas]." Ike would take that empathy "for the ordinary man's lot in life" when connecting with his GIs.
Ike chose to go to West Point not to be a soldier, but because it was free. At West Point he would pass through an acting out phase to "a growing seriousness and purpose he had absorbed from his childhood." When taking the cadet's oath he would recall, "the feeling that came over me that the expression, 'United States of America' would now and henceforth mean something different…it would be the nation I would be serving, not myself."
Likewise came a shift with his superiors. "For all of Ike's false starts…his instructors had seen something in the young man." "He is born to command." And Supreme Commander he was of the D-Day Invasion on June 6, 1944, during which he kept in his wallet an "in case of failure" note. It read, in part, "My decision to attack at this time and place was based on the best information available. The troops, the air, and the Navy did all that bravery and devotion to duty could do. If any blame or fault attaches to the attempt, it is mine alone."
"This unused communique," writes Susan, "is often thought of today as a symbol of Ike's leadership – the willingness to take complete and full responsibility for his decisions."
It was while serving as first Allied supreme commander of NATO in Paris that Ike began to be pressured to run for the presidency. He may have been encouraged by that grassroots bipartisan campaign, Citizens for Eisenhower, with its millions of volunteers, created by two veteran fighter pilots, one being philanthropist Stanley M. Rumbough, Jr.
But what swayed him to run was the isolationist stance of the "sure-fire" nominee Senator Robert A. Taft. "Should the isolationists take the White House," writes Susan, "everything Eisenhower had worked for would come to naught."
Soon after Ike's victory a secret foray over the Korean War frontline via helicopter had convinced him of the futility of that engagement. He was operating on certain maxims. "Never fight unless you have to;" "Never fight alone," and "Never fight for long." Six months later the armistice was signed. "Perhaps," writes Susan, [Ike's] "greatest achievement as president…was eight years of peace, with no American casualties after the end of the Korean War."
Ike also made his mark on the desegregation front, first in his front yard, "in the District of Columbia, the Federal Government, and the Armed Forces," and then in the D.C schools, all "without violence." He drew criticism for bringing in Federal troops to enforce the integration of a Little Rock high school, but his efforts would lead to Harvard's establishing a Dwight D. Eisenhower Scholarship Fund "to recognize the progress toward equal opportunities that began in the Eisenhower administration."
One has to add what Ike's principle was about the Supreme Court, that it should have a balance between Democrats and Republicans, that it should "represent diverse ideological points of view."
Bill Ewald, late of Greenwich, served as Ike's speechwriter in the White House and later worked with Ike on his memoirs, along with son John Eisenhower. In his book, "Eisenhower the President, Crucial Days:1951-1960," Bill, whom I was also fortunate to know, writes of a corporate executive's description of Ike that reads, "[No] public man whom I have ever known…had such intellectual honesty as Eisenhower."
Susan's book is full of rich personal anecdotes – a favorite concerning her part in escaped horses that brought havoc to Ike's favorite putting green. Ike would surely be pleased with the appreciation shown in the writings of his son, John, grandson David, and granddaughter Susan for their keeping the flame of his greatness alive.
Over the years Susan has been discovering the multidimensional person that her grandfather was. It has left her, she writes, "frankly in awe of how he handled some of the most consequential decisions ever undertaken by a general or a president – while retaining a genuine capacity for empathy and kindness."