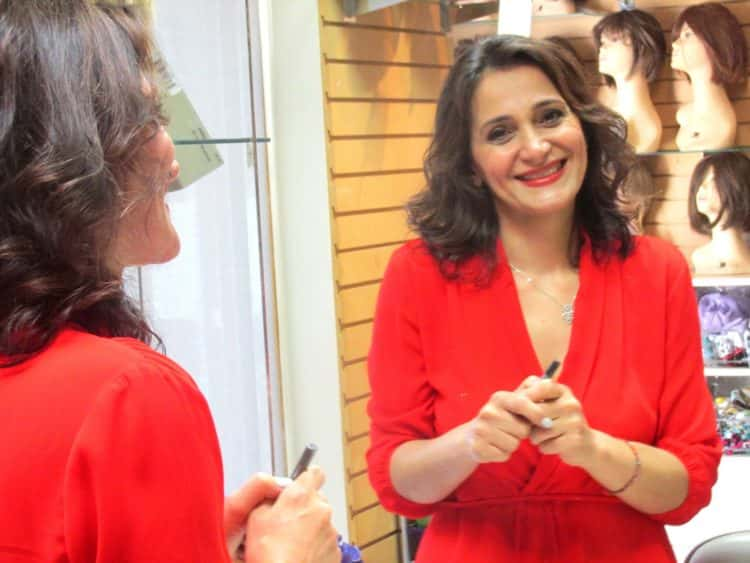 By Anne W. Semmes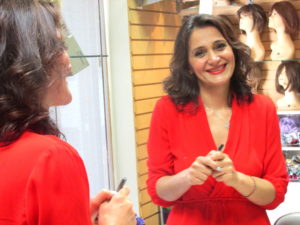 Not far from Greenwich Hospital is a place of beautification that measures large in the life of Azita "Zara" Ebrahimi. It's the Allura Salon and Day Spa, an establishment in Greenwich of 30 years or more, but under Zara's ownership the last three years.
Reopening on June 1 in this ongoing pandemic Zara has been diligent with installing the necessary protection measures, offering up disposable plastic smocks for her clients. "All my manicure tables have shields," she says, and when she arrives she opens the doors and windows for circulation. Her clients call from their car to learn when they're allowed to enter, and they must enter wearing a mask. "We have a thermometer at the front desk," she adds, but she's assured her clients are "civilized enough to come without a fever."
Closing down in mid-March was tough she says. During that time she lost two clients and husband of a client to Covid-19. At home she was doing "a lot of cooking!" Her three college attending kids were homebound. "The virus and the media placed me on alert 24/7," she tells. "Living with the constant stress of catching the virus from all sorts of unknown places/people takes a toll on one's soul." But she took solace she says, "in knowing we are all in it together."
Zara sought every way to save her business. With some of her clients she did Facetime consultations. She applied for and received PPP support, and struggled to understand how it worked. Determining when to reopen was an ongoing challenge. She got mixed signals from the Town. "We were supposed to open May 20. We were going crazy to open. Two days before that a client told me the Governor said not until June 1." She found some of her staff not able to work. "They had an older mother to care for, or kids at home."
An important part of her business is the Spa's extraordinary wig room filled with wig hairdo's in a myriad of shades – with 80 percent of them as "cancer wigs" for those who have lost their hair. She gets referrals from hospitals as far as New York City. But during the shutdown Zara was able to help one cancer client. A photograph was sent, and Zara found a match and sent it. "She was happy," says Zara.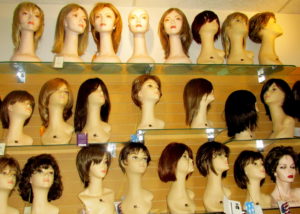 Prior to buying the Allura Salon in 2017 Zara had worked at the salon for 12 years as stylist, hair cutter and colorist. "She became the wig expert and has helped hundreds of cancer patients undergoing chemo to keep up their senses of self-esteem while being treated for cancer," shared her Greenwich friend Martha Deegan who has been there at difficult times in Zara's life.
In 2009 Zara lost her husband Ghajar Khademi, age 48. They came to the U.S. in 2001 from Iran, with their three young children. Ghahar was educated in the U.S. Zara found herself a widow with her young son and twin daughters.
Seeing as Zara was formerly a schoolteacher with a degree in sociology, Martha encouraged her to go back to college. "I loved teaching but I had three small children," says Zara, "and I already had my cosmetology license from Iran." College could come later.
Martha's awe continues of how Zara managed to buy Allura Salon. "I am so proud of her!" Zara had knocked on the Salon's door looking for work with a newly acquired hairdresser license and gotten a job.
Less than a year after her husband died, in March of 2010 Zara met with another challenge that I reported on. On a windy Saturday evening in her Stanwich Road home, Zara, son Daniel, age 11, and twin girls Nina and Diana, aged 9, were watching the film, "Everything is Fine." But outside it was not fine. "The wind was going 70-miles per hour," told Daniel, "and ten minutes later we heard a sound like a bomb."
Seeing the giant tree fallen on her house, Zara secured her kids in the basement, and called 911. The Greenwich Police finally answered and referred her to a tree service! They huddled in the basement overnight and were rescued next day by friend Martha who invited them to stay in her nearby house. Martha was "the real 911," recalled Zara.
So, here we are in scary 2020, and never a dull moment in now American citizen Zara's life.
Her scholarly children are all on scholarship: the twins as rising juniors at Denison University, and son Daniel near getting his engineering degree at Drexel University. And often clients will find those twins helping out their mom at the Allura Spa's front desk.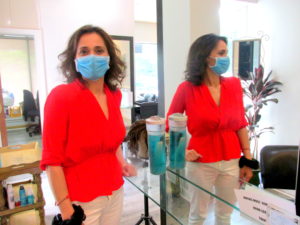 Zara feels the luck that no one in her immediate or distant family have been negatively impacted by Covid-19. She knows how "losing a loved one places one at the mercy of God and faith with total loss of control of the situation with no point of return."
"In hindsight," Zara reflects, "the novel Covid-19 has really put life in perspective for me and I am sure for many around the globe. In a way, the pandemic really activated the reset button for me and made me realize the importance of basic necessities of life and how most take them for granted. But the most important lesson I have learned is to be flexible and to adapt to various situations in life."
Plain to see with Zara. Stopping in to grab some photos of her for this story, I found her radiant in red, and finishing up with a client at her station, masks in place. Nearby was a rather tall gentleman with mask, Tim Schieffelin, getting his haircut. "Zara is absolutely terrific," he says. "My wife and four daughters have been coming here for years. Zara and her team are very professional and friendly. I always leave with a contented smile on my face."