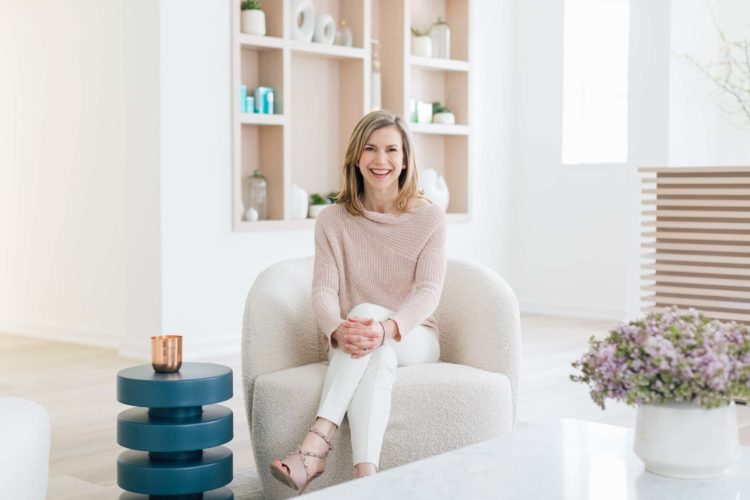 By Michelle Moskowitz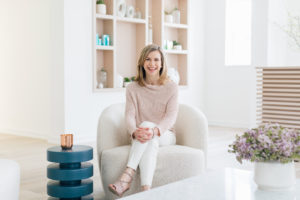 Far from the staid aura of rifling through a traditional dermatologist visit, Greenwich Point Dermatology, located at 20 East Elm Street, has truly redefined skin health, beauty and wellness with its new state-of-the art facility serving up the latest, cutting-edge technologies and treatments that apply to all skin concerns, no matter what the age or sex of the patient.
Opened in 2019 by Dr. Sarah Dolder, a highly trained, board-certified dermatologist, Greenwich Point Dermatology, offers a holistic, modern-day approach that goes "skin deep and beyond" providing a tri-fecta of dermatological care including medical, surgical and cosmetic dermatology services, all performed on site in an ultra-modern, sophisticated open-air space that feels more like a loft in Tribeca (where Dolder once practiced) rather than a doctor's office right off Greenwich Avenue.
Upon entering the office which encompasses the entire 2nd floor, patients are welcomed by cheerful, highly professional staff and then guided to register for their visit through an all-digital onboarding process. The lobby consists of luxe, sleek furnishings infused with a true minimalist aesthetic that exudes no-nonsense sophistication and top-notch service.
The lobby also boasts a softly lit, meticulous slate of shelving that showcases the highly curated selection of medical grade, organic skincare products from all over the world that Dolder has tested herself to ensure their efficacy.
"When my husband and I moved to Greenwich a few years ago, I discovered that the community was craving a fresh approach to traditional dermatology. It has always been my dream to create the premier dermatology practice in the area bringing quality care and the highest standards with cutting edge technology," said Dolder. After many years working at esteemed practice, Tribeca Park Dermatology in NYC, Dolder has been on a mission to open the definitive skincare practice where clinically proven medical technologies and superior modalities are combined with a holistic, integrated approach to beauty and wellness – with the goal of rendering natural and glowing results.
"I'm truly driven by the science behind skincare and delivering exceptional results, but I also want my patient's dermatology experience to be an uplifting one," said Dolder who radiates with excitement while providing a tour of the facility that offers several treatment and surgical rooms, an Infrared sauna, and a multitude of high-tech machinery that Dolder handles with complete ease.
Dolder sees patients for everything under the sun – consisting of the diagnosis and treatment of skin inflammation, such as acne and rosacea, as well as inflammatory skin conditions for which she has conducted copious amounts of research as she has a child who suffers from dairy and nut allergies.
"It's not uncommon for me to address a mother's anti-aging concerns, a father's hair loss, a son's acne, and a daughter' rash all in the same week," said Dolder whose extensive medical, dermatological and fellowship training took place in Australia, the U.K. as well as in the U.S. at Columbia University, where she has served on the faculty for the past decade and continues to do so. "I enjoy being able to provide my patients will all the aspects of dermatology that my profession encompasses, from skin checks to acne to Botox," said Dolder. "It also allows me to develop meaningful and trusting long-term relationships with my patients – and their families."
Having grown up in Australia, spending nearly every weekend on the beach, Dolder learned early on the harmful effects the sun has on one's skin and has made it her mission to share her professional insights and up-to-date research on effective treatments that can help patients combat sun damage. Dolder provides comprehensive skin checks using dermoscopy used to identify and treat pre-cancerous and malignant lesions as well as surgical procedures and excisions with the goal of leaving healthy skin intact.
"I'm committed to bringing the most innovative technologies and therapies to my patients in regard to skin cancer prevention like total body photography with mole-mapping and sunscreens that reverse sun damage while protecting the skin at the same time." Recently, Dolder brought on Dr. Jacqueline Berliner, MD, a board-certified dermatologist and Mohs Surgeon whose clinical expertise includes cutaneous oncology and the management of skin cancers with Mohs Surgery, the gold standard in treating skin cancer where the use of microscopically controlled surgery renders the best cosmetic results possible upon excision.
And for those who want to age naturally and gracefully, the cosmetic dermatological arm of her practice encompasses the latest breakthroughs in comprehensive correction and prevention in skin aging that Dolder and her team have judiciously vetted as the best in the industry, always backed by evidence-based results. Specialties include skin tightening and rejuvenation, acne scarring, vein and sweat reduction, volume enhancement and platelet-rich plasma (PRP), a natural injectable by Purespin that stimulates collagen and elastin production for renewed skin and hair restoration.
Other cosmetic procedures offered include chemical peels, neuromodulators, fillers, microneedling, radiofrequency, and their latest premium offering – Morpheus8, a revolutionary technology used for skin tightening and stimulation which Dolder says is beneficial for anyone looking to lift and boost their skin health, without the downtime of traditional resurfacing lasers or surgery. "Our patients are loving the results of a more sculpted jawline, lifted cheek area, and dramatically improved fine lines around the eyes and mouth." Three or four treatments are typically recommended for optimal results.
Prior to recommending any treatments or skincare regimens, Dolder consults with each patient in order to provide a fully customizable regimen that works well with one's lifestyle, skincare goals, and budget, especially when it comes to cosmetic services.
For those who want total relaxation, Greenwich Point Dermatology offers additional wellness services including facial acupuncture, Infrared sauna therapy, which reduces inflammation and promotes detoxification for the entire body, as well as biodynamic facials that utilize high-end plant-based skin care and reflexology to boost circulation and relaxation.
Since Dolder is committed to treating both the medical and aesthetic aspects of dermatology, Greenwich Point Dermatology accepts most major insurance providers including Oxford, Cigna, Aetna, BlueCross Blue Shield Anthem, Empire, United, and Medicare unlike many other practices in town.
When asked if it's possible to age gracefully, Dolder replied with a wide grin, "YES, We can all age gracefully! The secret is living a healthy lifestyle, avoiding the sun, and celebrating the things you love about yourself."
"The marriage of surgery, science and art is what I love about dermatology, so I feel incredibly lucky to be able to draw from these interests each day to truly make a difference for my patients' skin."
Call (203) 764-2230 to schedule an appointment or visit greenwichpointdermatology.com for more information and to sign up for their wellness newsletter.