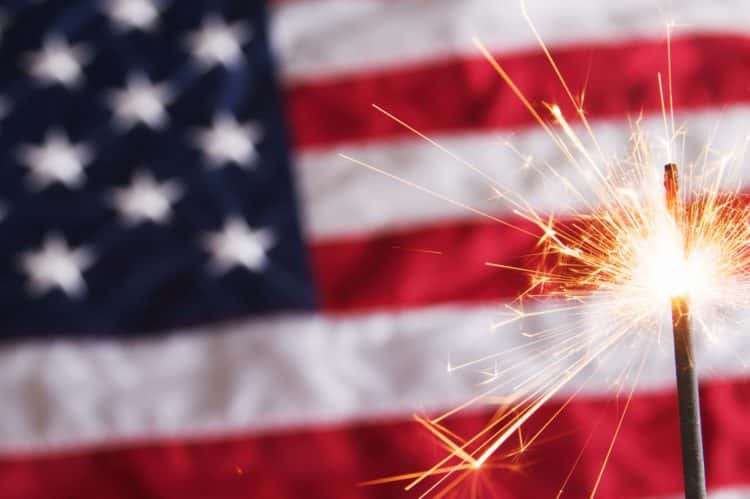 "We hold these truths to be self-evident: that all men are created equal; that they are endowed by their Creator with certain unalienable rights; that among these are life, liberty, and the pursuit of happiness."
Thomas Jefferson
"Injustice in the end produces independence."
Voltaire
"There is no easy walk to freedom anywhere, and many of us will have to pass through the valley of the shadow of death again and again before we reach the mountaintop of our desires."
Nelson Mandela
"Give me liberty or give me death."
Patrick Henry
This 4th of July will be looking quite different from previous years for many people around the country — including Greenwich. Indeed, the annual fireworks at Tod's Point are cancelled but there are other ways to celebrate the holiday. To get into the holiday spirit, here are three suggested activities to do with family and friends.
What better way to celebrate our nation's independence than to listen and sing along to the music with the original cast from the Tony-winning Broadway musical, Hamilton. Written and composed by Lin-Manuel Miranda, Hamilton tells the story of American founding father Alexander Hamilton. The show's music is comprised of hip hop, R&B, pop, soul, and traditional-style show tunes, while also teaching listeners about Alexander Hamilton's life and historical influencers including George Washington and Thomas Jefferson. Play the Hamilton soundtrack
throughout your house or during a family barbecue and you will learn a lot about America's history. Hamilton, a rendering of the Broadway musical from 2016, is now available to watch as a movie on Disney Plus.
For parents who are looking to entertain their children and hopefully get some relaxation this holiday, arts and crafts are the perfect way to occupy the little ones. Bring out the markers and colored pencils because PBS has various coloring pages with pictures of the nation's Capitol and fireworks. Click Here to find and print blank coloring pages. While the children get creative, parents can teach them about the United States Capitol building and the significance of the 4th of July. Another arts and crafts activity is to draw or make an American flag. Use popsicle sticks to glue together a flag, and children can paint or color it red, white, and blue. Teach them the meaning behind the 50 stars on the flag!
Lastly, kickback with a few classic patriotic movies to watch at home. One of the best movies to stream is Forrest Gump, which follows the story of a man whose life intersects with significant events in the U.S., including the Vietnam War. Selma is another historical drama based on the 1965 Selma to Montgomery march led by Martin Luther King Jr. Then there is National Treasure, a 2004 family film from Disney, which follows a historian named Benjamin Franklin Gates on a treasure hunt to find a revolutionary war chest marked by an "X" on the back of the Declaration of Independence.
---
From the Greenwich Police Dept:
The Greenwich Police Department wants the community of Greenwich to know that we will be on in full force, as usual, for your public safety needs.
It takes a collaborative effort between the residents and the police to have a safe community; this is especially true during holiday celebrations.
Many people will be traveling in their vehicles or enjoying the water on their boats. Please do not operate either while under the influence.
Unfortunately, there are no fireworks displays this weekend. We continue to ask residents not to use or set off illegal fireworks. The only legal "fireworks" are sparklers and Fountains. An easy way to remember is if it goes boom or flies in the air, it is illegal.
We ask you to be our eyes and ears, and if something seems suspicious, this is the time we need to hear from you. Look after your neighbor's home if they are away or out for the night.
Together we can ensure everyone has a safe and enjoyable Fourth of July holiday weekend.
℘
Parking Enforcement to Resume July 6th
After a unanimous vote by the Board of Selectman, the resumption of all Town of Greenwich parking related fees will take place beginning at 9 a.m. on Monday, July 6, 2020.
Metered locations are enforced Monday thru Saturday between 9 a.m. and 5 p.m. During these timeframes, parking on Greenwich Avenue and other locations, as posted, is limited to two hour sessions. Those needing to park for longer durations are encouraged to use one of the many long term / 12 hour parking lots situated  throughout the downtown area. 
Parking in all Town operated parking lots and metered spaces is free on Sundays and Town holidays unless posted otherwise.
The Department of Parking Services will continue to enforce all posted No Parking zones and remind drivers to be sure to keep crosswalks and fire hydrants clear.
Inquiries should be directed to the Department of Parking Services at parkingtickets@greenwichct.org or by calling the office at 203-618-3060.