July 3, 2020
Montague is GPS Selection for CT Teacher of the Year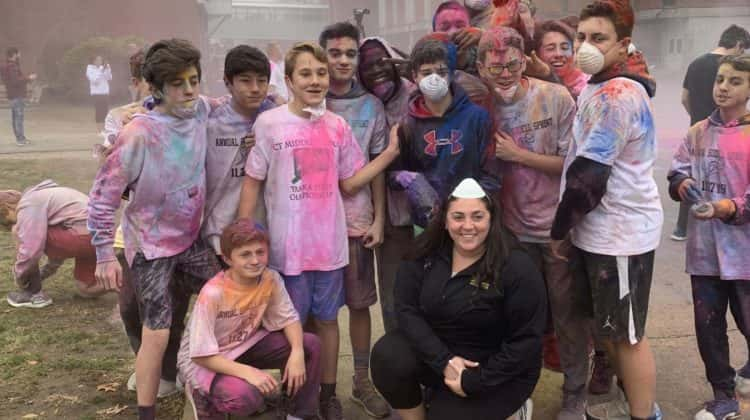 Superintendent of Greenwich Public Schools Dr. Toni Jones announced that Western Middle School's Ms. Erin Montague is the Greenwich Public Schools selection for the 2021 Connecticut Teacher of the Year Program. She will be acknowledged for this recognition at tomorrow evening's Board of Education Special Meeting.
Dr. Jones shared, "We are so honored to have Erin represent us in this prestigious state program. While I believe all of our GPS teachers are distinguished, Erin was nominated and selected in this year's Distinguished Teachers Program, and then continued on to become our GPS representative at the state level. She has been described by WMS students, staff and families as a collaborator, innovator, listener and dedicated champion for her students. And in this unique year of Distance Learning, which required an adaptive, innovative mindset to interact with students virtually she truly rose to the occasion and delivered outstanding content and resources for her students. We wish her the best of luck as she embarks on the next phase in this program."
Montague shared, "I am honored to be recognized by the Distinguished Teachers Awards Committee and Dr. Jones for this prestigious award. I have been fortunate to be surrounded by and learn from many amazing educators during my own education as a student in the Greenwich Public Schools and now in my career as an educator in Greenwich. I also want to recognize the Western Middle School community, especially my students, who motivate me everyday and whom I truly love. I look forward to sharing the amazing work of GPS in the next phase of this program."
According to the State's program, "The Teacher of the Year Program recognizes and honors teacher excellence. It does not attempt to select the "best" teacher; rather, to identify, from among many outstanding teachers of the year, one teacher to serve as a visible and vocal representative of what is best in the profession. The program celebrates excellence in teaching by recognizing teachers who have inspired a love for learning in their students and who have distinguished themselves in the profession."
Western Middle School Principal Mr. Gordon Beinstein shared, "I am so pleased that the District has wisely chosen Erin to represent Greenwich as the town's teacher of the year. In my 32 years in education, I have never met anyone more committed to the well being of her children than Ms. Montague. I use the term 'her children' purposefully as Erin interacts with the students as if they were her own children. Like any good parent, she takes a tough-love approach, with the emphasis on the second word. She celebrates their successes and counsels them through their struggles, and in middle school, it's much more the latter than the former as the children begin to forge their own identity. Ms. Montague is the perfect role model and mentor for the kids in these formative years. She is intimately invested in the success of each and every one of the 200+ kids on her caseload. Parents and students alike seek out her counsel as they know the message is always from the heart and in the best interest of the child, even if it's not what they want to hear. They trust her implicitly, as they should. Her contributions to Western go well beyond her role as a counselor. Erin is the pulse of Western and I do not know where we would be without her, and I hope I don't have to find out anytime soon."
Montague was selected from the six Distinguished Teachers that were announced in April. The 2020 Distinguished Teachers included: Ms. Dace Ashcraft, North Mianus School; Ms. Barbara Bartlett, Eastern Middle School; Ms. Colleen Drumm, Western Middle School; Ms. Jessica Keller, Greenwich High School; Ms. Erin Montague, Western Middle School; and Ms. Lori Mulligan, Greenwich High School.
Montague has been working in Greenwich Public Schools for six years, serving at Western Middle School as a School Counselor and Site Coordinator for Advancement Via Individual Determination (AVID). She also served as the Cheerleading Coach for Greenwich High School from 2016-2019. Montague is a trusted confidant that provides healthy structure and a safe place for students to flesh out academic, social or emotional goals while simultaneously addressing needs as they arise for her caseload of 200+ students. A parent once shared, "Her constant presence in the hallways, in the cafeteria… ensuring students fit comfortably in new surroundings and being a source of comfort and advice garners her the respect of students, a hard-earned accomplishment especially with tweens!"
Montague received her Bachelor of Arts in Psychology and Human Development & Family Studies from the University of Connecticut, her Master of Arts in School Counseling from Fairfield University and her Administrative Certificate from Sacred Heart University.
Tags:
Connecticut Teacher of the Year
,
Erin Montague
,
GPS
,
greenwich
,
Greenwich Public Schools
,
Western Middle School