June 17, 2020
GCS Celebrates Students' Inductions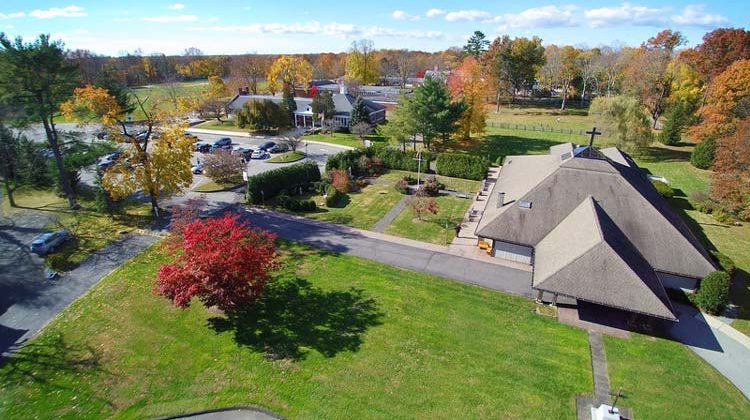 Greenwich Catholic School recently celebrated the school's 2019-2020 National Junior Honor Society and Foreign Language National Junior Honor Society inductions during an online ceremony.
In all, 56 names were added to the long and impressive list of past inductees from the school.
Before the National Junior Honor Society inductees were announced, GCS Eighth Grade teacher Barbara Ohls explained, "Sixteen students have distinguished themselves in the area of scholarship, leadership, service, character, and citizenship, and have therefore been invited to join the National Junior Honor Society."
Earning the distinction for 2019-2020, and joining classmates inducted in the 2018-19 school year, are 8th Graders Emma Boolbol, Tyler Caputo, Sydney Dettmer, Caroline Hamel, and Olivia Plantemoli. Elle Brew, Lily Carroll, Charles Cook, Amy DeCaro, Brendan Galvin, Katie Hayes, William Higgs, Allyson Lunney, Sofia Navarrete, Grace Noone, and Kate Robinson are this year's 7th Grade inductees.
Following the NJHS inductions, GCS World Languages teacher, Senora Rosa Esposito, introduced the National Junior French and Spanish Honor Society Inductees.
Les Jeunes Amis du Français (National Junior French Honor Society) recognizes a student's interest in the study of French, in promoting high standards of scholarship, creating enthusiasm for an understanding of Francophone cultures and promoting international friendship.
Les Jeunes Amis du Français inductees from Greenwich Catholic School are 8th Graders Jessica Edward, Caroline Hamel, and Keira Merriman, and 7th Graders Lily Carroll, Amy DeCaro, and Thomas Matzelle.
La Sociedad Hispánica de Amistad (National Junior Spanish Honor Society) recognizes the student's interest in the study of Spanish, while promoting high standards of scholarship, service to school, and service to the community.
This year's Greenwich Catholic School inductees are 7th Graders Joaquin-Antonio Arteta, Elle Brew, Adriana Cerbone, Charles Cook, Brendan Galvin, Sophia Heitkamp, William Higgs, Hannah Konfong, Allyson Lunney, Julia MacPherson, Sofia Navarrete, Kate Robinson, and 6th Graders Chiara Andrade, Jaimie Corpuz, Jackson Gengo, Isabel Hartman, Sofia Henao, Fernanda Herrera Benalcazar, Keira Lash, Quinn Lombardo, John Louzan, Joseph Louzan, Carlita Mannello, William Marchetti, Lylah Martin, Emily McKee, Kaia Novack, Dana Rickens, Keira Rogers, Jack Siders, Oscar Siegel, Alyssa Srdanovic, John Thomas, and Pierce Turcotte.
Tags:
Foreign Language National Junior Honor Society
,
GCS
,
greenwich
,
Greenwich Catholic School
,
inductions
,
National Junior Honor Society