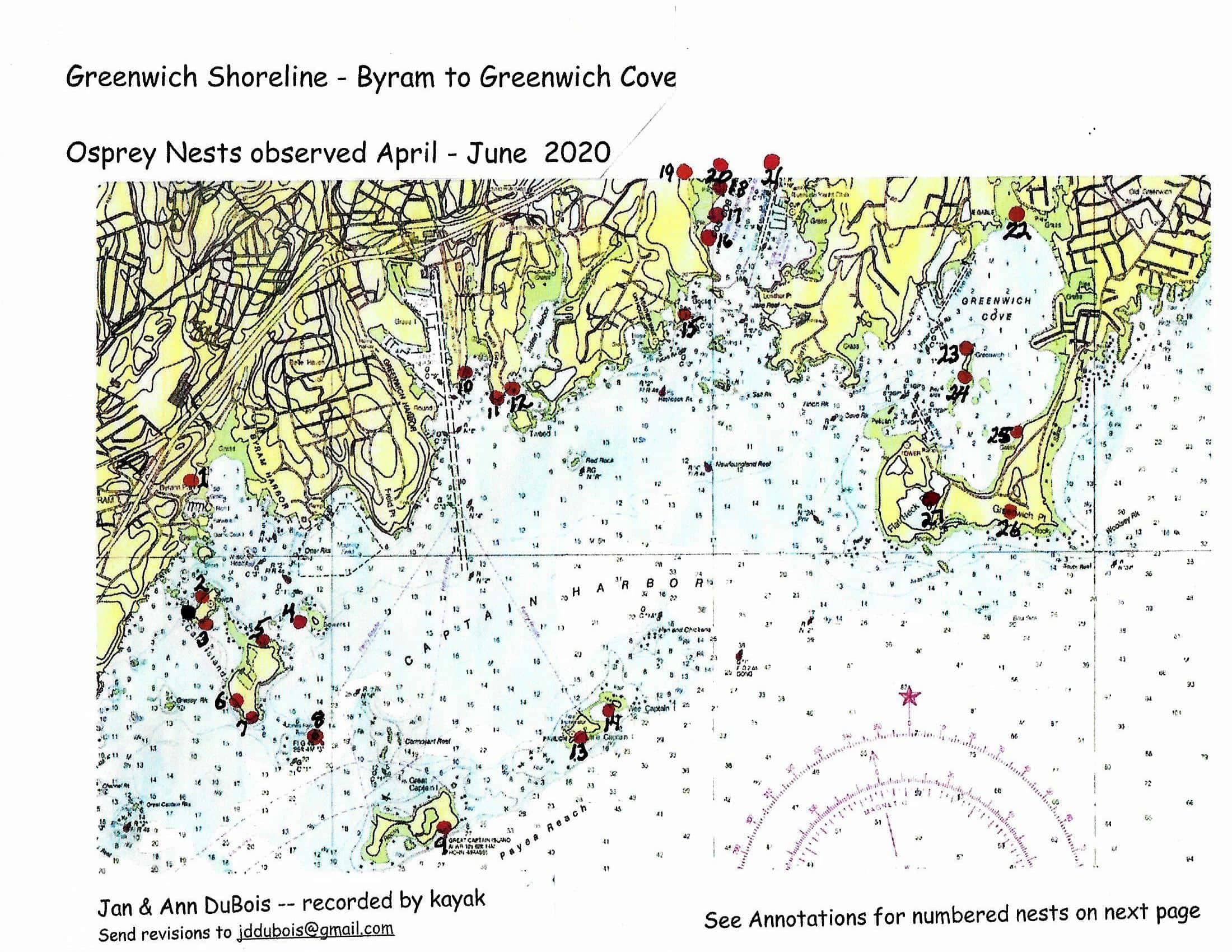 By Anne W. Semmes
Ann and Jan (Jonathan) DuBois have long lived on Greenwich shores. They are grandparents but nothing slows them down. They're opera buffs – they love to cook, and they enjoy the natural world. So, a natural escape in these lockdown days was to climb into their double kayak and take to the water. Along the way they found a new passion, scouting out osprey nests along those Greenwich shores.
The proof is all there, neatly noted on sailor Jan's navigational map – 27 osprey nests, reading left to right, from Greenwich Point to Calf Island, with only two inactive.
"It's thrilling," says Ann, of the osprey population influx they've seen over the last five years. "It's great fun seeing them fish," she says, describing their angled dives into the water. She recalls the dead fish phase in a polluted Long Island Sound in the 1950's to 1970's, of finding skeletons of dead fish washed up that were starved for oxygen. "In 1962," she recently read, "there were only 250 ospreys in all of New England."
But then those osprey platforms began appearing in Greenwich Cove. Ospreys, Jan surmises are "opportunists. If someone builds a platform why should I work?" Traditionally, he adds, "The ospreys like to build their nests in trees with little foliage. They like dead-naked trees. They need a crotch." He shows a photo of a natural tree nest on Shell Island, and did he know of that newly discovered one in the woods on Greenwich Point?
It's those high-rise stick nests that fill Ann full of wonder. "They are so deep, with huge heights of sticks." Why, Jan asks has there been this request to name the new osprey owners of the latest platform rise on Greenwich Point? "Why not name the old veterans that have been coming back for 15 years or more and have nests reaching heights of three and a half feet?"
Important in their osprey scouting is to see which nests are active. "Early in the season we tried to find active nests," says Ann. But, "Let's not go too close," she'll say. "The male will fly around our kayak, making noise. Jan will tell the squawking birds, 'We're leaving, you're doing okay…We're off.'"
To their great surprise next door to their kayak dock in Smith Cove, a pair of ospreys started building a nest last year, precariously, atop a gallows – two pilings connected by a cross beam. It did not survive. This year the "opportunists" were back. After "a southerly blow" took away their first attempt, "They started building denovo (from new)," tells Jan, with an odd assortment of plant leaves and plastic woven into the sticks. Then came a third osprey vying for the female, was Jan's guess. There was a lot of "flapping of wings," but all settled down with the female doing her incubating, though Jan notes, "They should have had nestlings by May 30."
There are other birds they enjoy seeing, great blue herons and great egrets. As of five years ago when they were paddling about with birder John Hannan, then with Greenwich Audubon, they learned there were 50 breeding pairs of egrets on Great Captain Island, but that number has declined, "due to lack of food."
The prevalence of the once rare migratory oystercatcher, Jan calls, "Unbelievable. I've seen them on a float. I've seen them on Tower (Shell) Island, Goose Island, Pig Island (Great Island). The oystercatcher is such a charming bird!"
"One of the nicest things to do in locked up time," Ann chimes in, "is to go out with the wind and the water – when the tide comes in, we can paddle into the tidal ponds."
"The shorebirds consider the tidal ponds their private preserve," says Jan. He shares their names for them: "Magic Pond – it was created at the end of Mead Point, Calf Island Pond, and the Great Captain Island Sanctuary. Egrets, great blue herons, and oystercatchers like these ponds."
"They are one of our pleasures," says Ann. "They are secret places no one else goes to. Sometimes going to these magic tidal ponds, you can get lost in the fog." But on a clear day, "You can see New York City."
Postscript: Jan DuBois is happy to share his map and accompanying list of osprey nests on the Greenwich shoreline. His email is jddubois@gmail.com.