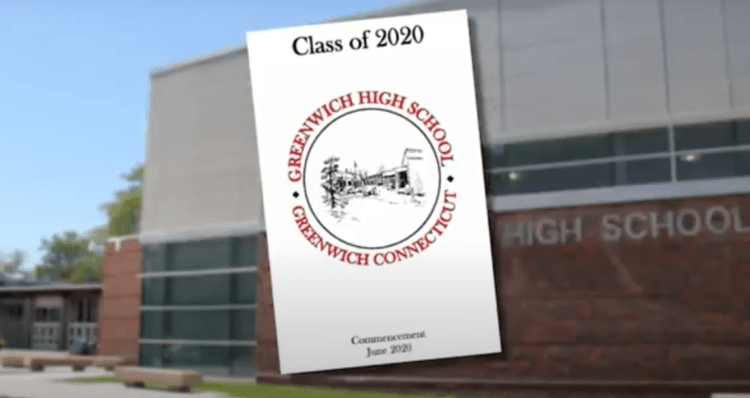 By Richard Kaufman
Sentinel Reporter
Greenwich High School held its 151st commencement ceremony on Tuesday, and it certainly had a different feel to it.
Rather than a sea of red and white filling Cardinal Stadium, families drove through the front circle and back parking lot, oftentimes in decorative Cardinal-themed cars, as 701 graduating seniors took part in the annual rite of passage of walking across a stage to receive their diplomas.
The "drive-thru" graduation plan was devised to keep social distancing in mind due to the coronavirus pandemic.
On Tuesday evening, a pre-recorded commencement ceremony was posted to various platforms online. The ceremony had a hopeful tone about the future, as the last few months have been filled with many challenges and unknowns. Speakers recorded video of themselves at home, or outdoors.
A "Senior Send-off" video was posted as well, which featured photos of the seniors, and comments from First Selectman Fred Camillo and Connecticut Gov. Ned Lamont. It also featured the commencement remarks from President Barack Obama, Jon Stewart and Oprah Winfrey. Both videos can be viewed here.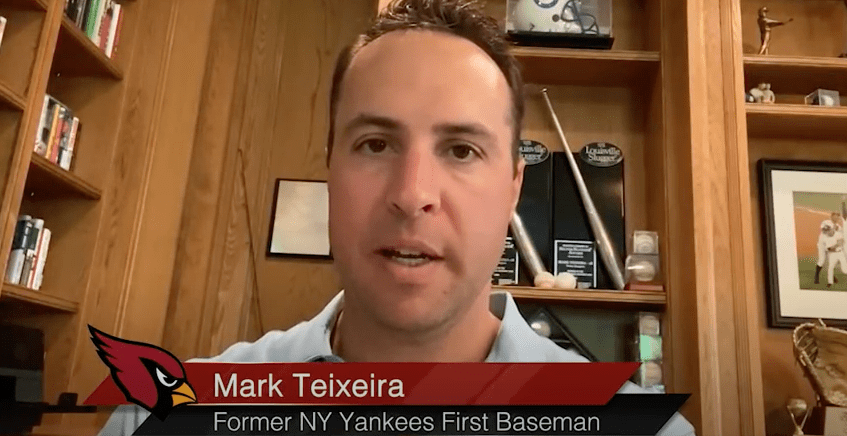 Mark Teixeira, a three-time all-star and World Series champion who played eight of his 14 seasons with the New York Yankees, was the commencement speaker. 
Teixeira lives in Greenwich with his family, and is a baseball analyst for ESPN. He is also a board member for the DREAM organization, which works to help charter schools, after school programs and summer schools in giving underprivileged children the skills they need to succeed in the future.
Teixeira said the one thing he wished to impress upon the GHS graduating class of 2020 is to continue to believe, trust and invest in themselves.
After growing up playing baseball in Baltimore, Md., a place not known for producing great baseball players, Teixeira went to college at Georgia Tech where he continued to play.
"I thought I was the big man on campus in high school, and I went to Georgia Tech, and I looked around my baseball team and I said, 'Oh, my goodness, these guys are all better than me,'" Teixeira said. "You're going to go to college, and a lot of you are going to say, 'Oh, my goodness, everybody is smarter than me.' You know what? They're not. You guys have just as much talent, you have just as much ability. You have the chance to do something great in your life, but you have to trust yourself. Trust in your abilities."
Teixeira added that there will be challenges ahead, and a lot of ups and downs. "But if you get through those first few months of anxiety [at college] and not really knowing what to expect, you have the chance to do something amazing. I trust that you all will."
Lucas Gazianis, Class President, spoke about how the graduating class was forced to tackle distance learning and other challenges with going to school during a global pandemic with patience and creativity.
"These challenges have also gifted us with a greater appreciation of the many things we've taken for granted, so that when the pandemic finally wanes for good, we will reemerge reinvigorated with deeper purpose and greater collective responsibility than ever before," he said.
Justin Speaker and Anne-Emilie Rouffiac served as the Class Salutatorians, and talked about their experience at GHS.
Co-Valedictorian, Zachary Wong, said the GHS community welcomed him with open arms when he transferred to the school in 10th grade. He added the graduating class will be able to get through any obstacle thrown their way.
"You should be proud of your accomplishments," Wong said. "Think of this time as a trial — one that will make us stronger, kinder, more resilient and more empathetic."
Co-Valedictorian, Melissa Woo, reflected on her memories of GHS over the last four years. She said pandemic has given the graduating class an opportunity to shape the world.
"Our relentless consumer consumption has ground to a halt. We're now listening to scientists and doctors who work tirelessly to investigate, analyze and debate the new world that we live in. The skies above our polluted cities are blue again, giving us an unexpected window to address climate change," Woo said. "The destructive impacts of income and racial inequality and disparities in healthcare are now plainly visible. We have an opportunity to focus on the common good and build a more humane and equal society. Together, we can figure out what kind of people we want to be in the world, and what kind of world we want to live in."
Following the GHS Choir singing of "Something Is Holding Me Here", Matthew Tamis, Class Treasurer, announced that the seniors will make two donations to non-profit organizations in the community.
Operation Hope, an organization that helps families and children in poverty overcome obstacles economically and educationally, and Neighbor To Neighbor, which helps to provide food and clothing to those in need, will be the beneficiaries.
Additionally, Tamis announced, the graduating class will keep a portion of money in reserve so they can fund an in-person reunion in the near future. As a sign of the times, the seniors gifted Cardinal-themed face masks to four faculty members who helped with organizing special events.
Superintendent of Schools, Dr. Toni Jones spoke briefly, and wished everyone well in the next chapter of their lives. Board of Education Chair, Peter Bernstein, also gave well-wishes.
"I predict that when you find the love of your life, and perhaps have children one day, your family unit will be stronger because of what you lived through this year," Jones said. Jones offered up words of advice from her late mother, to be strong in mind, body and spirit.
Before GHS Headmaster, Ralph Mayo, addressed the seniors, he wished Assistant Headmaster Rick Piotrzkowski well in retirement. Piotrzkowski has worked at GHS for 36 years as a teacher, program administrator for science, and interim headmaster before his assistant role.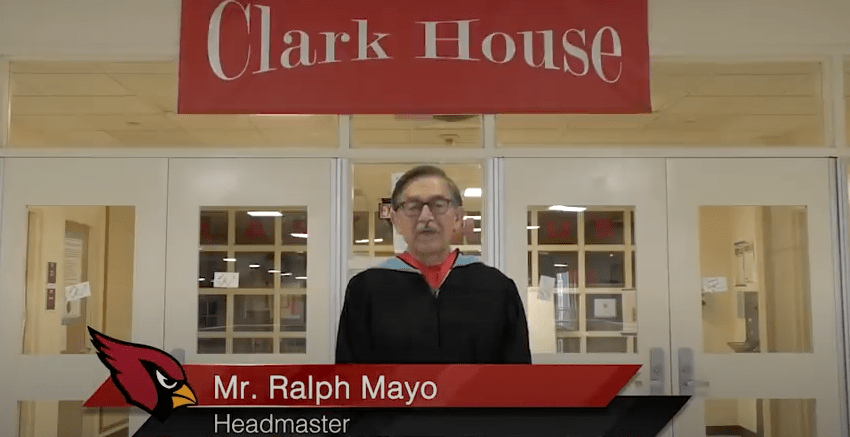 "I do not have the words to describe [Rick's] contribution to our school. He works day and night to make GHS an excellent place to both teach and learn. We will dearly miss his unwavering support, work ethic, and dedication to our school," Mayo said.
Mayo praised the graduates for the connections they've made with each other, and with the community. He left them with words he found on a plaque at Town Hall, which used to be the old high school.
"GHS, erected 1925. That those attending here may gain the foundation of knowledge and the beginning of wisdom, and may foster the virtue of charity, the love of justice, the spirit of loyalty, and the will to serve," Mayo read. 
"It's imperative you follow the words on this plaque, as they will guide you towards a very fruitful and happy life, which is my own definition of success."