June 5, 2020
Talk on Older Adults' Emotional Well Being During Covid-19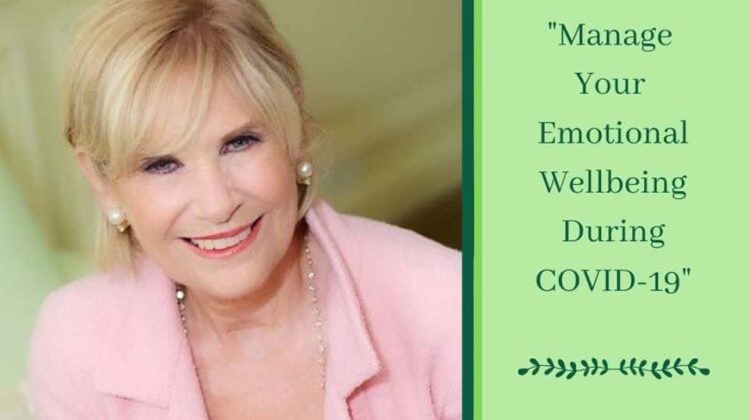 The Town of Greenwich Commission on Aging will hold a Zoom talk on "Managing Your Emotional Wellbeing During COVID-19," with Dr. Dale Atkins, Psychologist and Author, on Wednesday, June 10, at 7:00 pm.
One of the many challenges presented by COVID-19 is maintaining positive emotional wellbeing. For older adults, social distancing can increase feelings of loneliness and a sense of disconnection. Communities across the nation are beginning to reopen, but it is recommended that older adults continue to take extra precautions and stay home as much as possible. While social distancing is extremely important in reducing exposure and mitigating the spread of the virus, we don't want individuals to become socially disconnected where isolation and loneliness can be a detrimental result. Individuals of all ages are experiencing a sense of loss: loss of physical connection with family and friends, loss of the schedule and routine we once enjoyed, loss of independence in coming and going as we please without the fear of becoming infected, loss of visiting loved ones in congregate residences and especially in nursing homes, and for some – loss of work, loss of life and the public, communal rituals that lend support to those who are grieving.
How do we maintain positive emotional wellbeing under such extraordinary circumstances and adjust to a "new normal?"
Join Dr. Dale Atkins on Zoom as she explores innovative ways to connect to oneself and others, and offers strategies to strengthen our minds, bodies and spirits during challenging times. Suggestions for friends, families and caregivers will be offered to make certain that "no adult is left behind.
To join this Zoom talk, go to greenwichct.gov/wellbeing
For further details, call the Greenwich Commission on Aging at 203-862-6710.
About Dr. Dale Atkins:
Dr. Dale Atkins, is a licensed psychologist and relationship expert. Her most recent book, The Kindness Advantage: Cultivating Compassionate and Connected Children, (www.thekindnessadvantagebook.com) which she wrote with Amanda Salzhauer, was named one of the top ten books for 2019 by Greater Good Magazine (Greater Good Science Center, UC Berkeley) and one of the top ten books to teach kindness by Huffington Post. She has written six other books, textbook chapters, and articles in popular and professional journals.
For over forty-five years she has focused on women's health, healthy aging, work and family concerns, adaptation to childhood or adult disability, caregiving, raising kind children, and handling life transitions and stress while maintaining a harmonious and meaningful life. Dr. Atkins is a recurring guest expert in the media commenting about social/relationship issues. For the past 17 years she has frequently served in this capacity on NBC's The Today Show. She created and hosts "Dr. Dale's Life Issues" shown on PBS. In addition to giving motivational and keynote speeches at international business, health, educational, and social service conferences, Dr. Atkins consults internationally with, and conducts seminars and retreats for management and employees of corporations, hospitals, educational and financial institutions in matters related to wellness, kindness, resilience, and balance amidst life's chaos.
Her book, Sanity Savers: Tips for Women to Live a Balanced Life is based on her popular on-line monthly newsletter, Sanity Savers and More. In both I'm OK, You're My Parents (How to Overcome Guilt, Let Go of Anger, and Create a Relationship That Works) and SISTERS: A Practical, Helpful Exploration of the Intimate and Complex Bond between Female Siblings, she helps adult children and siblings create or restore loving connections. Dr. Atkins co-authored Wedding Sanity Savers based on her WeddingChannel.com (now, THE KNOT) advice column; From the Heart: Men and Women Write their Private Thoughts about their Married Lives, and "NO! GO! TELL!" a training program to prevent and treat sexual abuse of young children.
An active volunteer in her community, she and her dog are a certified dog therapy team. She serves on the Boards and trains staff of several non-profit local and national organizations and educational institutions whose foci are literacy, tolerance, healthy aging, multigenerational family communication, wellness, women's health,  child protection, and community action. Dr. Atkins is particularly proud of her 25 year association with Jumpstart for Young Children, and has been the National Spokesperson for Jumpstart's Read for the Record initiative, launched on NBC's The Today Show to raise awareness of the importance of preschool literacy.
Dr. Atkins has a private psychology practice in New York City. Interested persons are invited to visit her website at www.drdaleatkins.com
Current Update on the Commission on Aging:
The Commission on Aging closed the Senior Center in early March. Our efforts have been focused on information, resources, outreach and identification of need and exploring how, we as a community, can all play a role in supporting older adults during this extraordinary time.
Several programs have been created:
CONNECTT: 
CONNECTING OUR NEIGHBORS: NATURALLY ENHANCING COMMUNITY THROUGH TECHNOLOGY
In partnership with Greenwich Country Day School, CONNECTT offers both opportunities for participation in activities and classes, and the ability to enjoy regular/daily telephone chats with GCDS families from your own home. Participants can join in daily via telephone, computer, smartphone or tablet.
Bridging the Generations: 
The Greenwich Commission on Aging is collaborating with Greenwich High School, under the stewardship of Headmaster, Ralph Mayo, to connect high school students with older adults in our community that would like to receive a regular friendly telephone call. The need for daily socialization, social interaction and connection with others has never been more important than now. Practicing "social distancing" doesn't mean that we have to be "socially disconnected." If you are an older adult interested in receiving a regular call to connect, chat and check-in, please call or email Sharon Wilson at Greenwich High School at 203-531-8360 or sharon_wilson@greenwich.k12.ct.us
Hello Neighbor:  Over 120 volunteers (members of the Town's RTM representative and the Commission on Aging's network of professional providers) call to connect with older adults in 3,300 households in the Town of Greenwich and check-in and chat with residents 75+ to ask "How are you?" or "Is there anything in particular you need?" This lets them know they are not alone and that someone cares. Wellness calls enable the sharing of trusted information, the ability to provide reassurance and an essential opportunity to connect with another human being.
The older residents that the staff of the Commission on Aging and Senior Center have called have been extremely appreciative and very excited to be able to chat. For some, this Hello Neighbor phone call may be the only call an individual has received and provide a valuable opportunity to share information about available programs and potential referrals to appropriate resources.
This pandemic has taught us many things, but perhaps, most notably that we are social creatures and that connecting to others is crucial. Communities across the country are reaching out to older adults to offer telephone reassurance and to identify who may be in need of additional support. The most at risk older adults include those over the age of 80, living alone, experiencing food insecurity, have compromised health or multiple health conditions, are experiencing the negative effects of social isolation or those that are financially at risk. For some older adults, the desire to venture out competes with the fear they have about becoming infected.
We try to remind as many people as possible about the myriad of things that have not been cancelled.
Learning has NOT been cancelled!
Eating (and healthy at that) has NOT been cancelled!
Singing and music have NOT been cancelled!
Activity has NOT been cancelled!
Relationships have NOT been cancelled!
Conversations have NOT been cancelled!
Laughter has NOT been cancelled!
Prayer has NOT been cancelled!
Hope has NOT been cancelled!
What will the new normal look like? Residents are always welcome to call the Commission on Aging. We are adept at connecting people to the resources they need.
About the Town of Greenwich Commission on Aging:
As an overall planning department for older persons in Greenwich, it has been an official department of Town government since 1975. Their mission is to improve the quality of life for older Greenwich residents through planning, coordination, advocacy, education and Senior Center programming.
The Commission:
Manages the Greenwich Senior Center
Advocates on behalf of older adult residents, as a class, in the Town of Greenwich
Identifies unmet needs of older adults, conducts research and collects data
Provides information to the community on the needs of older adults, serves as a clearing house for disseminating information and providing education on issues affecting older adults and caregivers
Facilitates information on programs and benefits, as well as referral to services
Convenes meetings and serves as a forum for issues concerning older adults, as a class
Establishes and maintains collaborative relationships with community, professional and governmental agencies
Administers Medicare & Health Insurance Counseling and  Share-the-Fare Taxi Voucher program
Publishes the Resource Guide for Older Adults and coordinates the Aging Well series and Caregivers Circle program
Works cooperatively with residents, Town Departments and Community Stakeholders on the designation of Greenwich as an Age and Dementia Friendly community
Tags:
commission on aging
,
Covid-19
,
Emotional Well Being
,
greenwich
,
Older Adults