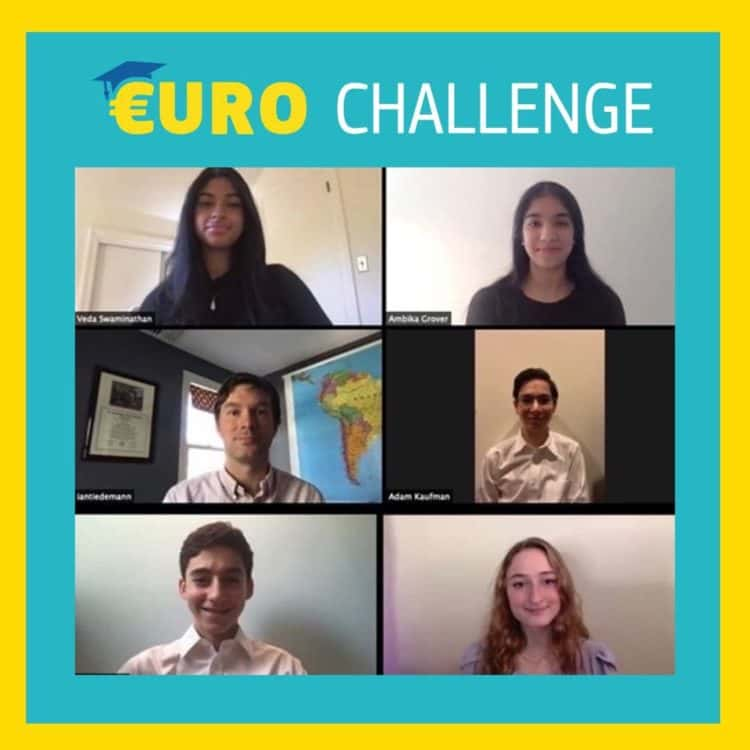 Greenwich High School's Euro Challenge Team Members have won the Euro Challenge Finals which took place virtually on May 19, 2020. Euro Challenge is a program of the Delegation of the European Union to the United States ("The Delegation") and was created to promote an understanding of the Euro Area (EA) and the euro.
Team members include:
• Elliot Gordon (9th Grade)
• Ambika Grover (9th Grade)
• Adam Kaufman (10th Grade)
• Katia Michals (10th Grade)
• Veda Swaminathan (10th Grade)
According to the Euro Challenge program, "The program provides 9th and 10th grade students with an exciting opportunity to research and explore economic issues facing countries in the euro area and propose solutions to them. Culminating in a competition, teams of 3-5 students present their findings during regional heats. The best teams then compete in the national finals in New York City [now held virtually]." By winning this competition, these students will be awarded $1,250 each; when safe to travel, they will present to the German Embassy in Washington D.C.; and finally, they will receive a first-place trophy to be proudly displayed at Greenwich High School.
Greenwich High School Teacher and Euro Challenge Team Advisor Mr. Ian Tiedemann shared, "Over the last several months this team has taken on complex subjects — including Euro Area monetary policy, country specific fiscal policy and programs, and ongoing economic conditions in the Euro Area — that require study well beyond their course load. I am truly proud of their efforts. Being a part of this learning process with these students has been a real honor and pleasure, especially as they so gracefully navigated to a virtual landscape for preparing and competing. I'm also exceptionally proud of our club leaders, Melissa Woo and Sofia Pronina; they have been valuable coaches to these students from day one, many months ago, and have continued to support the team throughout distance learning."