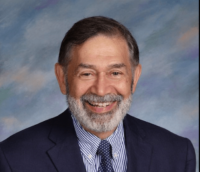 By Ralph F. Mayo
I am dedicating this column to the Class of 2020. I am, as we all are, so disappointed that you will not get to experience graduation as a class on Cardinal Field this year. We have put into place a number of alternatives to celebrate this important event in your young lives and I truly hope you take advantage of all of them. However, after June 9th you will all be Greenwich High School graduates, which is something extremely special and will help you begin the next phase of your lives. The possibilities for all of you are endless, it is amazing what can happen if you follow your dreams, are passionate about your interests, and continue to care for self and others.
Last October, I wrote about escaping from elementary school when I was in Kindergarten and how that experience led me to a great teacher in first grade who changed my life forever. I think about Mrs. Armitage often and the impact she had on my life. In this column, I am going to tell a different story about how a high school teacher had a huge impact on my brother.
I rarely if ever tell this story, but will as it makes my point that all of your dreams and aspirations can come true. It is about a young man who had no interest in college. Instead, he wanted to work in retail so he collaborated with his high school teacher, Joel Russell, to get him into a program at a local store that would lead to an occupation in management. He graduated, married and started a family while beginning his career. As the years went on, he stayed in touch with his mentor from GHS and continued to gain experience and grow as an Assistant Manager, Manager, District Manager, Regional Manager and finally as vice-president of the company. As he rose in the retail industry his family grew and after many, many moves they were able to return to Connecticut. As vice-president, he had an office in one of the most historic skyscrapers in Manhattan. While in this position he was able to do the work he loved and return home to his family each night. He was successful because he knew what he wanted and was passionate about his work. He had a mentor who he could call upon and several friends who were also in the same industry. What made him the happiest was his family and home, a place to settle down and raise his children just like his father did before him.
It is a great story because it is a true one. It also reminds us to be positive, stay close to and cherish your family and friends, and to find your passion because if you do, you will never work a day in your life. I wish all the members of the Class 2020 Godspeed.