May 23, 2020
Obituary: Daniel Melillo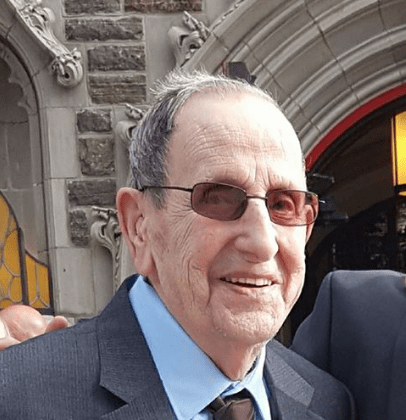 Daniel Joseph Melillo, Jr. passed into the next life on April 28, 2020 at Danbury Hospital from natural causes. Daniel was born on Feb. 15, 1927 at Norwalk, CT to Daniel Joseph Melillo, Sr., son of Antonio Milillo and Maria Cristina Cianci, immigrants from Castelgrande, Potenza, Basilicata, Italy, and Gladys Arlene Finch, daughter of William Sylvester Finch of Stamford, CT and Jennie Florence Thayer, daughter of Hiram Stetson Thayer and Elizabeth Mathews of Braintree, Mass.
In 2006, he was predeceased by his wife of 55 years, Viola Gladys Wiley, daughter of James T. Wiley and Louisa Pack. They were married Nov. 11, 1951 in the Killington neighborhood of Lexington, KY. Daniel was also predeceased by his siblings Florence Wedge, Anna Venezia, Mary Elizabeth Parks, Anthony Daniel Melillo, Shirley Arlene Crook, and Ethel Gladys Lovelace. He is survived by his brothers Robert Felix Melillo and William Douglas Melillo of Pinellas County, Fla. He was predeceased in death by his daughter Violet Strano. Daniel is also survived by his children Judith Corrie of Danbury, CT; Douglas William Melillo and his wife Alicia (née D'Andrea) of Stamford, CT; Deborah O'Sullivan and her husband Michael of Newtown, CT; Danielle "DiDi" Melillo of Torrington, CT; his grandchildren Andrew Rocco Melillo of New Canaan, CT; Sarah Elizabeth Fox and her husband Travis of Florence, SC; Shawna O'Sullivan and her fiancé Mitchell Audet of Danielson, CT; Brennan O'Sullivan of Newtown, CT; and, by his great-grandchildren Ella Audet and Wyatt Harper Fox.
Daniel Joseph Melillo, Jr. served in the United States Navy onboard the Destroyer (DE 644) USS Vammen for the duration of WWII. Daniel was a hardworking man. Reserved and quiet, he spoke only when something needed to be said, and his capacity to do for others was unmatched. Though his family deeply grieves his loss, they are comforted in the knowledge that he has received his just reward, and is at peace in that spiritual building, that house not made with hands, eternal in the heavens.
Tags:
Daniel Melillo
,
greenwich