May 15, 2020
Greenwich Fourth of July Fireworks Cancelled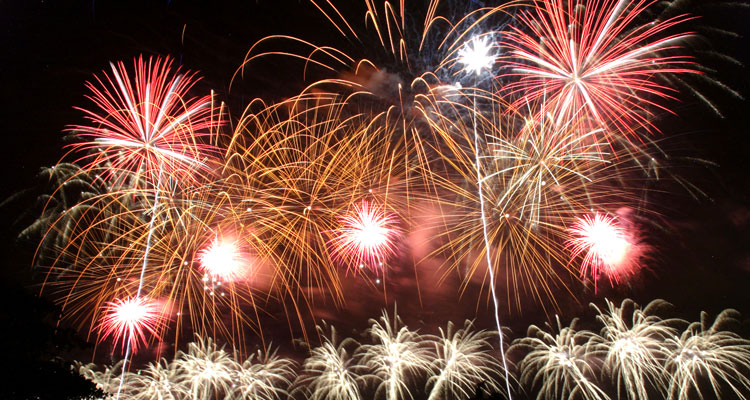 By Richard Kaufman
Sentinel Reporter
Independence Day this summer in Greenwich will have a different feel. On Friday, the Town announced that the annual Fourth of July fireworks displays, which usually draws thousands of residents, will be cancelled due to the ongoing coronavirus pandemic.
"I am disappointed, as I am sure thousands of residents will be. In discussions with leaders of the Parks and Recreation, Police, Fire and Public Works departments, it is evident that given the sheer numbers of people who attend these annual events, we cannot ensure proper social distancing and the safety and health of residents and Town employees for these two events," First Selectman Fred Camillo said on Friday.
"My concern is that these mass gatherings are recipes to reverse the trend of slowing the spread of this virus. The Town will continue to monitor the data on new diagnoses, deaths and social distancing patterns, with the hope that we may be able to schedule an alternative date in late summer or early fall," he added, noting that plans to reschedule are not definite.
The announcement comes just before Phase 1 of reopening Connecticut is set to begin on May 20. This week, Gov. Ned Lamont released a set of rules to be followed by each of the four business sectors (restaurants, retail, hair salons and museums/zoos) that can begin to reopen next week. Lamont also announced an Executive Order which addresses zoning and outdoor commerce. The Town has been in contact with Lamont on coming up with reopening plans.
Camillo has remained steadfast that Greenwich will reopen in a "measured" way so as to not lose progress the town has made against the coronavirus.
"We want to make sure that there's no spike in cases. If there is a spike, we obviously have to pull back. We're hoping [reopening] is done right and people continue to keep their distance. Greenwich has done very, very well and we want to keep it that way," Camillo said. As more venues open up and people get out and about in the warm weather, the Town will continue to monitor compliance with guidelines.
Cases and hospitalizations in town are slowing at a more consistent rate. As of Friday, there are 741 Greenwich residents who have tested positive for COVID-19, according to the Greenwich Health Department, which is up from the 736 reported on May 15. At Greenwich Hospital as of Friday, there are 31 COVID-19 positive patients being treated in several different Hospital units, down from the reported number of 40 from two days ago. At one point, the 200-bed facility had over 120 COVID-19 patients.
So far, 473 patients have been discharged from the Hospital and continue their recuperation at home. There have been 6,215 people tested at the Hospital outpatient test site with 1,818 testing positive. These numbers reflect patients who live in Greenwich as well as those from other municipalities in Connecticut and in Westchester County.
According to Connecticut Department of Public Health, since the pandemic began, 43 Greenwich residents have died as a result of the coronavirus.
Filling Out the Census
Camillo is urging residents to do their part and get counted in the 2020 Census.
"It's critical when it comes to our representation at the state and Congress, and also funding on the local and state level. It's very important," he said.
For people who do not have access to a computer, they can complete the census by calling these numbers: English: 1-844-330-2020/Spanish:1-844-468- 2020/ Chinese (Mandarin) 1-844-391-2020/ Chinese (Cantonese) 1-844-398-2020/Haitian Creole: 1-844-474-2020.
Other resources for residents and businesses and other helpful tips
For residents with questions about COVID-19, please call the Greenwich HealthDepartment's phone lines: 203-622 -7865; 203-622-7703; 203-622-7614; 203-622- 7842 and 203-622-7836.
To reach the Domestic Abuse Services staff at the YWCA, please call the 24/7 hotline at 203-622-0003.
Residents, who need assistance with basic needs, including food, can call the Department of Human Services at 203-622-3800.
Members of the public are encouraged to sign-up for the Town's Emergency AlertNotification System at greenwichct.bbcportal.com/Entry
The American Red Cross in Connecticut has a Virtual Family Assistance Center to support Connecticut families struggling with loss and grief due to the ongoing coronavirus pandemic. People can visit http://www.RedCross.org/vFAC to access a support hub with special virtual programs, information, referrals and services to support families in need. The hub will also connect people to other community resources provided by 2-1-1, CT VOAD, and other partners. People without internet access can call 833-492-0094 for help.
If you are concerned about an activity or a group not following COVID-19 protocols, please call the Greenwich Police Department's non-emergency phone number: 203-622- 8004.
Don't have a face mask? Many people with COVID-19 are asymptomatic or pre-symptomatic, meaning they can transmit the virus without knowing they have it. Easy to follow instructions to make cloth facial masks can be found here.
Tags:
Covid-19
,
greenwich
,
Greenwich Hospital
,
Greenwich Town Hall
,
Town of Greenwich