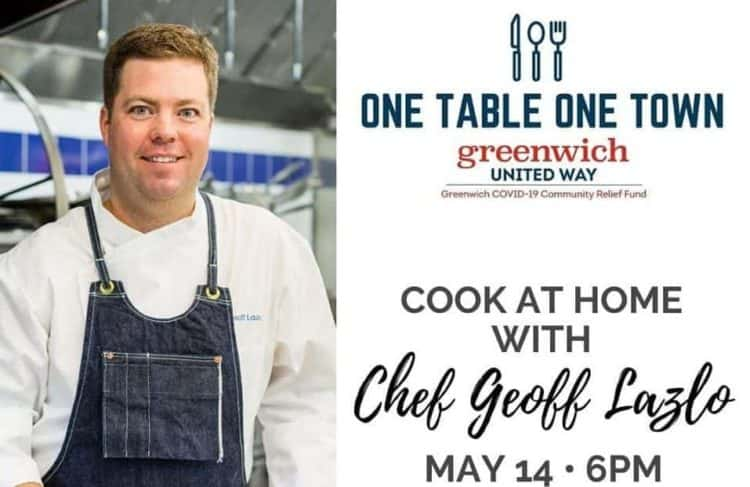 Do you miss going out to eat? Would you like to learn how to prepare a gourmet dinner along with a world-renowned chef? Please join in as the Greenwich United Way presents: 'One Table One Town', on Thursday, May 14 at 6:30 p.m.
Chef Geoff Lazlo, Deutsch Family Wine & Spirits, Fairfield County Look, Starr Films and the Greenwich United Way have teamed up to bring the community together through a fun night of cooking and cocktailing via Zoom. Event registration is free, and here's how it works:
Register at: greenwichunitedway.org
After registering, you will get an email with the Zoom information and how to get your ingredients for the evening from Chef Lazlo. You will also receive instructions for making a cocktail, created by Deutsch's mixologist, to start off the night. Additionally, they will explain what wine(s) would be best to pair with the dinner you will be cooking and where to find them.
Chef Geoff Lazlo will walk participants through preparing and cooking a delicious meal. To make this as easy as possible, Chef will be preparing kits of food for purchase that have every ingredient and can be delivered to you. Each kit feeds 2 people.
If you would like to donate to the Greenwich United Way, the proceeds will benefit the Greenwich COVID-19 Community Relief Fund. The Fund will help alleviate the social and economic consequences of this global pandemic and to prevent the widening of disparities in education, employment, housing, and health. For more information about the Greenwich COVID-19 Community Relief Fund, go to greenwichunitedway.org/greenwich-covid-19-community-relief-fund