May 5, 2020
Obituary: Harry Antebi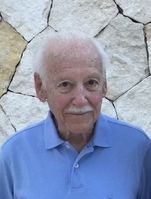 Harry Antebi passed away on March 28, 2020; he was 92 years old.
Born on June 4, 1927 in Cairo, Egypt, he studied at the French Lycée. In 1950, he left Egypt to live in Milan, Italy for several years and later moved to Paris, France where he studied law, was married to Danielle Tari and had his first child. In 1963, he transferred to Manhattan and became president of Cosid, Inc. and later also Yale Steel. In 1974, he moved his ever growing family to Greenwich where he lived for the rest of his life. In Greenwich, he established Continental Trading Corporation and ran the firm into his late 80's.
Harry was a linguist; he spoke French, English, Italian, Hebrew and Arabic fluently. His life experiences, living in diverse countries and cultures and traveling extensively in his professional career provided him with an objective world view and a passion for politics and modern history.
He was a long distance swimmer and a member of the Master Swim Program for decades. Hardly a weekday went by when he was not in the pool at either the YWCA or the YMCA. In his later years, he and his late partner Arlette Alcalay could be seen most afternoons walking at one of the many town parks in Greenwich.
He is remembered as a kind and generous family man whom all confided in, a good storyteller and a great mentor. He is survived by his 5 children, Pola, Robert, Francois, Michael and Ariel, his daughters-in-law Carol, Emma and Lisa, his two grandchildren Carter and Olivia, and his numerous nephews and nieces.
Owing to the current situation, a memorial service will be scheduled at a later date
Tags:
greenwich
,
Harry Antebi