April 9, 2020
Our Friend, Ann S. Isaacson Dies at 91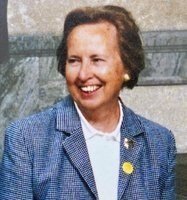 It is with great sadness that we report the passing of our friend, Ann S. Isaacson. Ann was a strong shoulder and wise counselor and she will be deeply missed. Her obituary follows:
Ann (Suitts) Isaacson, beloved wife of Gerald (Jerry) of 69 years, mother, grandma, and great-grandma, passed away on April 7, 2020, at Edgehill Retirement Community, Stamford, CT.
Ann touched many lives through her community service, her work, and her generosity, wit, and intelligence and she will be remembered and cherished.
Ann was born in Moline, Illinois 91 years ago, one of ten children born to Clarence and Mary Margaret Suitts. Ann graduated from Galesburg High School and attended Knox College, where she met Jerry Isaacson. They married in Galesburg in 1950. Ann led a lifetime of public service, receiving recognition and awards from many organizations.
When she was home raising 5 young children, she would arrange for a babysitter so she could do volunteer work at the local hospital. Nearest and dearest to Ann's heart was the chance to help children and families. In 1968, while living in New Jersey, Ann and a friend joined a coalition of urban and suburban housewives to advocate for low-income parents in Newark who did not have access to childcare. They founded Babyland Nursery, the first and largest non-profit interracial infant childcare center in New Jersey. Babyland has continued to thrive and now includes a domestic violence shelter and foster care program.
Active in politics, Ann was a Committeewoman of the Connecticut Republican party and an alternate delegate to the Republican National Convention in 1996. She was honored for her service by Jodi Rell, then Lieutenant Governor of Connecticut, on July 15, 1999, and by the State of Connecticut on September 14, 2004. She was named Connecticut Republican Woman of the Year in 2003.
Ann participated in several local elections and ran the successful campaign of Jim Lash for First Selectman of Greenwich in 2003. Ann served as chair of the Board of Social Services in Greenwich and was honored by the Board for her dedication and leadership. She and Jerry were named Greenwich Volunteers of the Year in 2010 and Ann received the Spirit of Greenwich award in 2004 by the YMCA.
She also worked with the Greenwich United Way, the Parsonage Cottage Home for the Aged, Hill House, and the Riverside Garden Club. The Town of Greenwich declared July 15, 1999 "Ann Isaacson Day" in recognition of her many contributions. In 1978, Ann started working at The Main Street Clinic—later renamed Liberation Programs—which specializes in treatment of substance use disorders. She worked at Liberation for 25 years, holding various positions, including Director of Volunteers, during her time there.
From 2001 to 2009, Ann was an active and sought-after Justice of the Peace who performed marriage ceremonies throughout Greenwich, often at Binney Park and Greenwich Point Beach. She performed the first commitment ceremony for a gay couple in Connecticut, as well as the marriage ceremony for her daughter and son-in-law (Meg and Dave) and for her grandson and granddaughter-in-law (Daniel and Annie).
In addition to Jerry, her beloved husband of 69 years, Ann is survived by her five children: Jill (Dan Fleisch) Gianola, Todd (Janet), Kurt (Lynn), Meg (Dave) Wannemacher, and Peter (Stacey Geis); 11 grandchildren: Magda, Daniel (Annie), Beth (Rick), Erik (Lehala), Ashley (Eric), Chelsea (Scott), Austin (Emily), Morgan (Andy), Kelsey, Parker, and Hope; and 12 great-grandchildren: Anja, Luca, Teagan, Breckin, Asher, Silas, Graysen, Cruz, Brighton, Surrey, Winsley, and Elliston.
Ann shared her love of travel with her whole family, but particularly with her grandchildren. As each grandchild started his or her senior year of high school, Ann planned a week-long trip together to the place of that child's choice – anywhere in the world. The destinations included London, Barcelona, the Cotswolds, Kenya, Sydney, and Greece. To celebrate their 50th wedding anniversary Ann and Jerry travelled with their grandchildren, children, and spouses to Scandinavia. We all agreed it was the trip of a lifetime. Ann Isaacson will always be remembered by her family as a loving mother and wife. But her enduring legacy comes from her deep commitment to community service and the example she set by helping others.
Arrangements are being handled by Leo P. Gallagher & Sons Funeral Home. The date and location for a memorial service for Ann will be announced later. In lieu of flowers, the family asks you consider a donation to Liberation Programs (www.liberationprograms.org, 203-354-6918) or to any charity that benefits children and families.