March 21, 2020
The importance of civic education to promote open and honest discussion and debate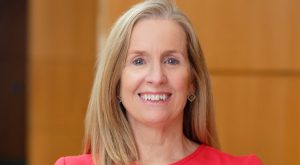 By: Molly King
November is election month, so it seems an appropriate time to share some updates on how we approach civic education at Greenwich Academy, mindful of our goal to develop girls and young women who are engaged and thoughtful citizens. Civic education at a top all-girls school takes on even greater importance, given the underrepresentation of women in the highest echelons of national and global political leadership.
Greenwich Academy's Mission and Guiding Principles define our values and provide the architecture for our academic program. Specific to civic education, one of our nine guiding principles asserts Greenwich Academy's commitment to "encourage intelligent, responsible citizenship and leadership through meaningful service to the life of the school and the broader community."
We understand that being a responsible citizen includes a sense of service to, and appreciation for, the ideals and freedoms that are central to our national identity as Americans. Students need to be informed by rich content, diverse viewpoints, and rigorous debate in order to develop a confident and purposeful voice and agency for positive change.
Beyond academics, the appeal of a civic education extends to helping students understand that there is a world that is far bigger than their own. The adolescent mind often looks inward or to curated online images. Looking outward to shared ideals and to meaningfully connect with others contributes to a more balanced perspective and builds empathy.
Here are just a few examples of civic education in action at Greenwich Academy:
• This month our Lower School faculty has launched a new community service initiative. Each week, one grade will head out into the Greenwich community to take on an environmental clean-up project. Our fourth graders are kicking things off with a trip to Binney Park. What a great way to promote service leadership in our younger girls.
• Our Middle School's current events class is held up by students, faculty, and alumnae as standard bearing. An outstanding role model, our current events teacher engages her students in discussions on a range of global issues and fosters genuine excitement about being an informed citizen.
• In the Upper School, our tenth annual symposium will be held next month, focusing on the centennial of American women securing their right to vote. We are honored to have distinguished author and former Boston Globe reporter Tina Cassidy as our keynote speaker. She will discuss her book, Mr. President, How Long Must We Wait: Alice Paul, Woodrow Wilson, and the Fight for the Right to Vote, which chronicles the important American story of the extended battle for women to gain the vote—that fundamental right to representation and free expression.
I'm also excited to share that representatives from Johns Hopkins University's Agora Institute recently reached out to me to partner with them. The mission of the Agora Institute is to "Strengthen global democracy through powerful civic engagement and informed, inclusive dialogue," and the research and work they undertake is dedicated to these aspirational goals. Given the acute need on a national and global level to model and engage in civil discourse, they are seeking to collaborate with schools to generate a template for young people. The Civic Education Heads Focus Group convened this month and GA is already benefiting from the perspectives of other strong schools across the country, from Mary Institute/St. Louis Country Day to Fort Worth Country Day to the Dalton School. We are proud that GA was selected, in recognition of what we have already accomplished in the realm of public purpose and civic education.
Civic education promotes open and honest discussion and debate. A school whose motto is Toward the Building of Character can't shy away from the tough conversations that can accompany authentic discourse. Indeed, we model the importance of bravely engaging with these issues, fueled by mutual respect, empathy, and teaching that is designed to inform and empower. This isn't partisan nor is it an expression of personal politics. We are a community of learners and leaders—students, teachers, and parents—who care about being educated and upstanding citizens. That's Greenwich Academy. Onward!